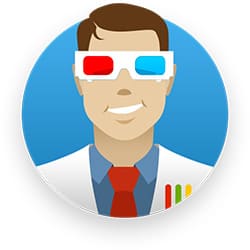 It's probably time to buy new glasses for our beloved professor!
Since the new release of Disk Drill, we support the recovery of stereo images in MPO format! We added the new signature to the knowledgebase of Disk Drill's Deep Scan recovery algorithm that reads these tricky double images from your hard drive surfaces by detecting their binary footprint.
And it's not the only updated feature we gladly announce today!
Here's Disk Drill 2.4.415
new

file signatures in Deep Scan's binary recognition: SWIFT source codes (XCode), MPO (Multi Picture Object File or simply stereo images), TAR.XZ (XZ Compressed Tar Archive), RDB (Retrospect Backup Set), OPJ (OriginPro 8 files)

new

Fuse for OS X version 2.7.5 integrated

improved

modal windows behavior during DMG backup

improved

UI texts and in-app explanations

fixed

a couple of crashes when scanning and recovering from unstable disks
As always thanks for staying with us!
BTW, have you heard the latest story when Disk Drill was part of an epic successful data recovery?
.updated:
June 3, 2021
author: