Hi Disk-drillers,
Before this update Disk Drill already boasted extremely powerful data recovery algorithms and a number of unique techniques. With the yesterday's release of the new Disk Drill 1.3.118, we are happy to announce that we did even more. Build 1.3.118 adds more advanced algorithms for HFS recovery now covering probably all possible methods to recover data from Mac partitions.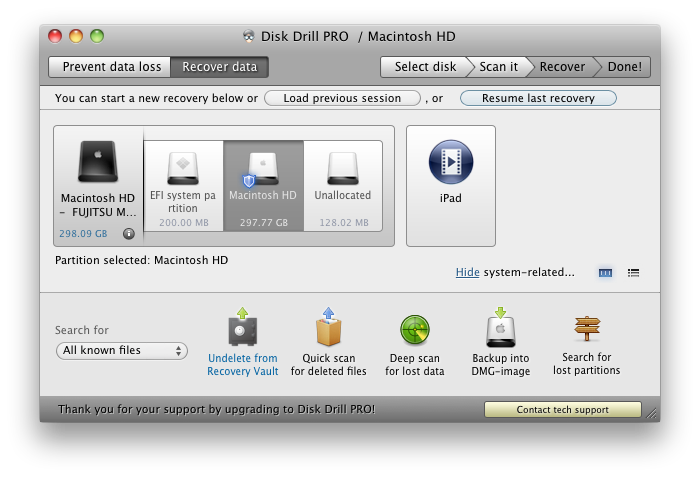 I'll explain how it works. The biggest complaint of most users is the fact that Deep Scan won't recover original file names and properties and gives random names to found items. However, it's really so, you can't do anything about it. When Quick Scan and Search for lost partitions don't help, the data is really lost and only binary-level recovery is possible, if the needed space hasn't been overwritten yet.

In most cases meta-data can be lost due to erroneous formatting or disk initialization, or boot sector failure, or else. So, technically the data is still there, but system has no way to access it by having no low-level directions. In this case Disk Drill lets you search for lost partitions. If any are found – you are lucky! If not, Deep Scan is your last resort.
This is what we tried to improve in this release! As more than 50% of our users have to rely on Deep Scan, we added a number of low-level features that help it recover original file names when it's still possible. These triggers are related to HFS directory and journal recovery. Whenever their portions are found on the disk, Disk Drill attempts to get all possible data out of your disk. This still doesn't guarantee 100% recovery, but nothing will.
Secondly, we added a bunch of new file signatures to those known by Deep Scan, so it can now recover these file types as well: SKP (SketchUp Document), ARW, SRW, PEF, KDC, SXC, SXD, SXI, SXW, ODG, ODP, ODS, KEY (iWork Keynote), PPTX (MS PowerPoint), NUMBERS (iWork Numbers), JAR (Java applications).
Check the complete list of changes in Disk Drill 1.3.118 here. Download the latest release now, and good luck with reconstructing your files!
.updated:
June 3, 2021
author: