Does Apple Watch actually live up to its battery life promises to you? Many naysayers consider it the worst feature of the wearable. The most obvious solution? Yeah, the power strap with almost tripled battery capacity! Reserve Strap is like an external battery to your Apple Watch, it's a potential solution, and it promised exactly that.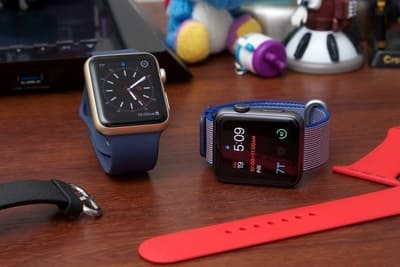 Among all available Apple Watch straps, power straps make most sense. Reserve Strap is a device which charges your Apple Watch optimally. The device comes with a built-in battery pack and it is bound to be one of the most notable battery straps for the Apple Watch. Reserve Strap claimed a whopping 30 hours of additional Apple Watch battery life, as a result it has been widely circulated and criticized since November 2015.
While providing a vital update on its website, the Reserve Strap team announced that the final product of Reserve Strap will provide "more than 30 hours of additional usage", or 2.7 times or 167% of the in-built battery of Apple Watch.
One of the biggest flaws user identified regarding Apple Watch at launch was the mandatory daily charging for most Apple Watch users. Reserve Strap has bumped that up to once every three days, and even up to seven days for some users that use the device less frequently. Even when installing Apple Watch update your wearable has to be at least half full, if it's not – you have to charge it before you can get it updated.
Besides being one of the first set of battery Apple Watch straps that was produced for Apple Watch, Reserve Strap has become one of the first to tap into the device's hidden port that is not-so-secret. This has been contrary to using Apple's own charging solution that is magnetic and inductive. The company noted earlier that using the hidden port would make faster charging possible while making it possible for them to forestall interference with sensors located at the back of the watch in their design. This was recently followed by an update which completely disabled the hidden port and has rendered many accessories useless.
The Reserve Strap comes in three colors which are white, gray, and black and is available for both the 38mm and 42mm Apple Watches with equal specifications for both watches in the area of additional battery life time. It is also "as resistant to water as Apple iWatch". This resistance has addressed one of the issues many readers raised when Reserve Strap was first launched. Charging via Reserve Strap will not require the user to disconnect the strap from Apple Watch as a micro USB cable for charging the strap is included with the strap. Also, there is a special device for shifting the door on the hidden port that Reserve Strap links with for charging. Would you ever be interested in buying Reserve Strap as an alternative to other best Apple Watch straps.
Apple Watch is a variation of smart watches manufactured, designed, and sold by Apple Incorporation. It is characterized by fitness tracking and health-oriented abilities with seamless integration with iOS and other services and products of the Apple ecosystem. The original production of the device was made available in four variants which are Apple Watch Sport, Apple Watch, Apple Watch Edition and Apple Watch Hermès. Each variation is distinguished by its different cases combinations and first- or third-party bands that are interchangeable.
Apple Watch depends heavily on an iPhone that is wirelessly connected via bluetooth to carry out many of its default tasks which include calling and sending messages. The Apple Watch device is compatible with iPhone 5 and subsequent models running iOS 8.2+ via the use of Bluetooth or WiFi, some users have managed to unofficially use the Apple Watch with other operating systems.
Apple Watch was announced by the Chief Executive Officer of Apple, Tim Cook, in September 2014 and it was launched on April 24, 2015. The Apple Watch since its release has become the best-selling wearable device with the sale of 4.2 million smart watches in quarter two of the 2015 fiscal year.
The second generation of Apple Watch was launched in September 2016, and includes two tiers which are Apple Watch Series 1 and Apple Watch Series 2. These tiers include the S1P chip and are otherwise similar to the original with increased performance. The Series 3 of Apple Watch was proclaimed during a presentation that took place at Apple Park on September 12, 2017 and was released to the market on September 22, 2017.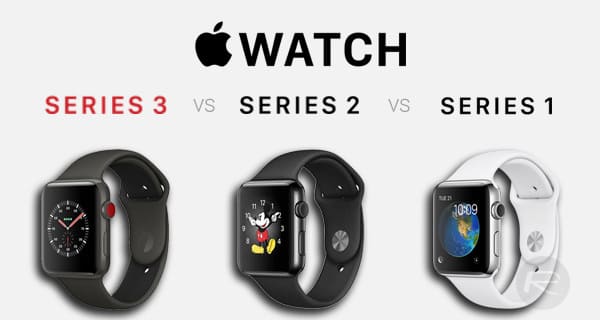 As of October 2017, only two generations and three series of Apple Watch have been launched. The series that mark the current generation of Apple Watch are Apple Watch Series 1 (which has been in existence since 2016) and Apple Watch Series 3 (which was launched in 2017).
Apple Watch Series 2 models are of four variants and the variants are Apple Watch, Apple Watch Nike+, Apple Watch Hermès and Apple Watch Edition. The difference between these variants are reflected in their level of case combinations, exclusive watch faces and bands. Apple Watch possesses either aluminum or stainless steel cases and also possesses many watch bands. For instance, Apple Watch Nike+ comes with aluminum cases and special types of sport bands, Apple Watch Hermès comes with stainless steel cases and only Hermès watch bands while Apple Watch Edition possesses ceramic cases (it should be noted that the original generation Apple Watch Edition utilized 18-karat gold).
Apple Watch Series 1 models come with only aluminum cases and sport bands. Each model possesses 38 millimeter or 42 millimeter body with the 42 millimeter products possessing a relatively larger screen and battery. Each model possesses various band options and colors. Apple-made bands that are featured are colored Sport bands, Woven Nylon Band, Modern Buckle, Classic Buckle, Milanese Loop, Leather Loop and a Link Bracelet. The new Apple Watch price starts at US$329, while the refurbished Apple Watch can be yours for US$200 or even less, even from Apple directly. Many more Apple Watch deals pop up daily on Ebay, Craigslist and even Amazon, if you are monitoring the online retailers or following resources like Mashable and Kinja Deals.
Interested in what others think of Apple Watch in general after it's already available for several years? Here are some top Apple Watch reviews from the most trusted press:
The Verge: "With Apple Watch Series 3 you can now stream music, make phone calls, and send texts without being tethered to your phone".
TechRadar: "It's convenient but there's a learning curve you have to overcome and a high price".
Engadget: "Apple Watch Series 3 review: A good watch, a so-so phone replacement".
Wired: "Whether you're a hyper-connected hyper-marathoner, or just looking for a few minutes away from the attention-sucking din of your iPhone, this is the first Watch that really works".
Apple Watch Data Recovery
Most Apple devices are restricted systems almost without any external entry points. That means security of your data and stability of performance. Apple Watch is like your iPhone or iPad, you cannot store data directly on it, you cannot use it as an external media device, etc. However, its content is backed up automatically to your companion iPhone almost seamlessly. This gives you the tools to recover your lost Apple Watch data from a backup, just like you can recover deleted data from iPhone or iPad with Disk Drill. When you back up your iPhone to iCloud or iTunes and there's an Apple Watch device paired with it, your iPhone backup automatically includes your Apple Watch data. Follow Disk Drill's guide to iOS data recovery to get your Apple Watch data restored with the help of the most reliable data recovery solution for Mac.
Top 5 Accessories of Apple Watch
Apple Watch functions more effectively and efficiently when used with some of the best accessories. The best Apple Watch accessories that have boosted the functions of Apple Watch are reviewed below:
Jaybird X2 Sport

Since your Apple Watch offers you license and mobility while you are connected, your preferred headphones for your Apple Watch should offer the same. The Jaybird X2 headphones offers you that same license and mobility without the bulkiness that some over-ear headphones possess.
Jaybird X2 Sport Bluetooth headphones are light, secure, and work perfectly well with your Apple Watch, they were launched in September 2015. The Jaybird Freedom wireless headphones are also in the market but they come with a very different design and they haven't been reviewed extensively like Jaybird X2 Sport.
The Jaybird X2 headphones provide noise separation rather than cancellation. This provision is a desirable characteristic for users who are always on the move. If you are out walking, running or heading out in the morning and you feel like hearing your favourite music, podcast or conversation while you are mindful of traffic and other distracting noise, Jaybird X2 is your best bet. The noise separation that Jaybird X2 provides always make the talk or music in your headphones the only viable sound you hear while at the same time allowing you to keep tabs on the sounds that emanate from your surroundings. Noise cancellation would wipe out the ambient sound totally.
The Jaybird X2 comes in six different colors, so there is no way you will not find one that is in tune with your Apple Watch. This device comes with an everlasting sweat-proof warranty which means that you do not necessarily have to be a marathon runner to appreciate this device. Don't be misled by the word "sport".
Furthermore, you do not have to worry about battery life, Jaybird covers you for up to eight hours of music or talk.
Elago W3
Apple fan boys and girls can charge their Apple Watch with this precious Macintosh device. Elago W3 is produced from soft silicone and the device is only about 3 inches tall. When your Apple Watch is positioned onto the mount in Nightstand mode, the design which is green and minimalistic makes it look like you possess a tiny Mac occupying your table. The only thing that you need to do is insert your Apple Watch charger into the W3's fitting holder that was perfectly built and then place your Apple Watch on its side. This setup is just nice and perfect for any Apple geek.
Scosche Rhythm+Monitor Armband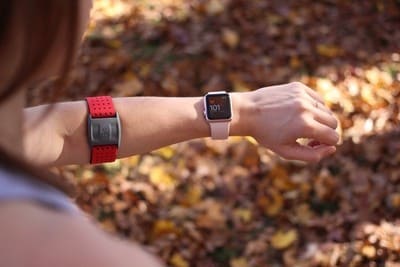 If you desire to monitor your heart better without necessarily going full in on the chest strap look, Scosche is your friend as it provides a forearm-monitoring alternative in the Rhythm+ armband. The water resistant device connects to a neoprene strap that is adjustable while it can be worn anywhere on the user's arm. Scosche rhythm and monitor armband uses an 8-hour rechargeable battery. This long lasting battery makes it possible for the user to plug it in after workouts like he or she might with an Apple Watch.
The small grey tracker and strap are both slim and come with style owing to the fact that a user will most likely wear it in a conspicuous area of the arm. A shirt can be slipped over the Rhythm+ if a user wants to hide it, though it can be left visible because it is a nice and good looking tracker. The device appears a little ineffective when both the Apple Watch and tracker are worn on the same arm.
In practice, wearing Scosche rhythm bring more comfort to the user than wearing a chest strap while the user undergoes a heavy workout. The device uses green and yellow oximeter sensors (which had been classified as "PerformTek Biometric Sensor Technology") to guarantee more precise look at the heart rate than what Apple Watch's green sensors guarantee, and also records data at a higher rate.
If a user wore the Rhythm+ for a week to his or her regular skating practices and weight training sessions, it would be significantly proven from those workouts that the result is more accurate than his or her usual Apple Watch tracking.
Unlike many of the other chest strap available alternative, Scosche does not provide a dedicated app that can be used to view your recorded heart rate data. You can instead view it in Health apps or Apple's Activity or download a third-party alternative such as Cardiogram. This device is available for sale on Amazon for $80.
Spigen Rugged Armour
Name any phone or accessory and you will be surprised as there are chances that Spigen has already made a case for it. Things are same with Spigen's Rugged Armor case for the Apple Watch, which is manufactured from flexible TPU so it gets mild and comfortable on your wrist.
Spigen rugged armour easily goes on and holds your wrist tight to the extent that it won't be felt wriggling around on your Apple Watch. The device possesses a metal button which covers your Apple Watch's Side Button. The button however does not interfere with how the device functions, which means that surfaces that can be scratched are covered all the way.
The Digital Crown is left open completely and is totally unhindered owing to the Rugged Armor's great fit. The fact that the screen is scratch resistant does not mean Spigen has left nothing to chance through the provision of two screen protectors for the user.
This device comes in black and white and in 42mm and 38mm versions. It should be noted that its cost ranges from $11.99 to $12.99 depending on the style and color you prefer.
Vi Personal Trainer Headphone
If a user wants to engage in workout training within a set of headphones, he or she is going to explore Vi personal trainer headphone. Vi is a set of in-ear headphones that is complete with a personal trainer right in the user's head. The device also possesses a load of workout sensors to monitor heart rate, cadence, elevation, speed, time, and location. Vi personal trainer headphone is ideal for runners and is designed particularly to help users meet their running goals. The personal trainer companion app also provides support for walking and cycling and has a proven ability of supporting more workout types in the nearest future.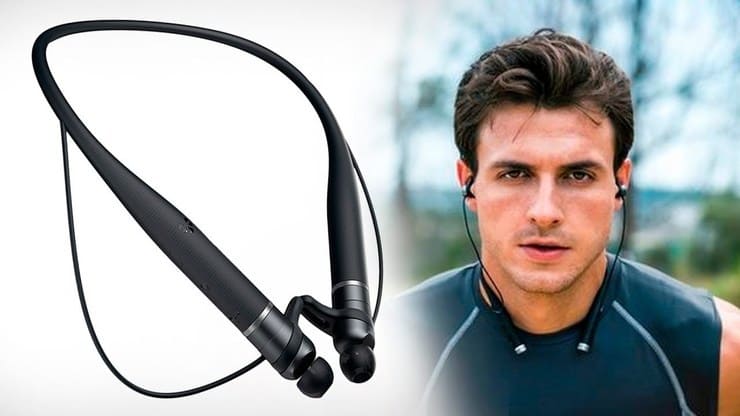 The earbuds of Vi personal trainer headphones give users high level of comfort while the sound system of Vi is designed by the award-winning audio team at Harman Kardon. With Vi personal trainer headphones, your music listening pleasure is highly qualitative.
Vi personal trainer headphones is available for sale at the rate of $250. this price can be discouraging but anybody is runs needs Vi as an indispensable companion for listening to tunes while monitoring his or her stats.
.updated:
June 3, 2021
author: