Save Disk Space with RAR (WinRAR Compressed Archive)
Created in 1993 by Eugene Roshal, a Russian software engineer who is also responsible for the FAR file manager and the WinRAR file archiver, the RAR compression algorithm is a proprietary piece of software used to store multiple files in a single container, which is smaller in size than what the total size of all individual files would be if they were stored separately.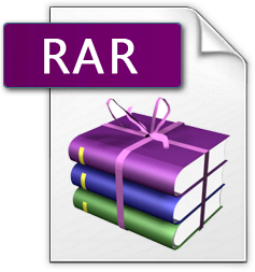 A RAR file can be recognized by the .rar file extension, but that's not the only file extension used by RAR. You may also come across .rev, .r01, .r02, .r03, and so on. REV is used for recovery volume sets, which help to repair a damaged RAR archive in case of physical data damage. The sequence of .rXX file extensions is used for multipart archives. Such archives always start with a regular .rar file, then .r00 for the second, and then .r01, .r02, and so on.
The RAR file format is often compared to ZIP, a similar archive file format, which is supported natively by most modern operating systems. RAR could be seen as the more advanced archive file format, as it supports Unicode encoding, AES-128 encryption, tighter compression, and recovery records, among other useful features. The only major limitation of the software is its license. Even though decompression source code is available, RAR isn't free software because it places restrictions on the use of the compression algorithm. Developers who would like to create RAR files need written permission from Alexander Roshal, the elder brother of Eugene Roshal.
How to Open RAR Files?
The open nature of RAR's decompression algorithm means that RAR files can be easily extracted by several free and paid tools alike. Together, these tools work across all major operating systems and platforms, including Windows, Mac OS X, Linux, Android, and even Chrome OS.
It's probably no surprise that one of the most recommended file archivers for use with the RAR file format is WinRAR, the official tool developed by Eugene Roshal and distributed by Alexander Roshal. WinRAR supports all features of the latest version of RAR, but it has two major disadvantages compared to other programs: it works only on Windows and is not completely free. You can use the program for as long as you want, but it will start to nag you after 30 days to purchase a license.
This is why many prefer PeaZip and 7-Zip instead. Both are open-source and available on multiple platforms. Just like WinRAR, they support countless other archive file formats, but their support for the creation of RAR files may not be as extensive as WinRAR's.
How to Recover Deleted RAR Files?
We know what a RAR file is and how to open it, but we still don't know how to perform RAR file recovery. It's true that RAR has a built-in data recovery mechanism, but this mechanism is useless if you manage to delete your RAR files from the disk. When that happens, your only salvation is a capable data recovery program such as Disk Drill.

Data recovery for free
Your Companion for Deleted Files Recovery