What Are ISO (ISO-9660 CD Disc Image) Files and What to Do with Them
To better illustrate what an ISO file is, imagine that you're buying a piece of furniture from IKEA — let's say a chair. Like everything from the Swedish designer and seller of furniture and home accessories, you chair comes disassembled in a box. The box itself isn't very useful. You could try sitting on it, but it probably wouldn't be too comfortable. What you care about is what's inside. The ISO file format is the same. On its own, a .iso file is useless. You first need to know how to open it, extract it, and assemble it.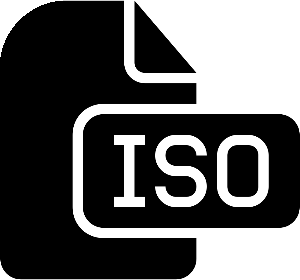 Just like IKEA boxes, ISO files save disk space and are much more convenient than if you were to store all what's inside them separately. Unlike many other archive formats, an ISO file is not concerned with files and folders — all it cares about it the underlying structure. ISO files are most commonly used to archive CD-ROM media, including DVDs and Blu-ray Discs. When an ISO file is created, it contains the data contents from every written sector on an optical disc. This sector-by-sector copy of an optical disk makes it possible to create fully accurate copies in the future or store it on a hard drive for later use. Such files have the .iso file extension, and they can be mounted with suitable software, burn on an optical disk, or extracted.
How to Open ISO Files?
Most modern operating systems, including Windows, can be downloaded in the form of a single ISO file. This cost- and time-saving method how to distribute thousands of individual files via the internet has also been used for a very long time by developers of various Linux distributions. For example, Ubuntu, a Debian-based Linux operating system for personal computers, tablets, and smartphones, can be downloaded online as a single, 1.4 GB large ISO file.
In the past, most people would simply burn this file on a CD or DVD using their favorite burning software, such as CDBurnerXP. But we live in a world of USB flash drives where increasingly more users don't even have a DVD drive. Luckily, there are various tools which can create bootable USB flash drives from ISO images, with just a few clicks.
Another category of clever tools makes it possible to create virtual CD, DVD, and Blu-ray drives. Currently, the most popular programs that fall in this category are WinCDEmu, DAEMON Tools, Virtual CloneDrive, AcetoneISO, and Pismo File Mount Audit Package.
Last but not least, it's also possible to extract ISO files using file archivers such as WinRAR, WinZip, 7-Zip, or PeaZip. They are particularly handy if you want to convert your music collection to MP3 files.
How to Recover Deleted ISO Files?
Because of how popular the ISO file format is for archiving purposes, their loss can be quite painful. The last thing you want to do is install some shady data recovery tool and let it wreak havoc on your hard drive. Always go with a tried and tested solution like Disk Drill. Not only is Disk Drill extremely easy to use when compared to other data recovery tools on the market, but it's also very capable. It comes packed with handy tools, clever file recovery algorithms, and a highly-polished user interface designed to guide you through the entire process.

Data recovery for free
Your Companion for Deleted Files Recovery