What is a CAB (Microsoft Cabinet Format) File?
Developed by Microsoft for use with their Windows operating system, CAB file format is an archive file format with support for lossless data compression, across-boundary compression, and embedded digital certificates. CAB files can be easily recognized by their .cab file extension and their first 4 bytes MSCF (Magic Number), which contain a file signature used for identifying the file format.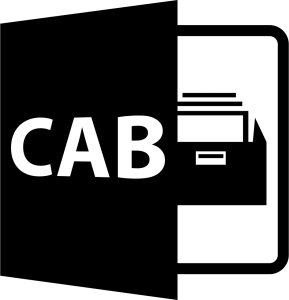 The current version of CAB supports DEFLATE, LZX, and Quantum compression algorithms. DEFLATE is a lossless data compression algorithm created by Phil Katz and later specified in RFC 1951. LZX was invented by Jonathan Forbes and Tomi Poutanen during their studies at the University of Waterloo in Canada. The Quantum compression algorithm is a licensed data compression method that requires at least a 386 CPU to run.
The main feature of a CAB file is its ability to store individual files in separate folders. Conceptually, everything works just like regular paper binders. Keeping lists of paper in a binder makes things tidier and more organized (in other words, decreases the file size), but it takes longer to access an individual list as one has to first open the binder itself and go through all preceding files.
Thanks to these properties, CAB format is used by various installation technologies like Windows Installer, Setup API, IExpress, and others. Furthermore, CAB archives are often embedded into other files, such as MSI and MSU.
How to Open CAB?
The main Windows utility created and maintained by Microsoft for working with CAB files is called Cabarc. This simple command-line tool can create, extract, and list the contents of cabinet files. Microsoft has a handy user's guide on their website, which you can use for reference.
This way of opening and creating CAB files is geared toward software developers; regular users are most likely to open CAB files by simply using File Explorer. It's also possible to use a larger number of file archivers, including 7-Zip, WinRAR, WinZIP, and PeaZip.
Despite the flawless support for the file archive format in Windows, CAB is not recommended for general use, even if you know the other party is using Windows. The .cab extension is simply too unknown, and users may wonder if it's some malware.
How to Recover Deleted CAB Files?
With a good data recovery solution, CAB file recovery is a simple process. The most difficult part, then, is finding the right data recovery program. With more than 500,000 pro clients, over 10 million total downloads from users located in 150+ countries, Disk Drill is the go-to data recovery utility of those who demand excellent results, modern user experience, and amazing value.

Data recovery for free
Your Companion for Deleted Files Recovery
You can download and test Disk Drill for free from the official website and only upgrade to the Pro version when you feel like it. In any case, you'll get a premium data recovery software with support for all common file formats and storage devices. On top of this, you'll also get access to a free S.M.A.R.T. disk monitoring utility, disk space analyzer, duplicate file finder, data backup tool, and a lot more.