Today's life is filled with data. From work-related files to personal photos and documents, these important sources of information can be easily lost by unintended actions. Having an archived copy of them is critical for our survival.
Backups can be done on our computers or on Internet based services. The well-known rule 3x2x1 states that efficient backups must consist of three versions: two of them in different formats, and at least one on external drives.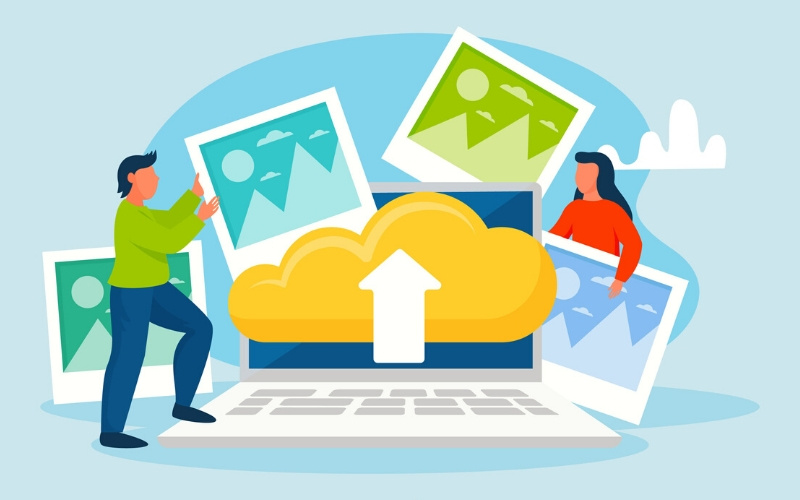 Here below is a list of 5 free methods that answer the question "how to backup Mac files for free?" Their different characteristics are an advantage to applying the 3x2x1 rule.
1. Disk Drill (Free)
An image file is a bit-by-bit copy of a drive. It has the advantage of storing not only the current files, but also all material available on the drive, such as deleted files. On the downside, it requires the same space as the original drive.
Disk Drill is an application that provides this feature. It is available for free on the Internet, and it can be upgraded to a Pro version to recover lost or deleted files.

Data recovery for free
Your Companion for Deleted Files Recovery
The main advantage of Disk Drill over other similar apps is that it stores in truly standard formats. This characteristic makes the copy very portable, as it allows for the image file to be opened by other Mac backup software available on the market.
Disk Drill comes with other important data protection features, such as its Recovery Vault and Guaranteed Recovery technologies. The first is simply an extra layer to the recycle bin, and the second keeps a copy of any file moved to a pre-selected folder. In addition, the app can scan computer drives in search of missing files.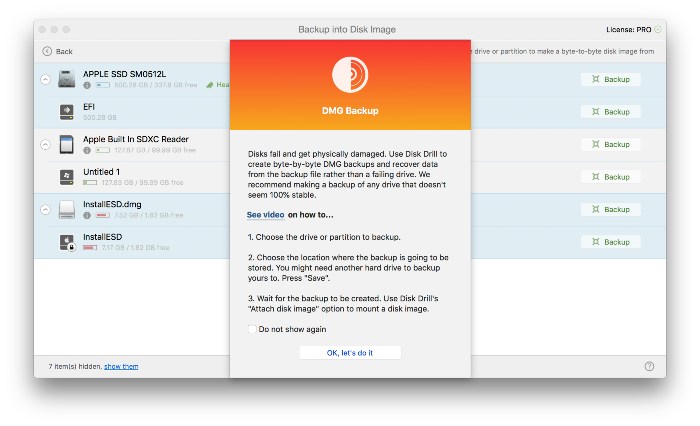 Overall, Disk Drill is one of the best Mac backup software solutions available – as it is efficient, fast, portable, comprehensive and easy to use.
---
2. Archive Utility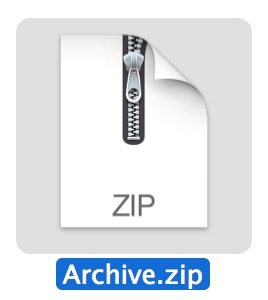 File compression is a technology that searches for repeated data, and stores the data in archive files that remove these repetitions, resulting in smaller size files. One of these technologies is zip files.
Mac computers can create and recognize zip files through the operating system OS X.
The process is as follows:
In order to compress a file or a folder, simply select the item(s) in the Finder and then choose File -> Compress. Alternatively, right-click on the selected item(s) and choose Compress.
To uncompress a zip archive, Mac uses a system program called Archive Utility. This utility works by double-clicking on the zip file.
In addition, the Archive Utility can work with many additional types of archives, such as .bz, .gz and .tar. The main advantages of archive files are their portability, ease of transfer, and reduced size.
Summarizing, archive files and their compressed versions present a very practical option, particularly in cases of small and medium-size backups.
---
3. Time Machine
Time Machine backup is a software application, which is part of Mac's OS X. This app creates incremental backups in what is possibly the simplest solution to create a backup hard drive Mac in a periodical manner.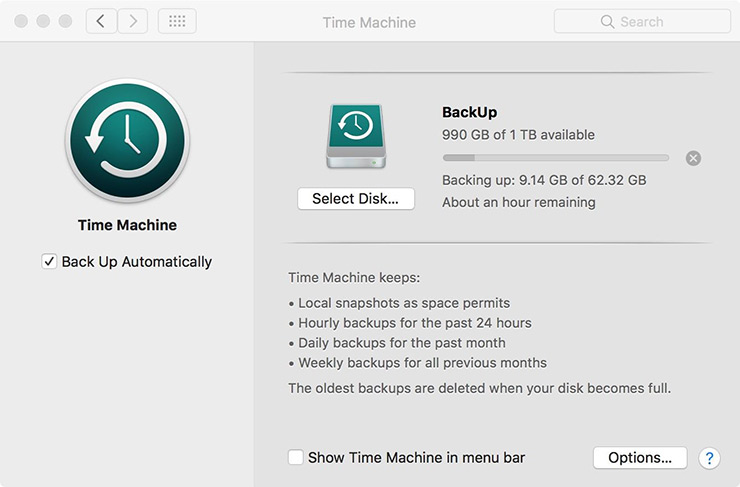 The app can be set to create hourly backups covering the past 24 hours, daily backups containing the past month, and weekly backups consisting of files older than a month.
The backups can be stored on any disk connected to the Mac. Alternatively, backups can be kept in the AirPort Time Capsule device, which is a hard drive with a network router with Wi-Fi and Ethernet.
When the storage is local, devices are formatted with HFS+. When the storage is remote, Time Machine uses sparse bundles. This method makes the storage neutral to the actual file system used by the network server.
In brief, Time Machine offers an excellent solution for periodical backups and an efficient answer to the question on "how to backup Mac to external hard drive". Besides, being an Apple product, it has an almost assured performance and friendliness of use.
ONLINE SERVICES
Online services are provided in two different ways: backup services and file hosting services.
Backup services provide the user with a system for the backup, storage and restore of computer files.
File hosting services, merely provide the user with the capacity to upload files, which can later be accessed through the Internet. Stored files are usually secured via password authorization.
---
4. iCloud
iCloud is a service provided by Apple Inc. It has both the characteristics of a backup and of a file hosting service. It is probably the best cloud backup for Mac available at present.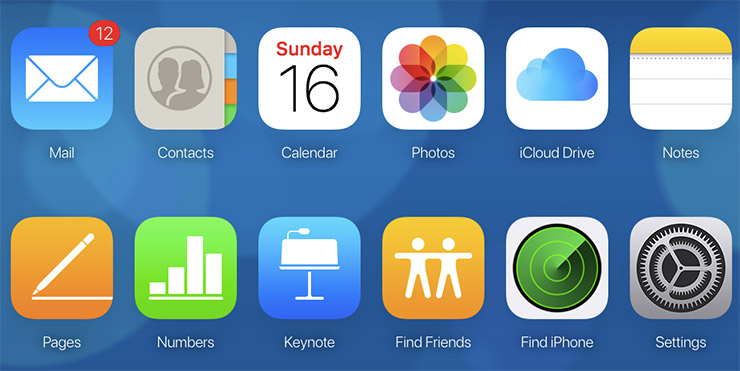 As of February 2016, iCloud reported 782 million users. The backup Mac to iCloud service is not only provided for Macintosh computers, but also for iOS and Windows devices.
The system allows for the instant sharing of music, photos and games, by linking accounts via AirDrop wireless. It also provides the Find My Friend and Find My iPhone, to share a location and locate an iPhone.
In brief, iCloud provides the best online backup for Mac service, due to its focus on modern needs.
---
5. Dropbox
Dropbox is a file hosting service. It works by creating a special folder in the user's computer, which is synchronized with Dropbox. The data can also be accessed via Dropbox's website and mobile apps. Access apps are available for most operating systems. Dropbox also provides an API to integrate applications to its functionality.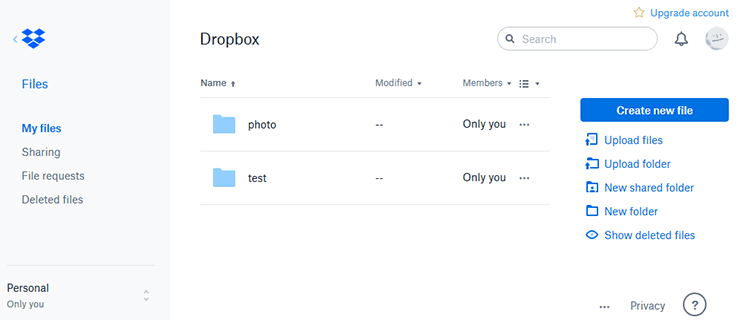 Dropbox follows the Freemium model, offering up to 2GB of free storage, and a paid service for bigger volumes. The service has been praised by many institutions, as simple and efficient.
Summarizing, Dropbox provides a flexible option to the question "how do I backup my Mac?", because it integrates the Mac and other devices with the cloud, making them one whole item, in a practical and easy manner.