What is MXF File Format?
MXF is an abbreviation for Material eXchange Format. An MXF file is a container of digital video and audio. The standard is defined by the Society of Motion Picture and Television Engineers (SMPTE).
Characteristics and Uses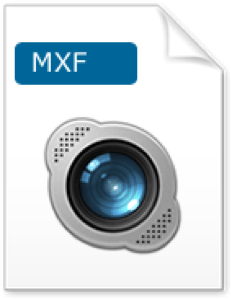 Its development began in the mid 1990s, when it was envisioned a convergence between IT and TV. The main body behind the idea was the Pro-MPEG Forum, who brought into the project vendors, end users and research institutions. In 2004, the MXF file format was ratified as SMPTE S377M standard.
It is an open file format, meaning that the standard is publicly available. It was designed to solve some problems with non-professional formats. For this reason, it was envisioned as a platform-agnostic container, which could wrap existing and future coding format.
The file structure is composed of blocks. Each block contains a header, which includes a signature and other parameters, such as block size. The file is assembled by iterating all blocks until validation files. A MXF file has metadata and timecode support.
A MXF file may contain an Index Table. It is an optional feature, but it is recommended to include it. This table can be segmented, and can be stored before, after or multiplexed with the data segments.
File Signature
ISO 88859-1: ..+4
Hexadecimal: 06 0E 2b 34
Programs That Open MXF Files
Windows:
File Viewer Plus
Adobe Premiere Pro CC 2015
Avid Media Composer
MAGIX Vegas Pro 14
Grass Valley EDIUS
Avid Pro Tools
OpenCube XFReader
OpenCube XFConverter
VideoLAN VLC media player
Aiseesoft MXF Converter
Apple:
Apple QuickTime Player
Adobe Premiere Pro CC 2015
Avid Media Composer
Avid Pro Tools
VideoLAN VLC media player
Aiseesoft MXF Converter for Mac
Linux::
VideoLAN VLC media player
iOS:
PentaLoop PlayerXtreme Media Player
Concerns
There are some interoperability problems, because different vendors implement only part of the standard. Thus, for example in 2005, Sony's XDCAM and Panasonic's DVCPRO P2 produced incompatible MXF files, which could only be clarified with dedicated software.
Furthermore, some vendors store the video and audio components in separate files, and use a randomly generated file naming system. This creates problems with fundamental file operations, such as copying, renaming or deleting.
In addition, several MXF export tools don't have the capacity to add stereo AES files to the MXF container, or to add free-text annotation.
Most of these problems were addressed in the 2009 version of the standard.
How to Recover Deleted MXF Files
Video files may be particularly dear to you, as they may contain memories or videos related to your job. Sometimes you may unintentionally delete one of them. Disk Drill is a data recovery app that can help you in recovering it. It is available for free!

Data recovery for free
Your Companion for Deleted Files Recovery
The MXF file recovery process is easy and straightforward. These are the few necessary steps:</>
Download Disk Drill from one of the links above.
Install Disk Drill by clicking on the installer's icon. Then follow the given steps. The program will guide you and do the hard part of the job.
Open Disk Drill by clicking on the app's icon. The app will detect all connected drives and list them. Disk Drill supports a vast set of devices, including internal and external hard drives, USB flash drives, memory cards, iPods and many more. Select the one that contains your deleted files.
Narrow the search by selecting "mxf" file format from the main menu. The scan will be faster and more efficient.
Ask Disk Drill to recover MXF files. The program will scan the drive. If the link to the file is unavailable, Disk Drill will assign a generic name to it, such as file001.mxf.
You can pause or cancel the scan. You can also save the session and continue later on, without fear of losing any work already done.
Once the scan is completed, Disk Drill shows the results in a list. This list can be narrowed by using the available filters by date or size. Select the files that you want, and recover them to a folder of your choice.
Your MXF recovery is done!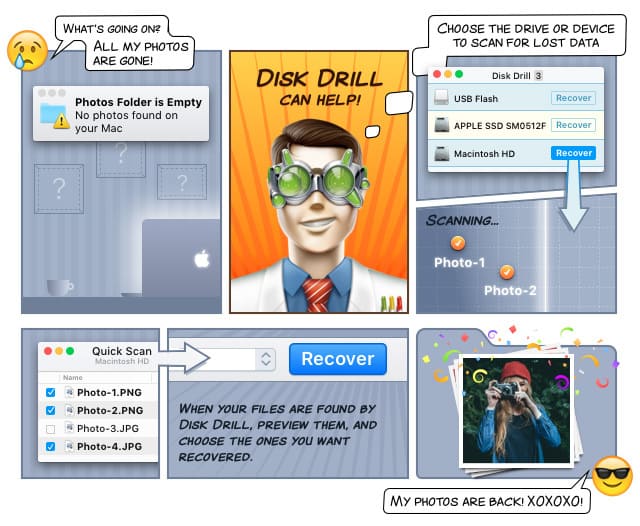 How to Use Image Files to Recover MXF Files
Using image files brings safety to the MXF recovery process, as the original drive is kept untouched. Their use is a standard practice for Digital Forensic cases.
Disk Drill gives you the tools to create image copies, and then use them in you MXF file recovery process. Once you have created the image copy, just attach it to Disk Drill, and recover MXF files with the above given steps. It work the same way as with digital devices.
You can also use Disk Drill to create image copies as backup files. In this way, you know that even deleted files are still there.