What is MOV File Format?
A MOV or Quicktime Movie file is a file format developed by Apple Inc, and used in its Quicktime app. It is a multimedia container, which can also work as a MPEG-4 video container. Compression is done with a proprietary algorithm developed by Apple.
Characteristics and Uses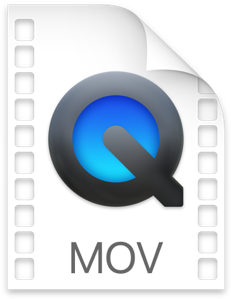 A MOV file contains one or more tracks. Each track contains a specific type of data: audio, video, effect or text (for example: subtitles). Data in each tract can be in the form of a digitally-encoded media stream, or as a reference to a file containing the media stream. Tracks are structured with objects called Atoms, which are organized in a hierarchical manner. This capacity of containing data in an external file, makes MOV files suitable for editing, as it is not necessary to rewrite all the data.
This file format is object oriented, giving the format the capacity to expand using new object types. Objects are also easily parsed due to its hierarchical organization.
Atoms are the basic data unit of MOV files. They act as containers of information. Each atom has size and type fields. If it also has a version field and a flags field, it is called a full atom. An atom is identical to a box, as described in the ISO standard for MPEG-4 and Motion JPEG-2000. Each atom is identified by a 32-bit unsigned integer, usually interpreted as a four-character ASCII code.
Being organized in a hierarchical manner, an atom can contain other atoms, which in turn can also contain other atoms. This structure is described using the words parent, child, grandparent, etc.
Atoms can be of different types. For example, Movie Data atoms contain media data, Preview atoms contain information about the preview image. The preview image or poster is an image suitable for display. MOV files also contain metadata, which stores information on country, language, etc. Metadata is stored in the form of key-value pairs.
Brief History
The first release of the full Quicktime file format specification was on September 4, 2007. The Quicktime file format has been used as the basis of the MPEG-4 standard, and the JPEG-2000 standard, both developed by the International Standardization Organization (ISO).
File Signature
ISO 8859-1: [4 byte offset]
ftypqt
Hex Signature: [four byte offset]
66 74 79 70 71 74 20 20
Programs That Open MOV Files
Windows:
File Viewer Plus
Microsoft Windows Media Player
Roxio Creator NXT Pro 5
CyberLink PowerDVD 16
Xilisoft Video Converter Ultimate
VideoLAN VLC media player
Mac:
Apple QuickTime Player
Eltima Elmedia Player
Roxio Toast 15
Roxio Popcorn
VideoLAN VLC media player
Linux:
VideoLAN VLC media player
Web:
iOS:
olimsoft OPlayer
VideoLAN VLC for iOS 2
Google Drive
Android:
Google Drive
J2 Interactive MX Player
How to Recover Deleted MOV Files
It is quite easy to recover unintentionally deleted MOV files. Disk Drill is a data recovery app that can recover MOV files from a variety of digital devices, such as internal and external hard drives, USB flash drives, iPhones, memory cards, and several more. The app is available for free!

Data recovery for free
Your Companion for Deleted Files Recovery
Once downloaded, follow the steps below:
Click on the installer and follow the given steps. They are straightforward.
Once installed, click on the app icon. Disk Drill will open and show a list of all detected digital drives connected to your computer. Select the one containing your deleted files.
From the main menu select "Preferences", then "Video" and "MOV". In this manner, Disk Drill will narrow the search to MOV files only, making your MOV file recovery faster.
Press the "RECOVER" button. Disk Drill will scan your device in search for MOV files.
You can pause the scan any time, by pressing the "PAUSE" button. You can also save the session using the "SAVE" button, and continue at a later stage, without losing any of the work already done. Or similarly, you can cancel your search by pressing "CANCEL".
Once the scan is done, Disk Drill will show the MOV recovery results in the form of a list. This list can be narrowed by filtering it according to date and size.
Select the files you are interested in, and retrieve them to a folder of your choice.
Your MOV file recovery is done!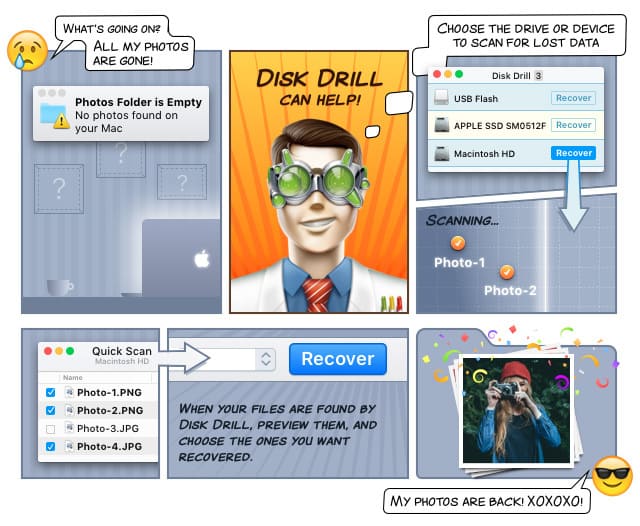 How to Use Image Files to Recover MOV Files
Image files are bit-by-bit copies of digital drives. They can be created using Disk Drill, by accessing the respective option from the "Extras" menu available next to each detected drive. Image copies are useful for MOV file recovery and for backup purposes.
In the case of MOV recovery, working on image files is an advised practice, as it reduces the risk of damaging the original source. In addition, the process can be repeated on extra copies. For these reasons Digital Forensic practitioners usually work on image copies.
Image files can also be used for backups, with the added advantage of also storing deleted files not yet overwritten by the operating system. On the downside, a backup using an image copy may result in unnecessary used space, as the resulting size will be the same as the full size of the original source.