Working with the MAX (Autodesk 3ds Max Scene) File Format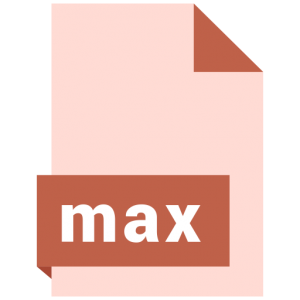 When asked to name at least one 3D graphics program, most people would first name Autodesk 3ds Max. This pioneering 3D computer graphics program started its life in 1990 as a DOS application developed by Gary Yost and the Yost Group.
The program quickly became a success, and Autodesk, its publisher, rewrote it for the Windows NT platform and released it as 3D Studio Max. A few releases later, Autodesk changed the program's name again, this time to Autodesk 3ds Max.
What Is a MAX File?
The MAX file format is the main file format used by Autodesk 3ds Max. It's used to store 3D models, animation sequences, rendering settings, and other 3D information, including wireframes, textures, shading, and lighting effects.
Because of how popular Autodesk 3ds Max is, most other 3D modeling applications, such as Blender, a free open source 3D content creation suite, available for all major operating systems under the GNU General Public License, Autodesk Maya a powerful, integrated 3D modeling, animation, visual effects, and rendering solution, or Cinema 4D, a commercial, cross-platform, high-end 3-D graphics application, produced by MAXON Computer GmbH, support the .MAX file format as well.
How to Open MAX Files?
To open files with the MAX file extension, you need to have Autodesk 3ds Max installed and properly configured on your system. 3ds Max is currently only available for Windows 7 or later. On the official website, Autodesk features a handy comparison of the latest version of the program with previous versions.
Some of the more notable features added in recent years include camera sequencer, dual quaternion skinning, enhanced text tool, geodesic voxel and heatmap skinning, max creation graph animation controllers, support for OpenSubdiv, UV mapping physical camera, added support for new Iray and mental ray enhancements, simple simulation data import, exposure lighting simulation and analysis, and many others.
If the long list of features isn't enough to convince you to purchase the software, the 30-day free trial version should do the trick. To obtain it, all you need to do is enter your email address and wait until you receive a download link. If you are a student, you can get Autodesk 3ds Max for free for 3 years.
How to Recover Deleted MAX Files?
There are not many comprehensive data recovery solutions available that are both easy to use and support MAX file recovery. When the worst happens and you lose days if not weeks of work, the last thing you want to do is waste more time. Disk Drill, a premium data recovery solution for Windows and Mac OS X, has been designed from scratch to make MAX data recovery as simple as possible.

Data recovery for free
Your Companion for Deleted Files Recovery
How to Repair MAX Files?
To repair or recover the MAX file format with Disk Drill, simply launch the program and select your storage device. Disk Drill supports a number of different data recovery methods, but it takes just one click to recover your lost data. Even though Disk Drill emphasizes ease of use, it's still remarkably powerful, supporting over 200 different file formats and all popular storage devices.