Important files can disappear at any time and due to any reason. However, the most often stated reasons for file loss include accidentally deleting them or leaving them unsaved. If you frequently work with InDesign Document, you are probably aware of the importance of INDD files. This article will explore how you can recover deleted INDD files using free and paid methods.
What Is INDD File Format?
Adobe InDesign is the leading software when it comes to page layout designing and publishing. An indispensable aspect of creating layouts and working with the program, are INDD files. 
INDD files contain essential information with regard to the page layout you are trying to create. This includes fonts, formatting, content, style, and swatches. Using these tools, users can create a variety of designs for a book, brochure, or magazine. All in all, the primary use of INDD files, is in layout design.
Historically, INDD files have been around since 1999. The format was introduced with the launch of Adobe InDesign's first version. Adobe's 1994 acquisition of Pagemaker played a major role in the development of INDD files and Adobe InDesign.
The INDD format owes its popularity to two primary features. Firstly, creating multipage projects becomes a breeze because templates can be applied consistently to each page. Lastly, INDD files can be used with Adobe InCopy for better publishing and word processing experience.
INDDs are a vector file, which basically means that there is no loss of quality if you zoom in on the file.
The main disadvantage of INDD files is that they're usually quite large. This makes it difficult to share them via email.
If you've lost important INDD files and are unable to resume work on your InDesign project, read the sections below to discover how to retrieve the files using simple methods.
How to Open INDD Files on Mac and Windows.
INDD files are a proprietary format owned by Adobe. Therefore, you will have to download Adobe InDesign, as it is the only opener available for files with the .INDD extension.
Typically, both Windows and macOS, automatically associate INDD files with Adobe InDesign Document, provided the software is installed. But, you can also right-click the INDD file, then use the Open with option and select Adobe InDesign to execute INDD files.
Programs That Open INDD Files.
As mentioned in the preceding section, the INDD format, in its original form, can only be opened using Adobe InDesign. But, other third-party programs can open the files after converting them into the PDF format.
💡 Users can also open INDD files in InCopy. Though you will need to first create an ICMA file using InDesign, then use the Export feature to link it to InCopy.
To open INDD files using Photoshop, the file needs to be converted into the PDF format.
How to Recover Deleted INDD Files
There is no dearth of ways to restore your deleted INDD files. In fact, you can perform all these methods at home, without having to contact any local data recovery service. There is also no need to worry if you're a beginner PC user, all these solutions are beginner-friendly.
To further increase the likelihood of retrieving lost INDD files, follow the advice listed below:
DON'T copy large amounts of new data to the device that is affected by data loss.
BEGIN the data recovery process as soon as possible. This will lessen the chances of copying new data to the storage device.
PERFORM the best data recovery method, first. Chances of data recovery reduce with each subsequent attempt.
⚠️ In case the HDD shows signs of physical damage, contact a professional data recovery service as early as possible. Do the same if you use a TRIM-enabled SSD, since recovering data from them is next to impossible.
How to Recover INDD Files With Software
For almost all users, recovering data using a third-party data recovery solution, is the best bet. Being a highly competitive sphere, most companies offer decent features, and they're usually aimed at beginner PC users. However, there are still some applications that stand out from the rest.
One such data recovery application is Disk Drill. Behind its minimal UI is a proven data recovery success rate, along with other nice to haves such as SMART device status and the ability to create and load disk images. Windows users also get a free trial.
Here's how you can get back your completely missing INDD files using Disk Drill:
Step 1: Download Disk Drill for Windows or Mac.

Data recovery for free
Your Companion for Deleted Files Recovery
Step 2: Execute the downloaded setup file. Follow the steps that pop up in the setup wizard.
Step 3: Open Disk Drill. You can do this by using the desktop shortcut or the Start menu option.
Step 4: On the Disk Drill home screen, select the partition or storage device you'd like to scan. Then click on the Search for lost data option. You can use different scan types such as All recovery methods or Quick Scan, if you're looking to save some time.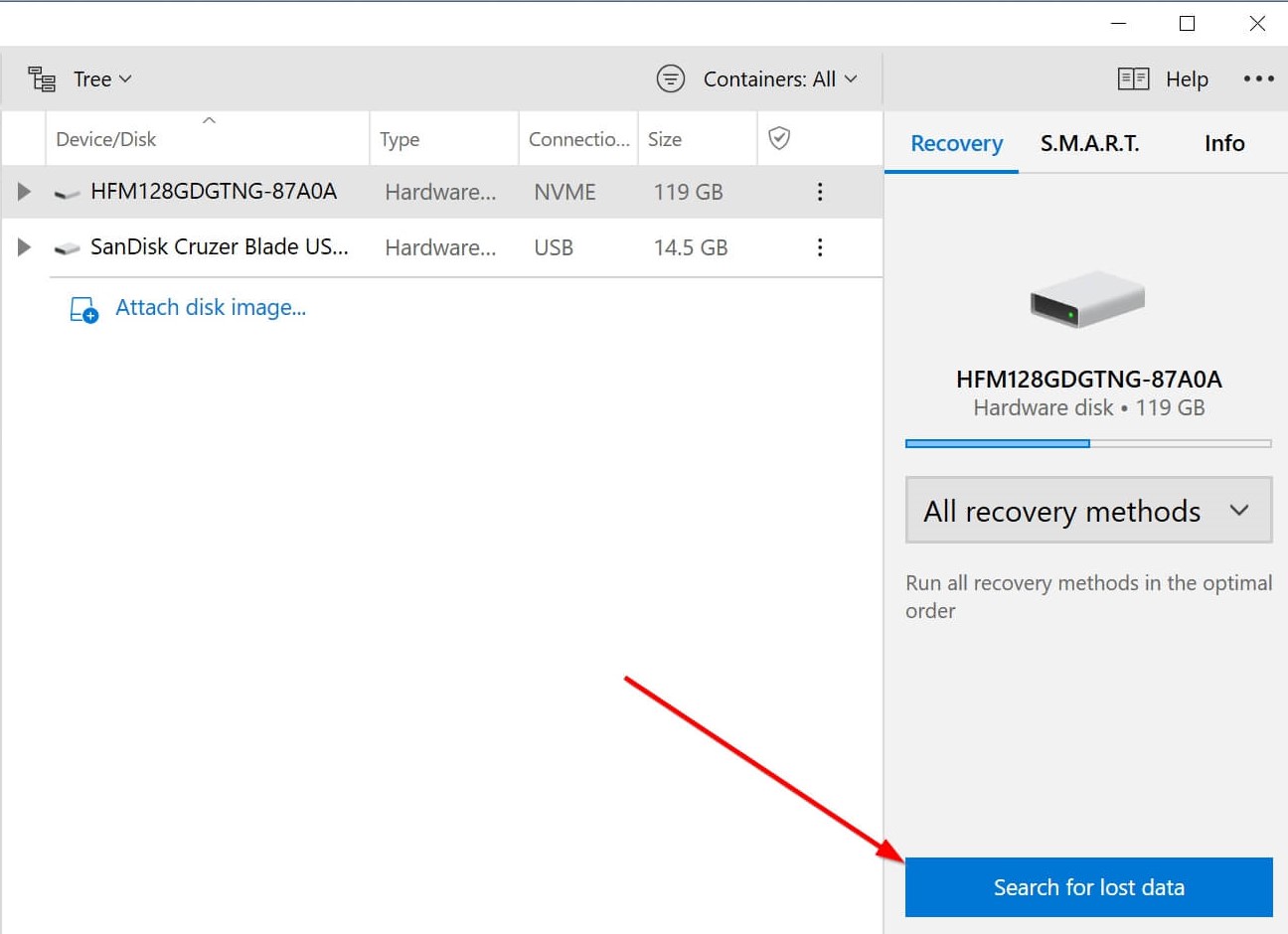 Step 5: Choose Review found items after the scan is completed.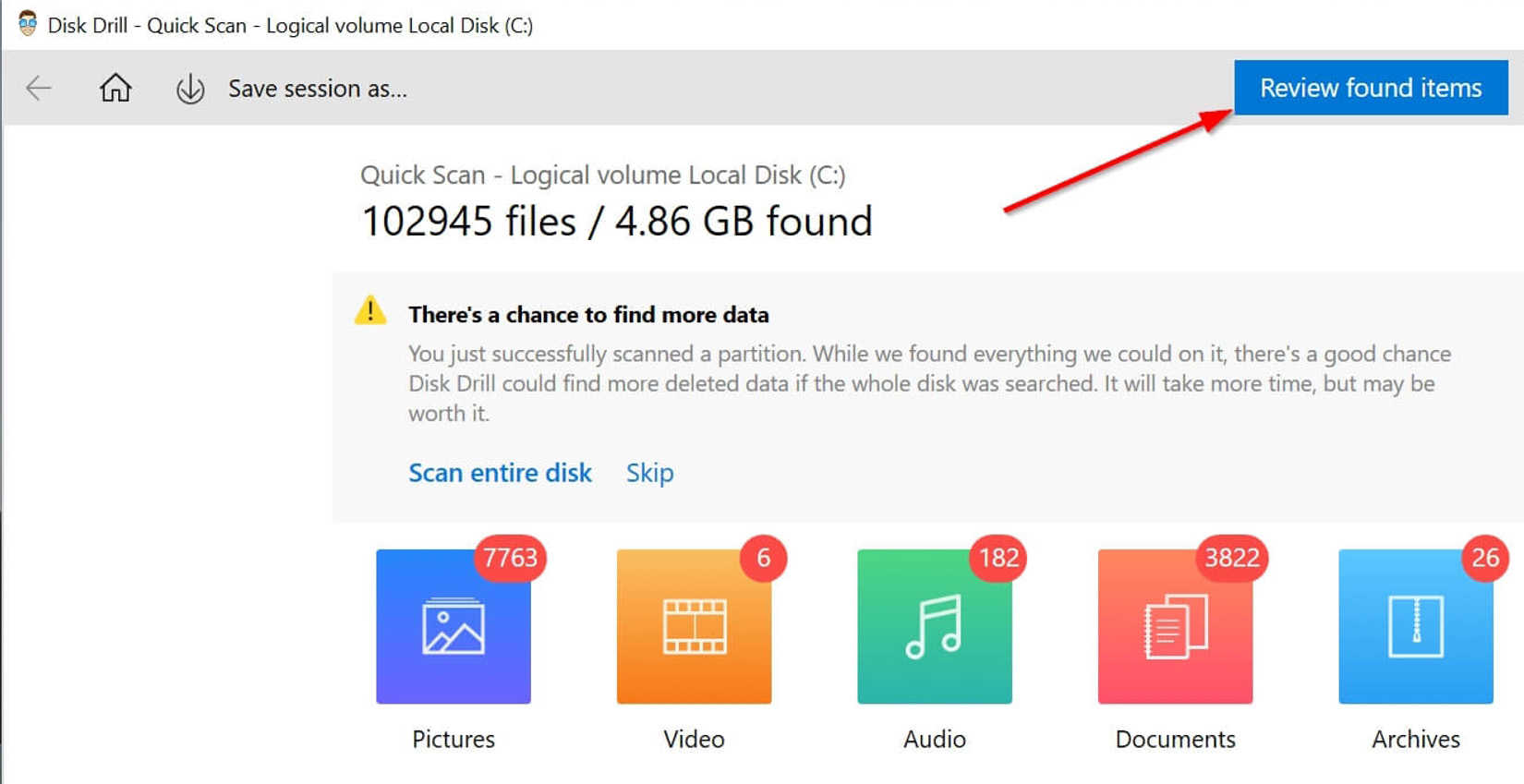 Step 6: Click on the INDD files you want to recover. You can make use of the filter feature to find the relevant files easily.
Step 7: Click the Recover button. You'll be prompted to choose a recovery folder. Remember to select one that is on a different partition, and ideally, on a different storage device.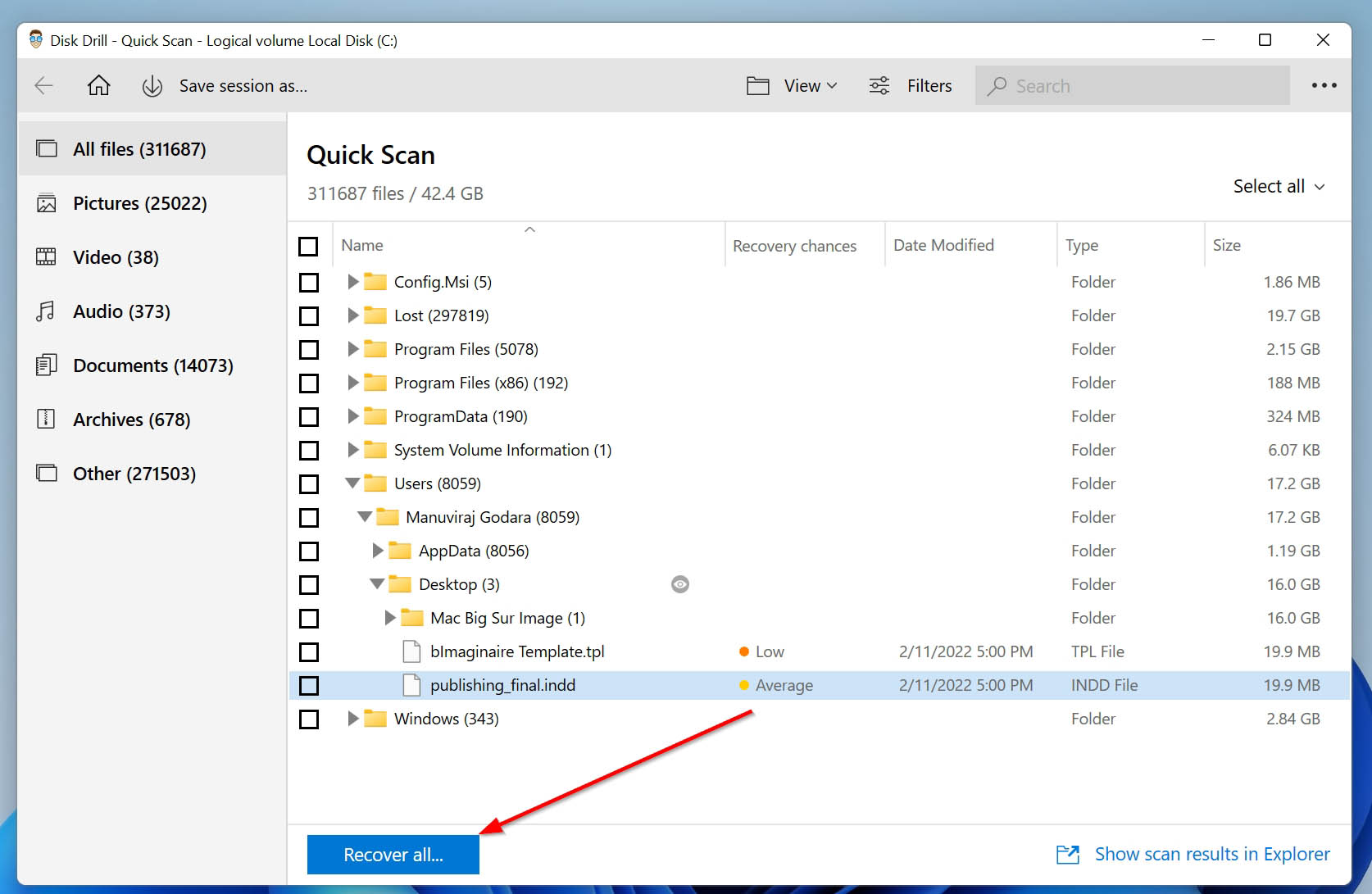 Be patient during the recovery process, as the time taken depends on a multitude of factors.
Recover INDD from Windows Recycle Bin or Mac Trash
After you delete files on macOS and Windows, they are temporarily transferred to a directory. The folders are called Recycle Bin and Trash in Windows and macOS, respectively. All files found in these directories can be easily retrieved.
To recover files from the Recycle Bin and Trash, follow these steps:
Windows Recycle Bin
Step 1: Launch Recycle Bin using the desktop icon or the Start menu.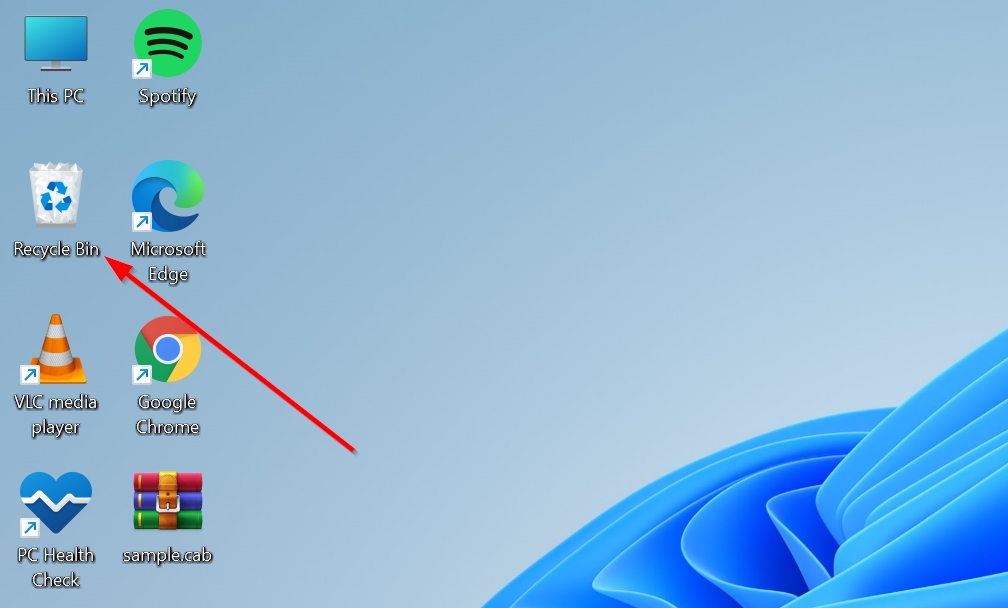 Step 2: Choose the INDD files you want to restore.
Step 3: Right-click on the desired files, then click Restore. Alternatively, you can click the Restore icon below the Title bar.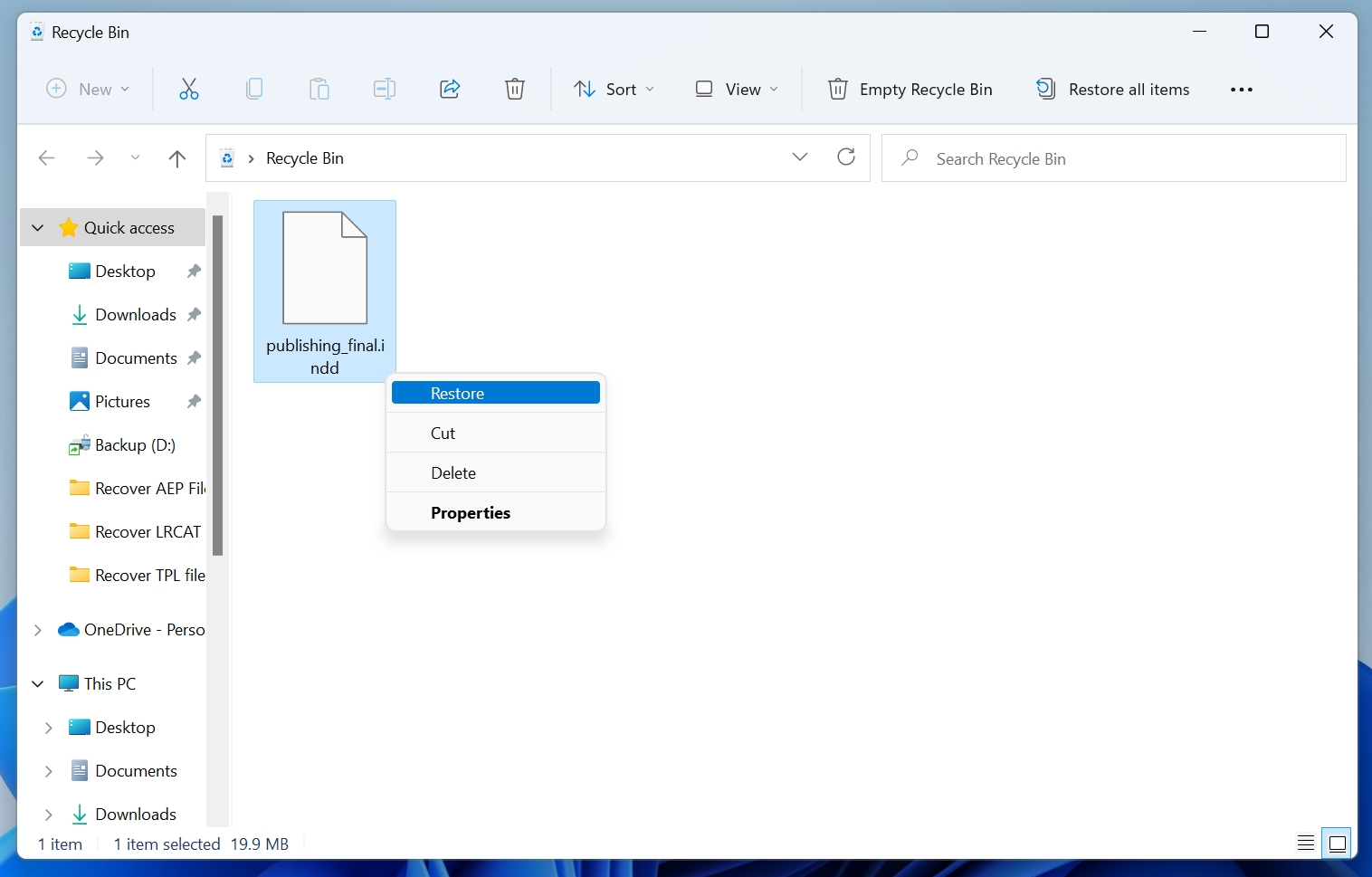 Mac Trash
Step 1: Launch the Trash or Bin. Look for a trash can icon on the Dock.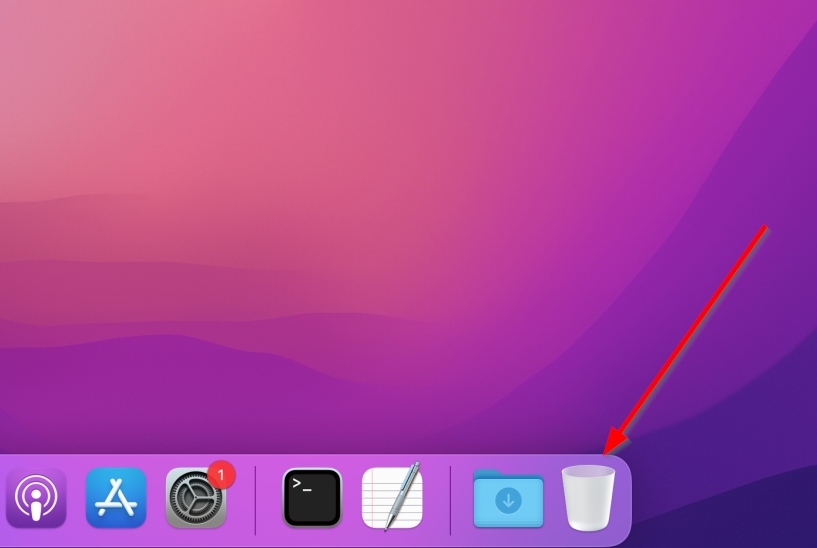 Step 2: Select the INDD files you want to recover.
Step 3: Right-click and choose the Put Back option, or drag and drop the file to any folder of your choice.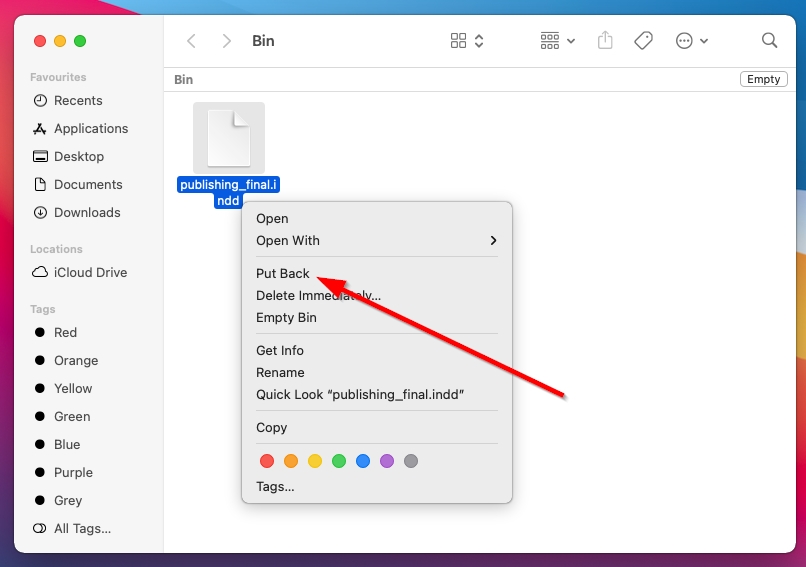 Restore INDD Files Using Windows File History and Mac Time Machine
Windows and macOS come with automatic backup features. The backup features regularly store copies of all the contents of selected folders. These features are called Windows File History and macOS Time Machine.
In some cases, the backup features may be disabled. So first, ensure that the feature was enabled when the file loss occurred.
 Windows File History
Step 1: Search for "file history" in the Start menu search bar.
Step 2: Click on the Restore your files with File History option.
Step 3: If you're redirected to the Control Panel menu of File History, click the Restore personal files option. If not, move on to the next step.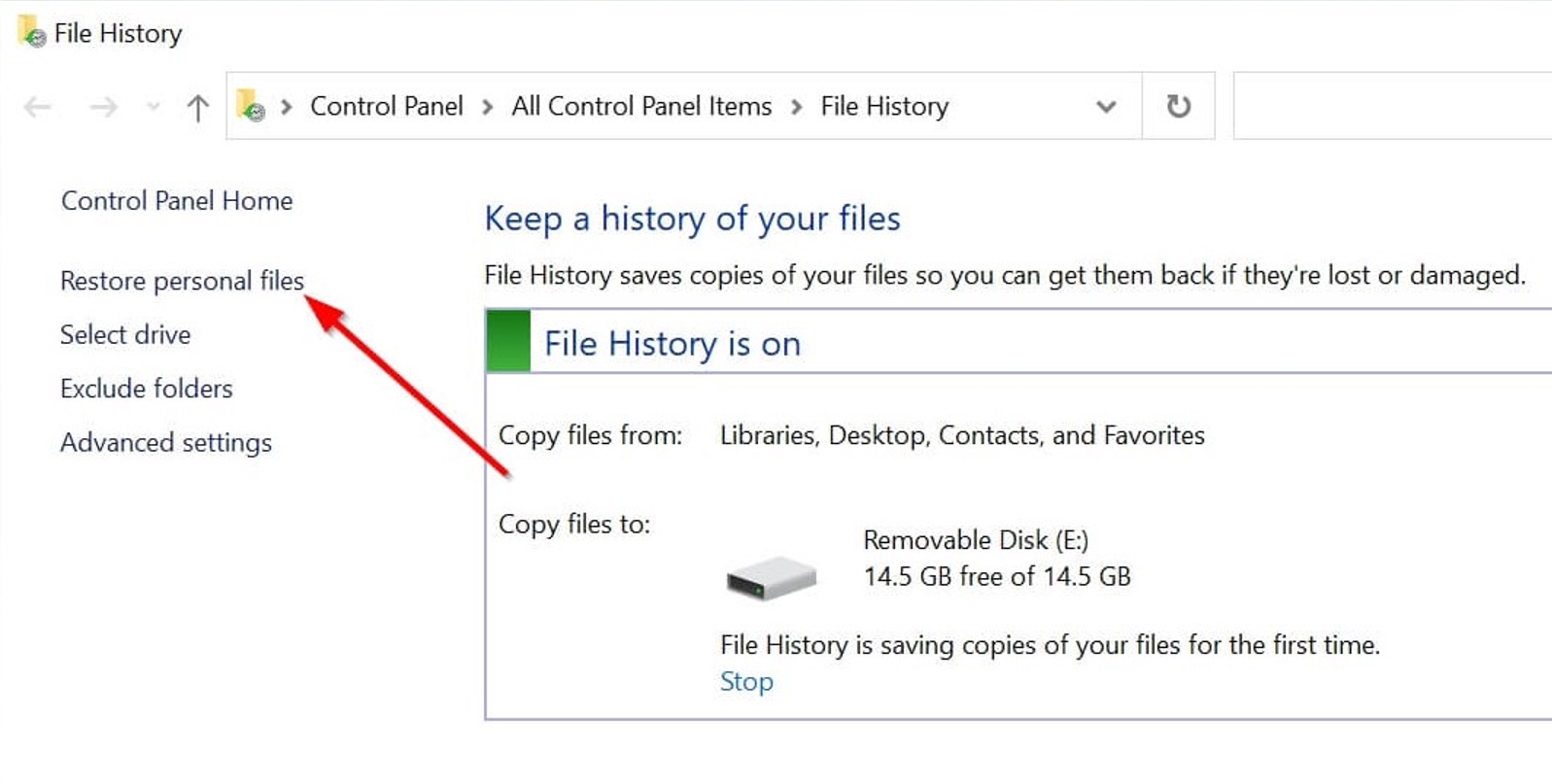 Step 4: Browse for the folder containing the lost INDD files.
Step 5: Navigate among the various backups until you find the one that has the required version of your INDD files.
Step 6: Select the INDD files you want to recover.
Step 7: Click on the green Recover button to restore the chosen files.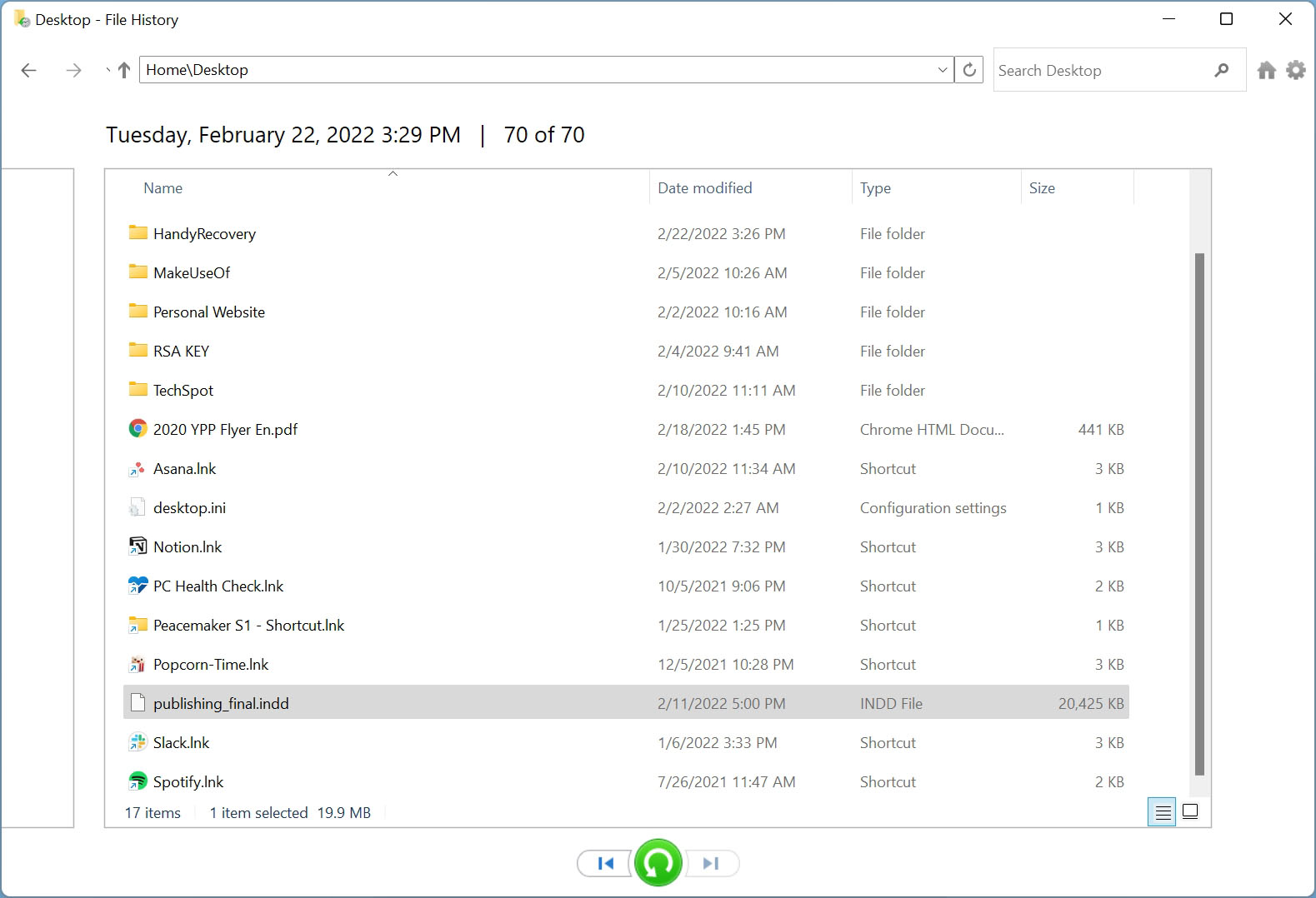 Mac Time Machine
Step 1: Open Spotlight (Command + Space Bar), and search for Time Machine.
Step 2: Navigate to the relevant directory within Time Machine.
Step 3: Look through the backups until you find one that has the INDD files.
Step 4: Select the INDD files, then click Restore.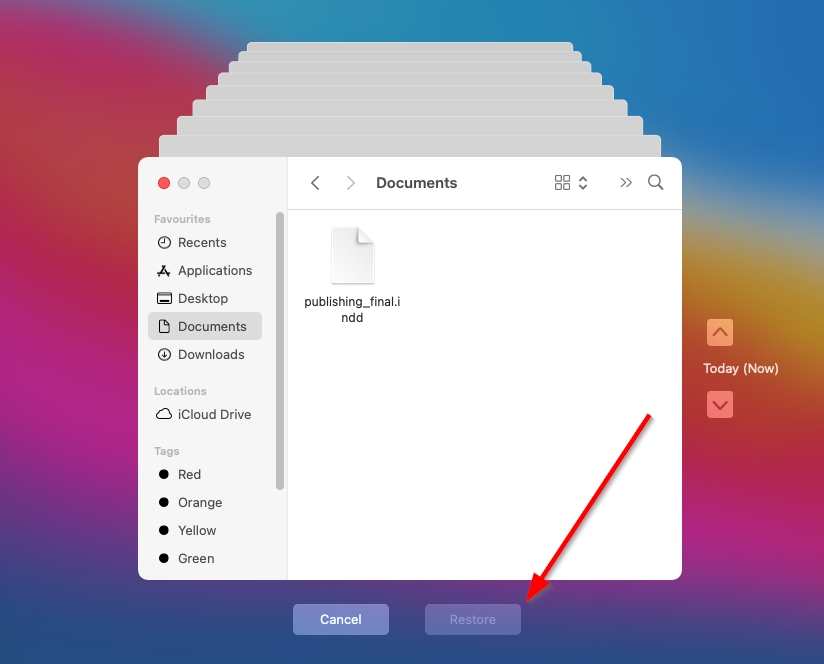 Restore Deleted INDD Files Using Adobe Creative Cloud
Since the introduction of Adobe Creative Cloud, your Adobe projects are automatically backed up to the cloud. This may differ depending on your computer's Sync or internet settings. It is definitely worth checking the Creative Cloud application, or website for backed up files.
To access your missing INDD files using Adobe CC, ensure that you're online, then follow these steps:.
Step 1: Open the Adobe CC app, or open the Adobe CC assets page website.
Step 2: Log In using your Adobe email and password.
Step 3: Click on the Your Files option.
Step 4: Look for the deleted INDB files and select them, then choose Restore