You can lose important INDB files due to any reason, such as accidentally deleting them. Another major reason could be that you forgot to save them properly. But, there's no need to panic, because there are multiple methods to restore these files, whether you accidentally deleted them or they were left unsaved.
What Is INDB File?
The INDB format is associated with Adobe's publishing and page layout designing software, Adobe InDesign. Therefore, the INDB format is appropriately a shortened form of the InDesign Book.
A typical INDB file will contain a collection of individual INDD document files that form the book. This means that the INDB project file will contain all pages, indexes, page numbers, and all other formatting information. 
Therefore, the main purpose of an INDB file is to compile all the documents in a single project so that they can be easily published and printed. They also make it easy to apply multiple styles across all pages, eliminating the need to edit them individually.
To create a new INDB file, simply launch Adobe InDesign and navigate to File > New book. Assign a name and save the location for the book, and it will be saved as an INDB file.
So, how do you recover lost INDB files and resume regular activities on your computer? Read through the next few sections to find out.
How to Recover Deleted INDB Files
There are multiple avenues you can take to recover completely missing INDB files. You can follow along even if you are a novice PC user.
Your chances of restoring the missing INDB files will increase if you keep in mind the data recovery tips listed below:
🛑 DON'T create or write new data to the storage device that stored the INDB files you need to recover.
🛠️ START the data recovery process as soon as possible to negate the chances of new files being created or copied to the storage device.
🥇 USE the data recovery with the highest success rate, first. With every additional data recovery attempt, the chances of recovering data decrease.
As a rule of thumb, always contact a professional data recovery service if there is any physical damage to your hard disk drive, or the data loss occurred in a TRIM enabled SSD.
How to Recover INDB Files With Software
Recovering lost INDB files using external software is actually one of the best ways to recover the data. Third-party software applications have a lot going for them, and some of them also come with free trials that allow you to recover your data for free.
One such data recovery software is Disk Drill. The primary reason for suggesting Disk Drill is that its simple UI plus advanced functionality allows beginners as well as experts to easily recover their lost files. Plus, it comes with a whole host of features that improve HDD and SSD health, such as the ability to detect bad blocks, and S.M.A.R.T Disk Monitoring.
Here's how to recover INDB files using Disk Drill:
Step 1: Download Disk Drill for Windows or Mac.

Data recovery for free
Your Companion for Deleted Files Recovery
Step 2: Run the setup wizard. Follow the on-screen steps to proceed with the installation of the Disk Drill program.
Step 3: Launch the Disk Drill from the desktop icon. Read the license agreement, as you will only be able to progress further after accepting them.
Step 3: Select the hard drive or device which stored the deleted INDB file, and then click on the Search for lost data option. If you're short on time, using the Quick Scan option from the drop-down menu is advisable. But, you won't find as many files using this option. In all other cases, it's better to use All scan options.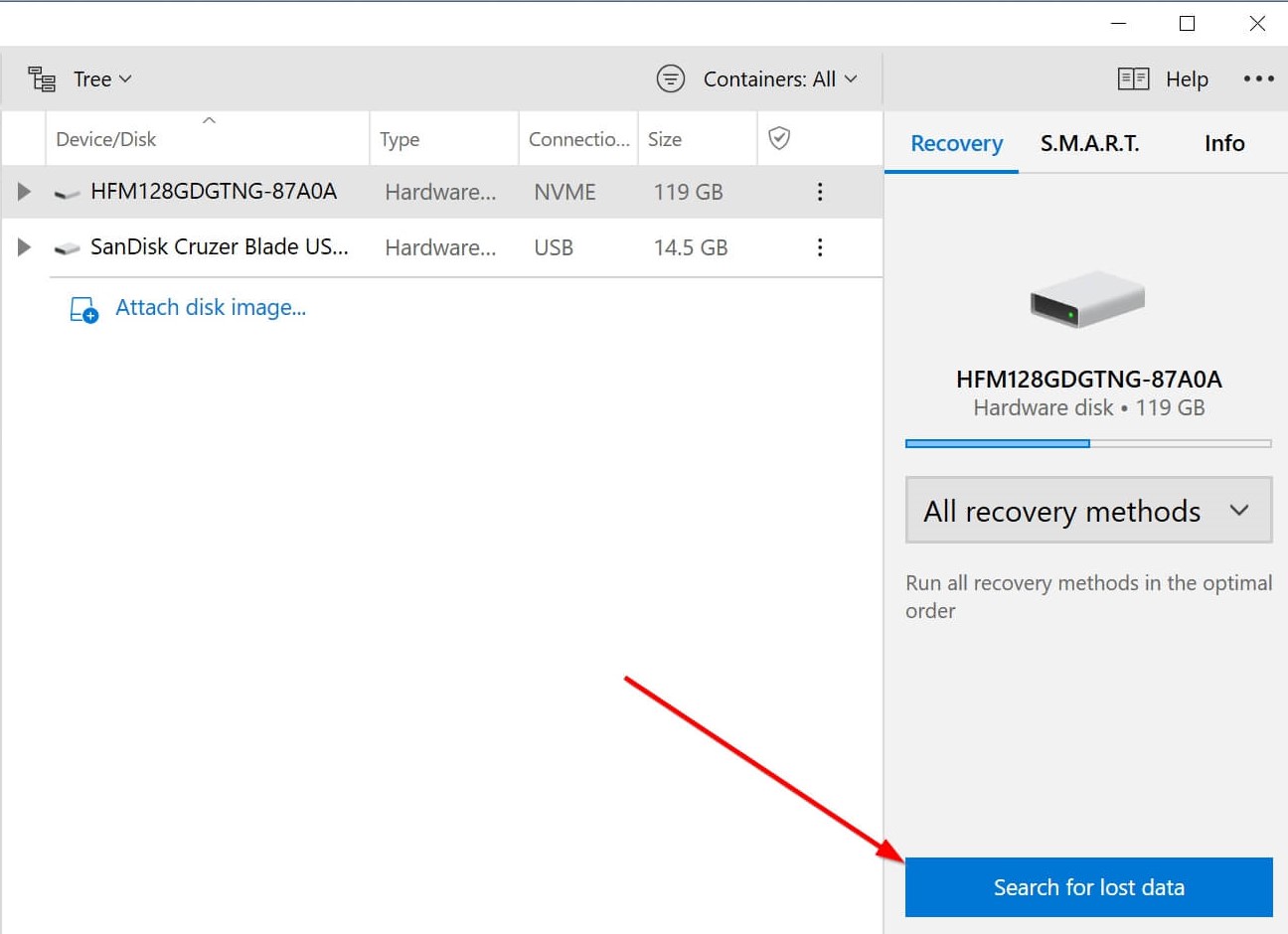 Step 4: After the scan is complete, click on the Review found items option to see discovered files.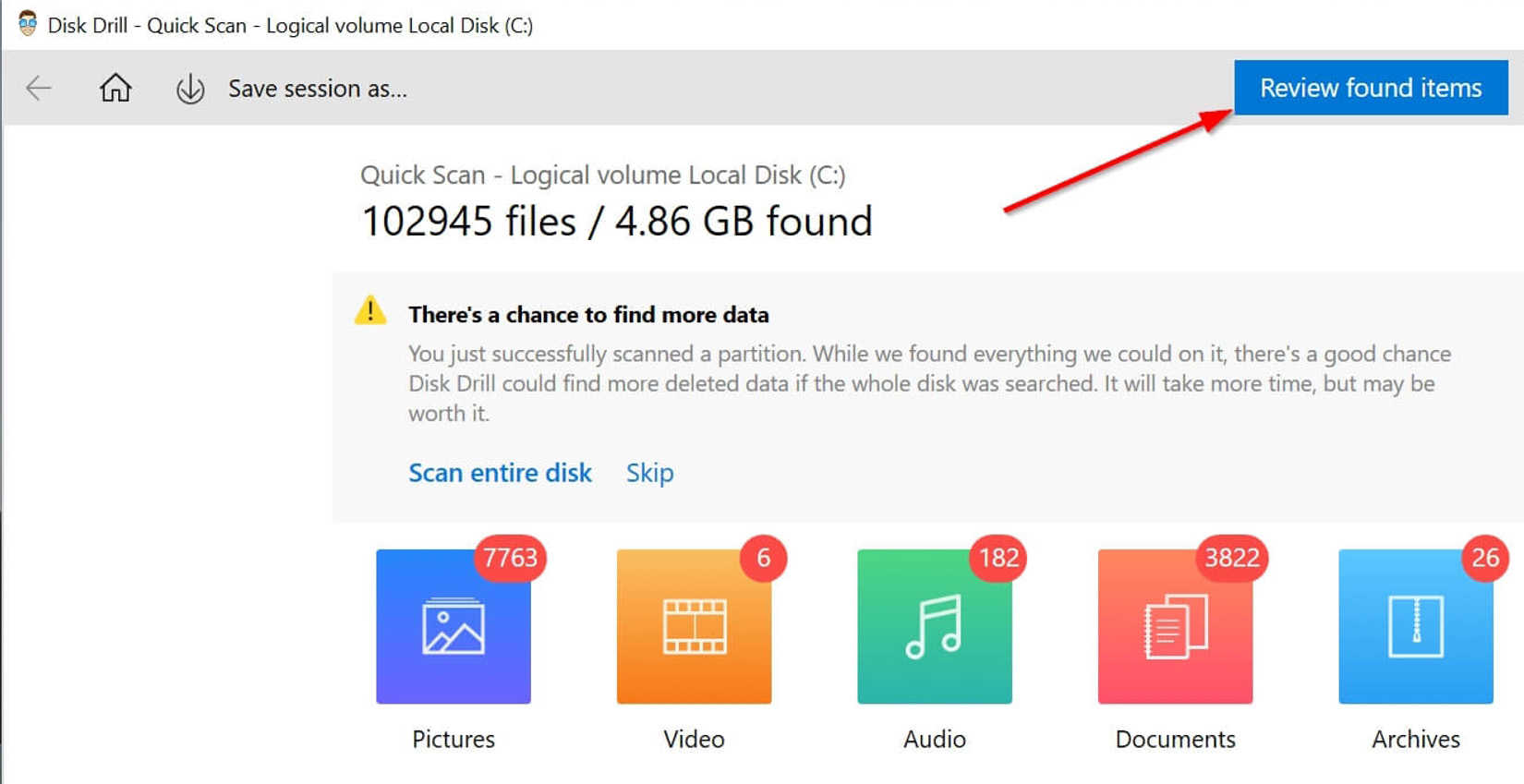 Step 5: Select the INDB files you want to recover. You can use the filter feature to narrow down the results.
Step 6: After selecting the recoverable file, click on the Recover all option to restore it.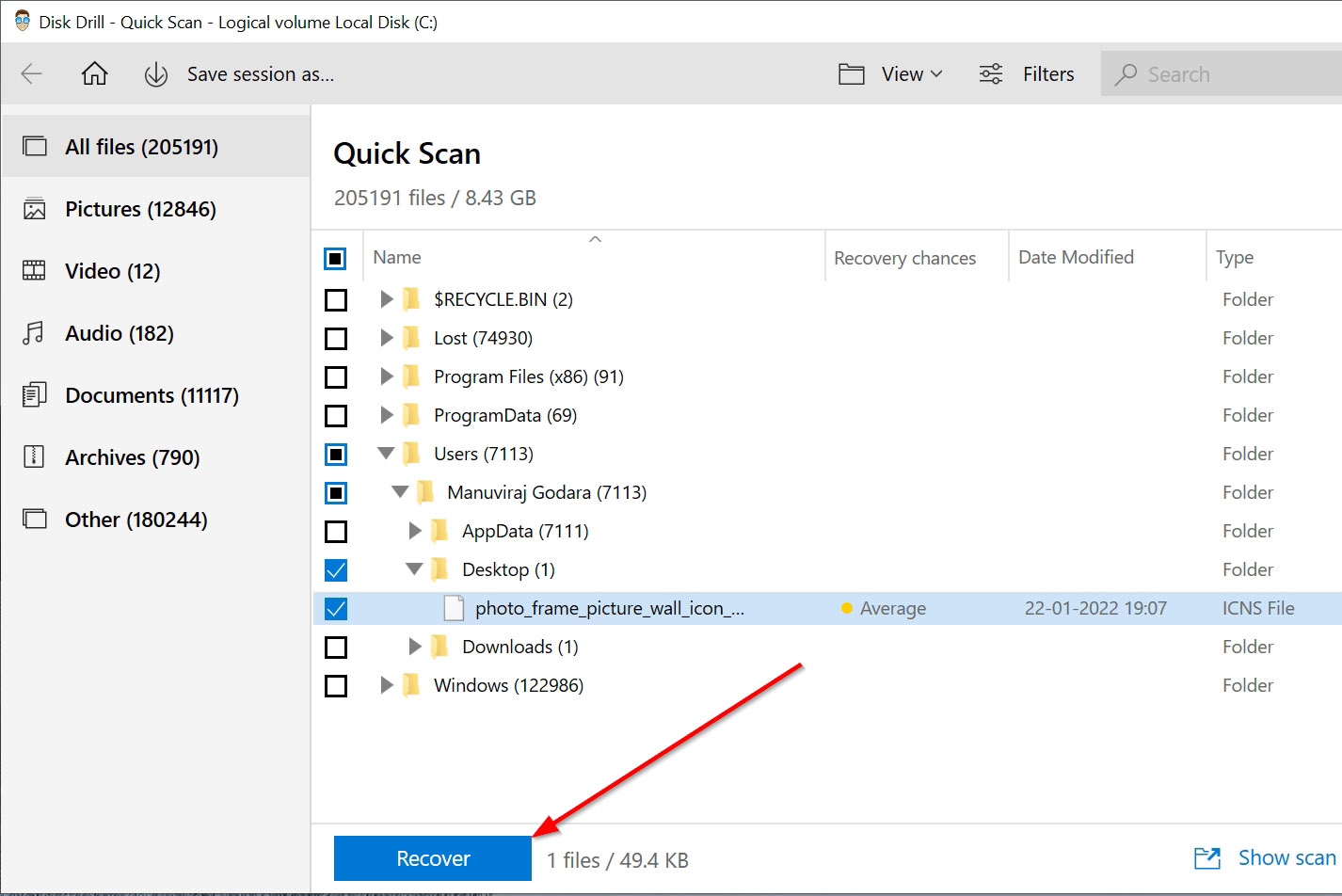 The method listed above will help you recover your lost INDB files in no time.
Recover INDB from Windows Recycle Bin or Mac Trash
Both Windows and macOS store temporarily deleted files in directories called the Recycle Bin and Trash, respectively. These allow you to retrieve deleted files, should you change your mind.
Here's how you can recover deleted INDB files from these folders:
Windows Recycle Bin
Step 1: Double-click the Recycle Bin icon on the desktop.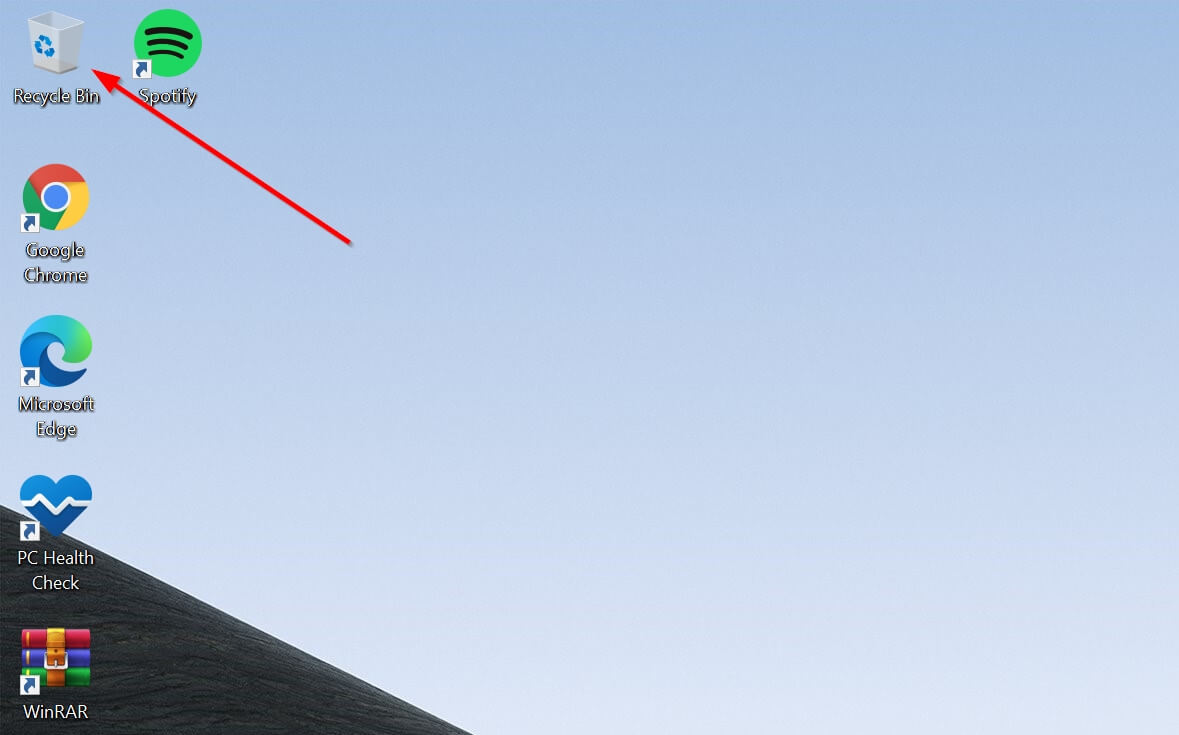 Step 2: Select the INDB files you want to recover.
Step 3: Right-click the file, then click Restore to move the file back to its original folder. Alternatively, you can drag and drop the file to a folder of your choice.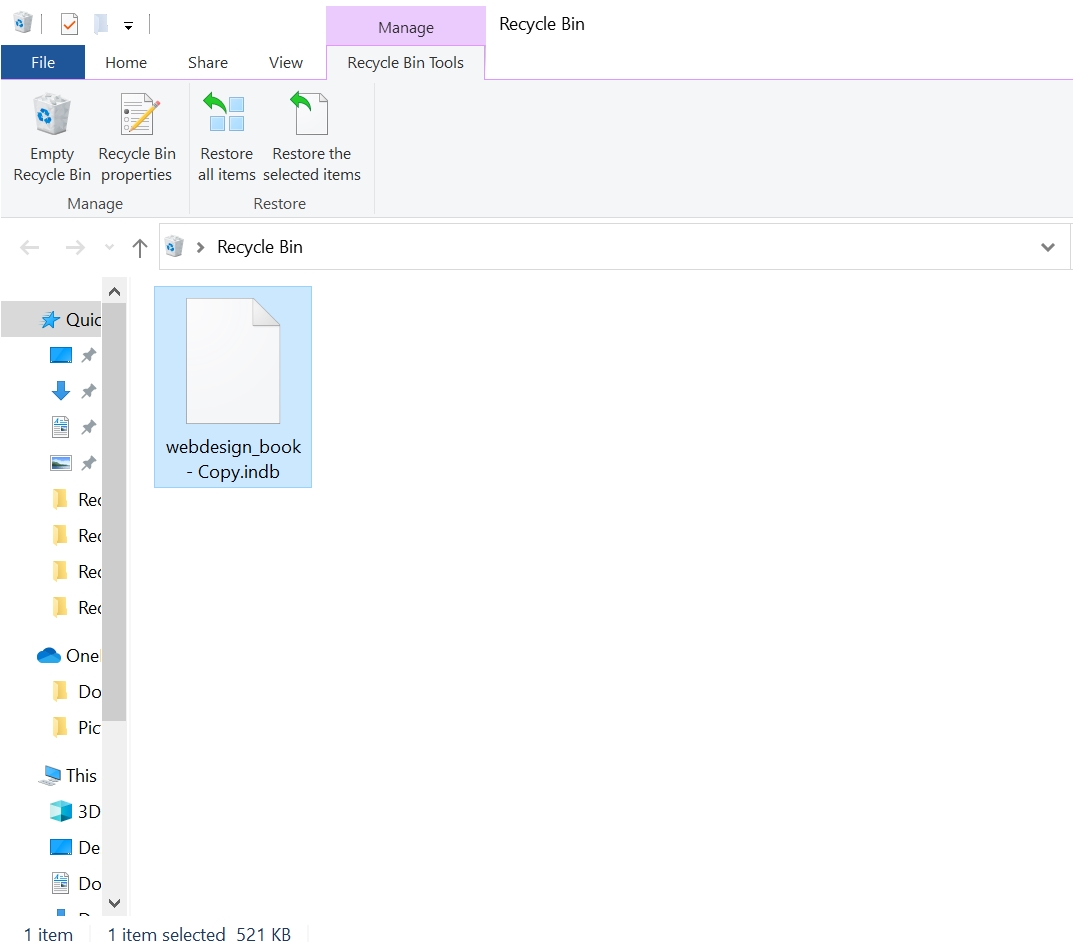 Mac Trash
Step 1: Click the Trash icon on the Dock.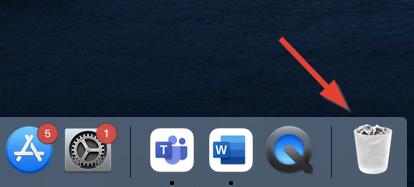 Step 2: Select the INDB files you want to recover.
Step 3: Drag and drop the files to a folder of your choice, or right-click the INDB file and choose the Put Back option.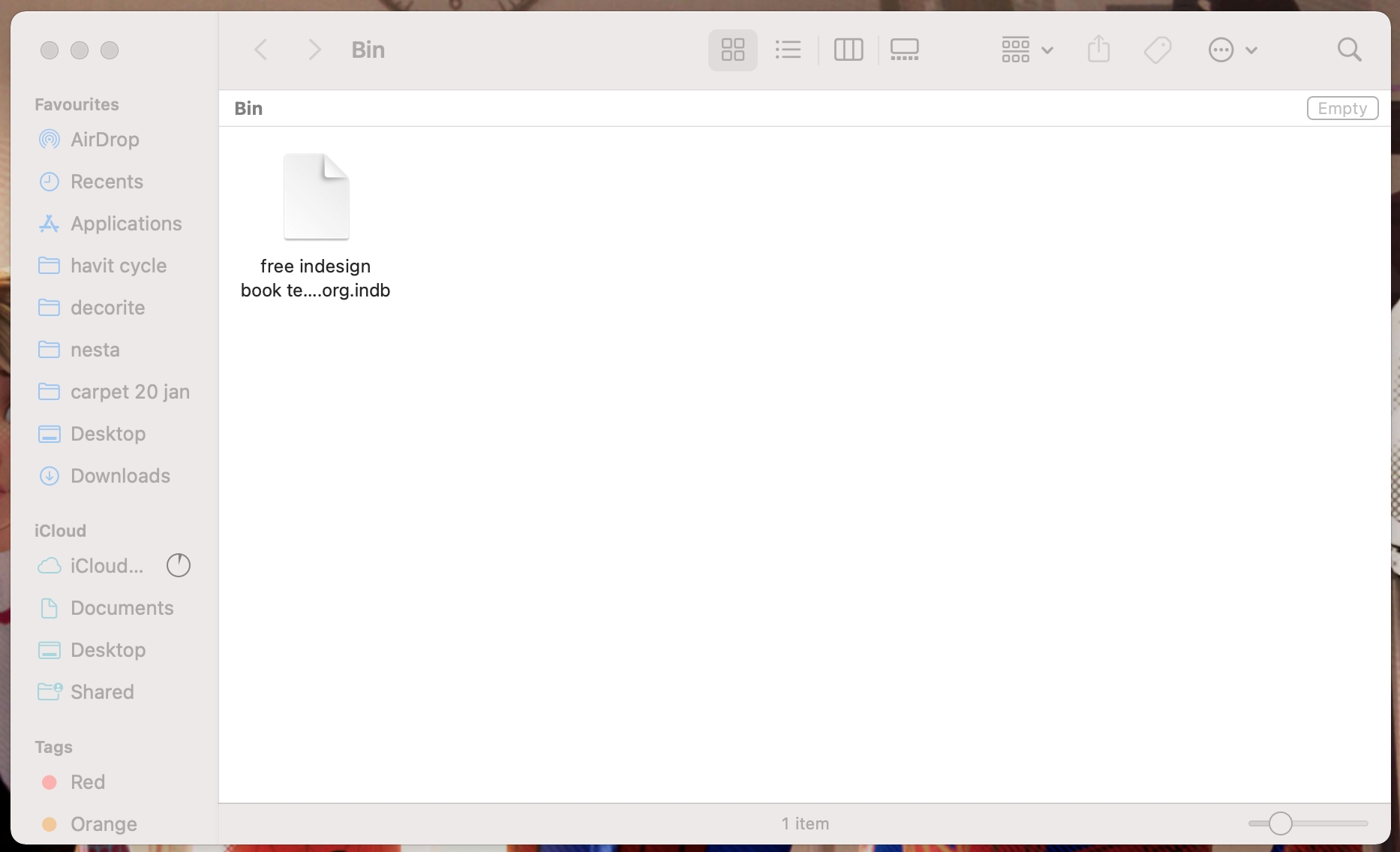 Restore INDB Files Using Windows File History and Mac Time Machine
Unable to find your deleted INDB files in the Recycle Bin or Trash? Both Windows and Mac come with automatic backup features that store copies of your files, allowing you to restore them whenever you desire.
However, both these features require you to have enabled them earlier, so they could store a backup of your files. Also, the original folder of the deleted INDB files should have been selected as a folder to back up.
Windows File History
Step 1: Use the search option next to the Start button to look for "file history."
Step 2: Find and click on the Restore your files with File History Control Panel setting.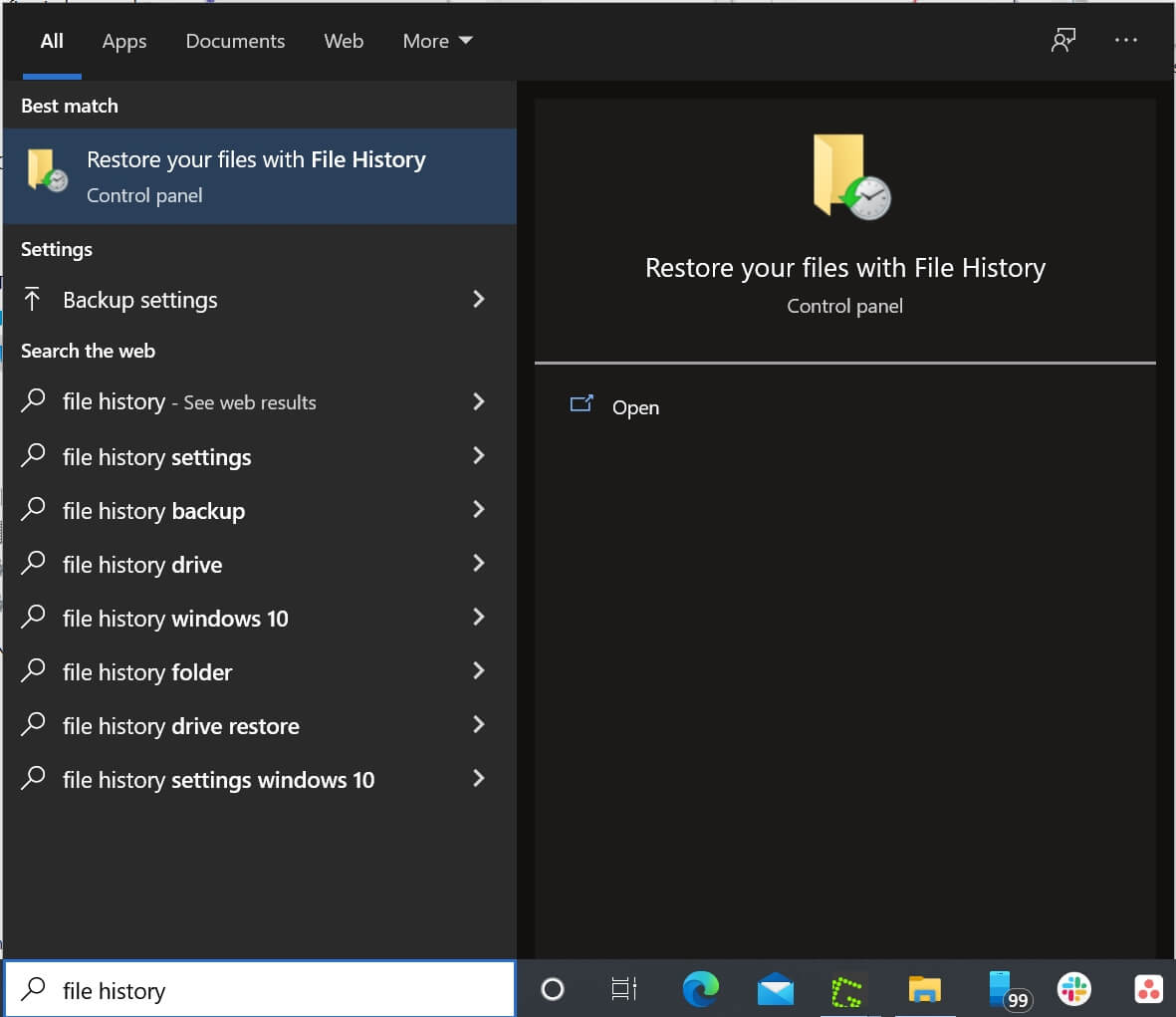 Step 3: Click the Restore personal files option on the left side of the window. Only do this if you see the File History Control Panel page open.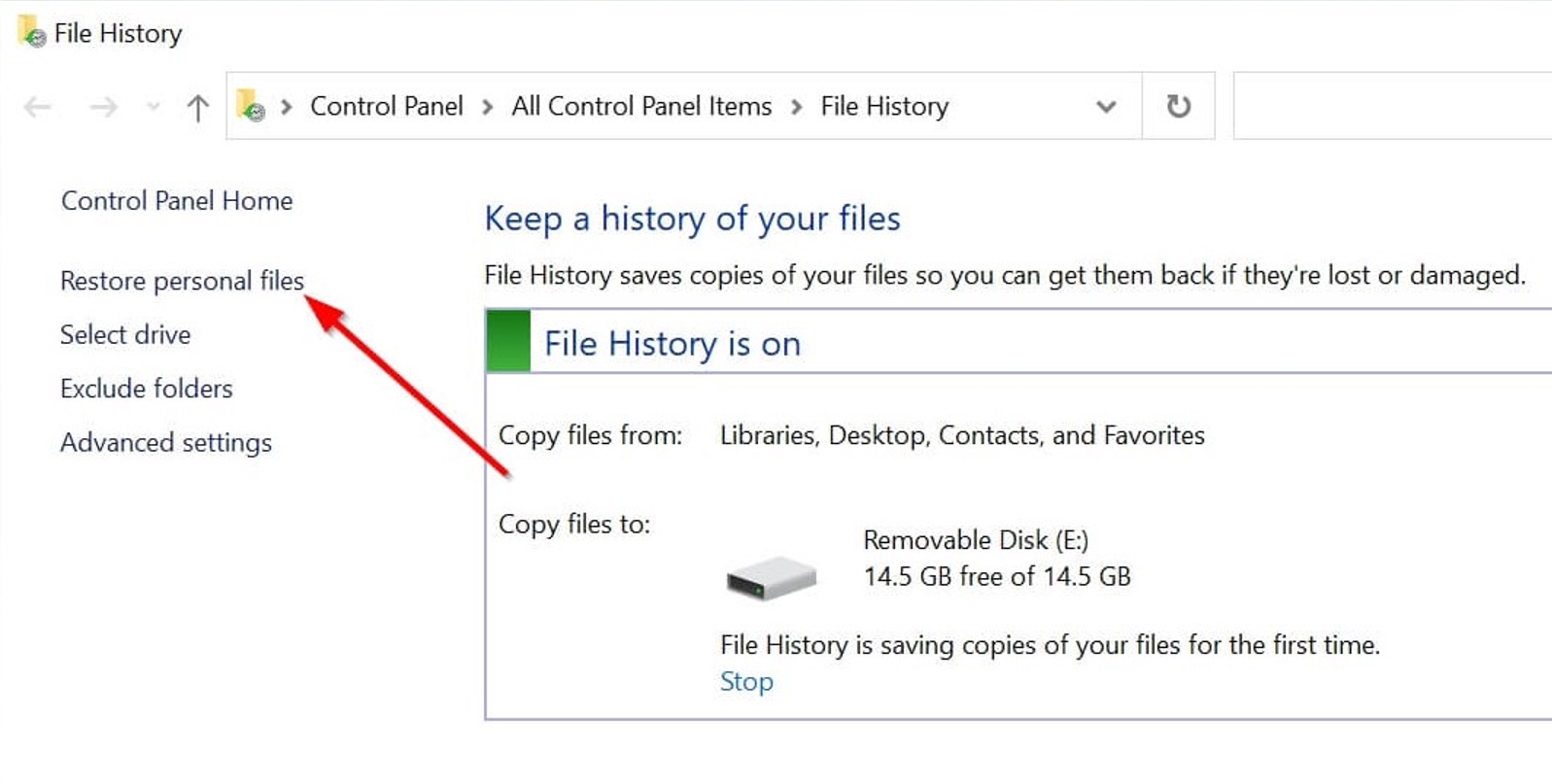 Step 4: Look for the folder that had your deleted INDB files.
Step 5: Browse through your available backups until you find the one that contains your deleted INDB files.
Step 6: Select the INDB files you want to recover.
Step 7: Use the Recover option at the lower part of the window to restore your files.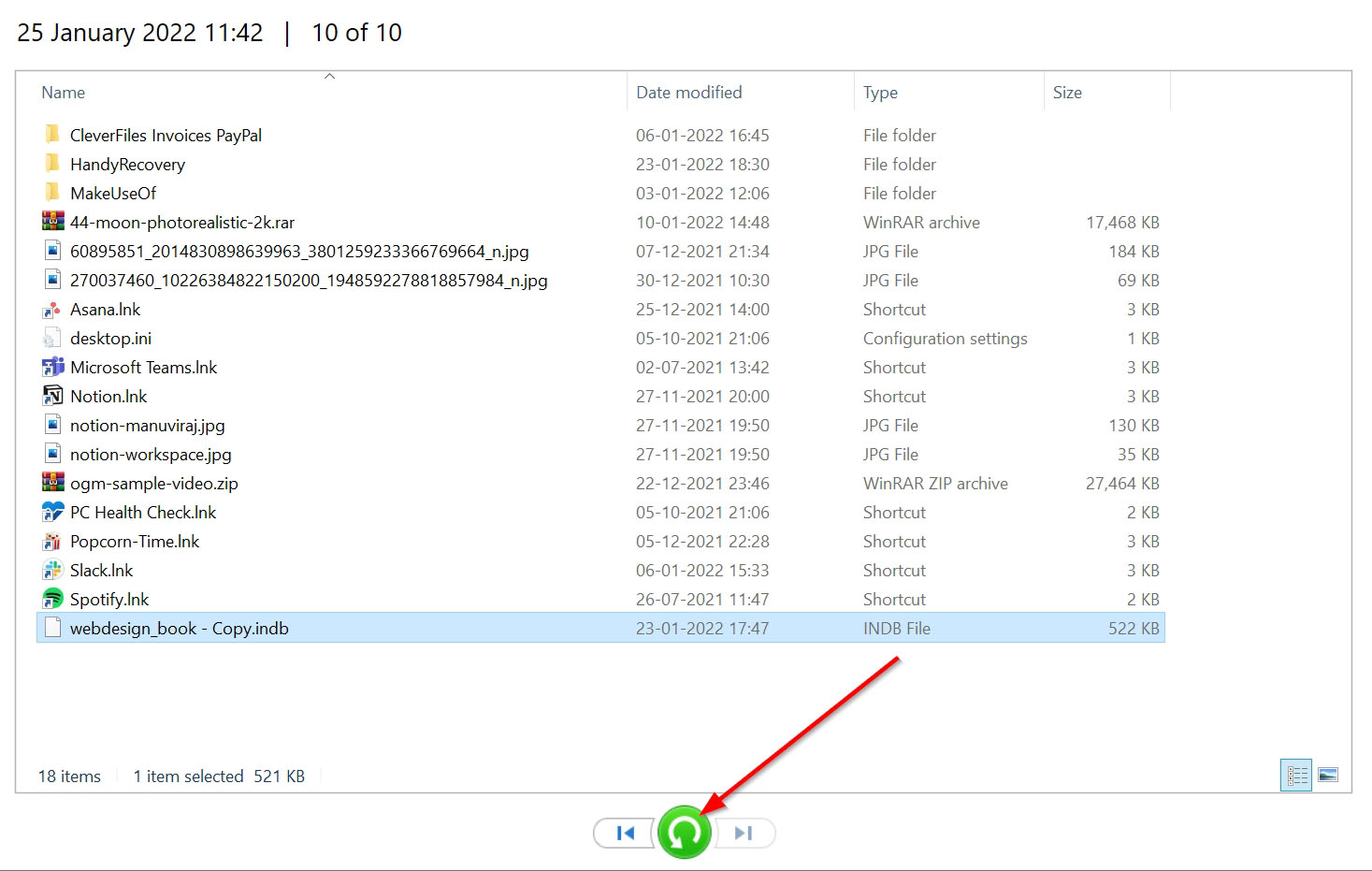 Mac Time Machine
Step 1: Search for Time Machine using the Spotlight (Command + Spacebar) feature in macOS.
Step 2: Navigate to the folder where your INDB files are stored.
Step 3: Browse through the backups until you find the one containing the deleted INDB files.
Step 4: Select the INDB files you want to recover, then click Restore.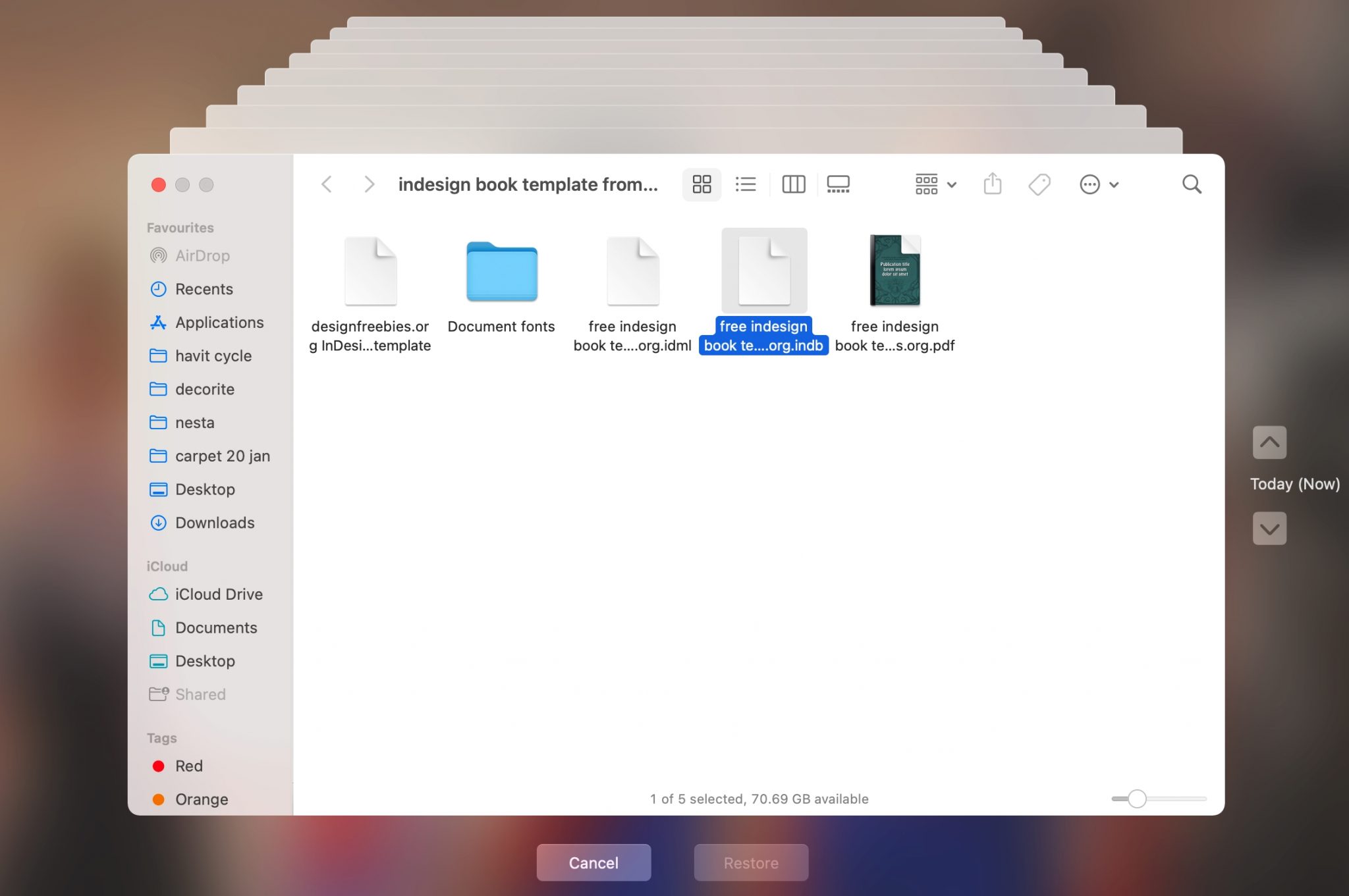 If enabled, both File History and Time Machine will restore your deleted INDB files to their original locations.
Recover INDB Files Using Adobe Creative Cloud
Provided you have Adobe Creative Cloud installed on your system, your files are automatically backed up to the cloud.
You can access these files using a browser or the Adobe Creative Cloud desktop application.
Step 1: Open the Adobe CC app, or navigate Adobe CC assets page on a web browser.
Step 2: Log In using your Adobe Credentials.
Step 3: Look for the deleted INDB files and select them, then click Restore.
How to Open INDB Files on Mac and Windows
Being Adobe's proprietary format, files with the .INDB extension have only one opener—Adobe InDesign. Both Windows and macOS users will have to download the software if they want to open and execute INDB files.
You can download the program from Adobe's official website or using the Adobe Creative Cloud desktop application.
Programs That Open INDB Files
As mentioned above, there is only one program that can open an INDB file. Fortunately, it's a cross-platform application that can run on Windows, as well as macOS.
The program is, of course, Adobe InDesign. It is a publishing and layout design software from Adobe that is primarily associated with INDB files. Keep in mind that InDesign is a paid application, though it does come with a 7-day free trial.
Tips to Avoid INDB File Loss
If you have recovered your lost INDB files, here are some tips that will help prevent file loss from happening in the first place.
Back up your INDB files: Always back up all your important data as frequently as possible. You can automate this process by switching on automatic backup on Windows and macOS.
Diversify your backup channels: Having multiple backup channels greatly reduces your chance of losing essential data. Keep critical information stored in two external storage devices, and one cloud platform.
Use a good antivirus program: Investing in antivirus programs is always a good idea. While the onboard antivirus software on both Windows and macOS is decent, added security will further mitigate virus infection on your computer.
Save your work regularly: When working on an InDesign project that uses INDB files, always save your work frequently. In the event of a crash, let the program close, and avoid shutting down or force quitting Adobe InDesign, as that can also cause the INDB file to disappear.