What Is DXR File Format?
DXR files are associated with Adobe Shockwave software. This app gives the user access to 3D games, interactive product demonstrations, and online learning systems.
Shockwave Player displays Web content that has been created with Adobe Director. Although at present it is not so popular, this platform dominated multimedia development during the 1990s.
Characteristics and Uses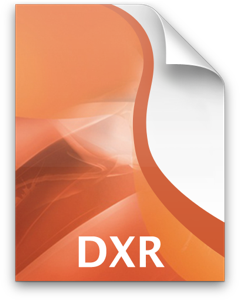 The DXR file format is a file type used for distribution of protected movies. The content cannot be edited and is uncompressed.
This results in faster movie playing than Shockwave content. Besides, as they are uncompressed, this file format is preferable when there is no disk space limit.
However, DXR files don't contain all the information necessary to edit the movie or about the software that plays the movie. Thus, they can be played only by a projector, a movie in a window, or the Shockwave Player. As protection is only for editing, a Shockwave enabled browser should be able to display DXR files.
Programs That Open DXR Files
Windows:
Adobe Director
Adobe Shockwave Player
Echo One iSwiff
dirOpener
Mac:
Adobe Director
Adobe Shockwave Player
Echo One iSwiff
Other DXR File Format Associations
DXR files are also associated with Adobe Acrobat and its management of Portable Document Format (PDF) files. These DXR files contain information that defines the structure of a PDF file. PDF files are used to resend and exchange documents in a format that is independent of the operating system, software and hardware.
DXR files are also associated with the Green Building Advisor system. This is a software utility that is used for modeling green houses and buildings. The DXR files store information for internal use by the program.
How to Recover Deleted DXR Files
Losing files unintendedly is a problem you are going to face in your digital life. Your DXR files may contain important videos. Fortunately, when you delete a file, the operating system only removes a reference to the data. The content remains, until the operating system rewrites the space with new content.
This fact is used by Disk Drill, a data recovery application that is available for free. It supports a wide range of drives, including internal and external hard drives, USB flash drives, memory cards, iPods and more.

Data recovery for free
Your Companion for Deleted Files Recovery
The DXR file recovery process is easy. Disk Drill guides you from download to DXR recovery with clear defined steps:
Download Disk Drill from one of the links above.
Install Disk Drill by clicking on the installer's icon and then follow the specified steps.
Open Disk Drill. The app will detect all connected drives and show the results in the form of a list. Select the one that contains your deleted files.
Narrow the search by selecting "dxr" file format from the main menu. In this way, the scan will be faster.
Ask Disk Drill to recover the deleted files.
You can pause or cancel the scan. You can also save the scan session and continue later on, without fear of losing any work already done. This is particularly useful in the case of large drives.
Once Disk Drill completes the scan, it shows the results in a list. This list can be narrowed by using the available filters by size or date. Select the files you need and retrieve them to a folder of your choice.
Your DXR file recovery is done!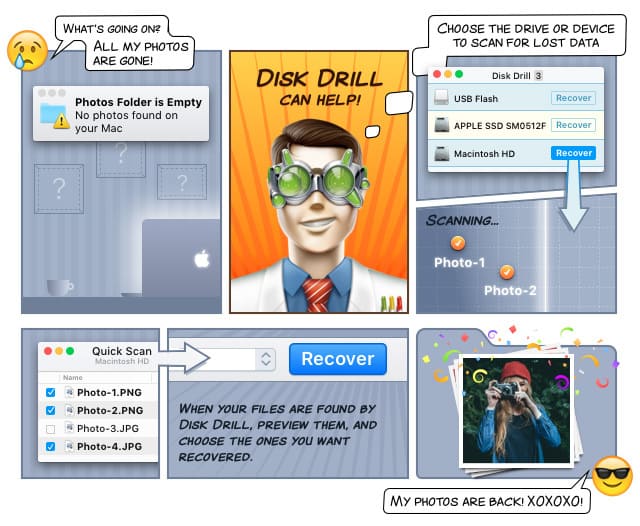 How to Use Image Files to Recover DXR Files
Image files are a useful tool when it comes to DXR file recovery. They are a bit-by-bit copy of a digital drive. Thus, they contain all deleted files still not overwritten. On the downside, as they also include all empty spaces, they can have large amounts of wasted space. However, working on image copies use reduces the risk of unintended damages on the original drive. For this reason, their use is a standard practice among Digital Forensics practitioners.
Image files can also be used for backup purposes. Their advantages can be seen when applying the well-known rule of making 3x2x1 backups: three backups, two in different format, one stored in a different place. Storing the content on an image file, provides an alternative format, rich in features, as it also includes deleted data.
Disk Drill is a very comprehensive tool, as it has the necessary functionality to help you in creating image copies, and recovering deletions from them. The procedure is simple: create an image copy, attach it to Disk Drill, and perform your DXR recovery in the same manner as shown in the above steps.
An additional advantage of Disk Drill is that Image copies are created in standard formats, such as .iso and .img, which can be opened by many other apps available on the market.