What is AEP File Format
Files with extension .AEP are created with Adobe's After Effects, which is a digital motion graphics and compositing software. These files contain project settings in a binary format. The settings of a project can also be saved in a text-based XML file format with extension .AEPX. AEP stands for After Effects Project.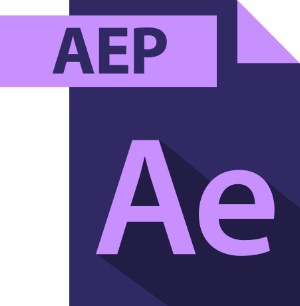 After Effects is an application originally developed in 1993 by the Company of Science and Art, based in Rhode Island. This company was acquired by Aldus in December of the same year, and in 1994 Aldus was bought by Adobe Systems Incorporated.
Since acquiring it, Adobe Systems has released several versions of this program, the latest in January 2017, codenamed The Codfather Part Tuna. After Effects is usually used in the post production process of a film making, a TV and video production, or a web design. Thus, it includes tasks that must be done after the filming ends. These tasks include editing raw footages by cutting scenes, adding transition effects, working with voice and sound actors, to name some. Thus, After Effect includes within its functionality several aspects, such as keying, tracking, compositing, animation, nonlinear edition, audio edition and transcoding.
In addition to the app, there are many plugins that can be used to simulate smoke, fire, water, particle systems, slow motion, data visualization and many more. Some of these plug-ins are from third parties, and some are offered for free.
An After Effects project works by importing files in the project panel and working on them in the timeline. Files can be stored in specially created subfolders. This is particularly useful in large projects, where you can create folders for audio, images, videos, compositions, etc. A single .AEP file stores compositions and references to source files. Compositions are composed of layers. Layers can be of several types, such as text or shape. Depending on its type, a layer can contain footage items, text, graphics, etc.
.AEP files are not meant for general distribution. There are several reasons for this, amongst them the fact that when you import a file, the application keeps only a reference to it, making it difficult sharing and distributing AEP files.
The .AEP file format is proprietary, and there is no official specification of the .AEP file format publicly available.
How to Open AEP Files
Windows:
Adobe After Effects CC 2017
Mac:
Adobe After Effects CC 2017
How to Recover Deleted AEP Files
Nowadays, with so many digital devices in our lives, it is easy to mistakenly delete an .AEP file. As this file may contain important information, it is good news to know that you can recover AEP files with Disk Drill.
Disk Drill is a data recovery app that can recover AEP files from many devices, such as internal and external drives, USB based drives, memory cards, iPads and more. It can also perform your AEP recovery from image files, which are bit-by-bit copies of a digital device. The use of image copies is a standard practice in Digital Forensics science, where a mistaken AEP recovery may result in the loss of legal evidence.
Disk Drill can perform AEP file recovery, because when you deleted an .AEP file, you actually only erased a reference to the data. The content stays intact, until the operating system overwrites the used space with new content.
Based on this, Disk Drill uses powerful algorithms that reconstruct the information still stored in your device.
Disk Drill is available for free!

Data recovery for free
Your Companion for Deleted Files Recovery
Steps for Recovering AEP Files Successfully
Once the installer has been downloaded, the AEP file recovery procedure is easy. Just follow the following steps:
Install Disk Drill by clicking on the downloaded installer's  icon. The program will guide you through a set of easy steps.
Open Disk Drill by clicking on the app's icon. The application will detect all connected devices. Select the one that contains your deleted .AEP file.
Narrow your search by selecting the .AEP file extension from the "Preferences" menu. In this way, your AEP file recovery will be faster and more efficient.
Ask Disk Drill to start with the AEP recovery. The operation can be cancelled or paused at any time. Besides, if you need, you can save the session and continue at a later stage without losing any of the data already found. This option is very useful with devices of a large size, as in this case, the AEP recovery may take several hours.
Once the search is done, Disk Drill presents the results in the form of list. This list can be narrowed down by using the available filters by date or size.
Select the file(s) that you need to recover and restore it (them) to a folder of your choice.
Congratulations, your AEP file recovery is done!