You may be surprised to know that your Windows operating system and the applications that run on your computer generate temporary files.
This article is meant to help you understand what these temporary files are used for and how they may impact the performance of your computer and the capacity of your internal hard disk. We will show you how to delete temporary files in Windows 10 as well as other versions of the OS, to help keep your machine running at peak efficiency.
What are Temporary Files?
In the Windows operating system, temporary files are created both by the OS itself and many of the applications running on your computer.
Many of Windows' temporary files are denoted with a file type of .tmp or are prefaced with a tilde (~). Most of the temporary files that are created end up in the Windows Temp folder.
They are used for a variety of reasons including:
Operating system requirements such as providing space for virtual memory.
Work files for applications that hold data while the program is running.
Files created as backups for works in progress such as Microsoft office creates for open documents.
As their name implies, temporary files are meant to temporarily address an issue. After their usefulness has ended, under ideal circumstances they are deleted by the process that created them. However, this is not always the case, and temporary files can remain on your hard drive long after they are no longer needed.
Why Should I Remove Temporary Files?
There are two main reasons to clear out the temp files in Windows 10 or any version of Windows for that matter. They are:
Regaining storage space – Temporary files can end up taking up a lot of storage space. Over time, they can accumulate and represent a significant percentage of your disk's storage. Removing temporary files which are no longer needed gives you more space for the important data that you need to store.
Improving computer performance – Temporary files that are needed by Windows or other applications can negatively impact your computer's performance as they grow larger.
Loading and searching these large files can slow down your computer and the applications that you are using. Eliminating these files can considerably speed up your machine's performance.
For these reasons, you should periodically delete the temporary files that may be impacting your computer. Let's see how you can go about getting this done.
---
How to Delete Temporary Files in Windows 10
Before you can delete the temporary files on your machine, you need to locate them. Here is how you can find the Temp folder in Windows 10 as well as earlier versions of the OS.
There are two different Temp folders:
1. The first is located at c:/Windows/Temp and is used by the OS to store temporary files. Press Windows + R, type: temp and press Enter.
2. The second is the Temp file related to the user currently logged into the system. Here is how to find those temporary folders.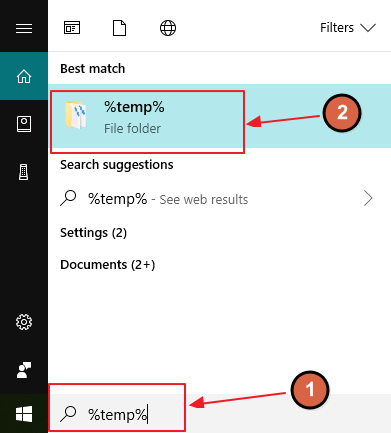 Windows 10 – Using the search field located to the right of the Start button, enter %temp%. The folder at the top of the results is the Temp folder.
Windows 8 – On the "Start" page click on the magnifying glass icon located in the top right of the window – next to your username. Type in %temp% and click on the folder named Temp.
Windows 7, Vista & XP – Click on the Start button and in the search field type: %temp% Click on the folder called Temp.
---
Steps to Delete Temporary Files in Windows 10:
You can follow this procedure on both the WindowsTemp folder as well as the folder returned from the searches listed above.
Select all of the files that you want to delete. You are probably safe deleting them all unless there are specific files that you know you want to keep.
Delete the files using the delete key on your keyboard. If you are asked to confirm the deletion of hidden temporary files, give it a Yes.
If you get messages indicating that a file or folder is in use, skip these files as they are locked by Windows or another application.
Wait for the process to complete, which can take some time if you are deleting large temporary files.
Empty your Recycle Bin to permanently delete the files and recover the separate space that they occupied.
Performing this type of cleanup on a regular basis can help optimize your system and keep your hard drive free of useless files.
---
Recovering Accidentally Deleted Files and Folders on Windows 10
It is possible that in your quest to clean up the temporary files and folders on your machine some files may be accidentally deleted. As you go about deleting temporary files and then emptying the Recycle Bin to actually regain the storage space, you may realize that you have gone too far and removed a file or folder inadvertently.
Disk Drill data recovery software can recover those files for you, even after they are no longer visible to your OS.
As soon as you discover that there are files you need to recover, stop using the computer. This gives you the best chance of recovering the files by limiting the possibility that the OS will overwrite the files before they can be restored.
Steps to recover deleted files & folders on Windows 10:
Download and install Disk Drill for Windows. We strongly recommend that you use a USB drive or another external storage device for this task. This removes the possibility that the download and install can overwrite the files you are interested in recovering.


Data recovery for free
Your Companion for Deleted Files Recovery

Launch the application and select your main hard drive from the list of disks displayed by the tool.
Click the 'Recover' button to initiate Disk Drill's advanced scanning algorithms. You can filter on certain file types if desired to minimize the scanning time.
The software will return a preview of the files that it can recover from your hard drive.You can recover up to 500MB of data without upgrading to the Pro version of Disk Drill.
Select the files that you want to recover, as well as a new location where they will be stored. Do not use their original locations, as this can lead to corrupted files that are overwritten as they are recovered.
Click the 'Recover' button a second time to perform the actual file recovery. The files will be restored to the new location you have selected.

Upgrade to the Pro version if needed at this time.

Disk Drill's powerful scanning algorithms will interrogate your disk on a sector-by-sector basis and recover any files that can be salvaged. It is a great tool to have available in case you make a mistake when you are cleaning up your machine by deleting temporary files.