With over 250,000 new malicious programs being detected every day, there's no shortage of dangerous threats lurking in the cyber world. And as millions of companies and individuals alike discover each year, the cost of a malware infection has never been higher. A single ransomware infection can wipe out all your personal data unless you agree to pay a hefty ransom, and these and other kinds of malware attacks are no longer limited to just Windows computers, with smartphones and other mobile devices becoming increasingly common targets of malicious hackers.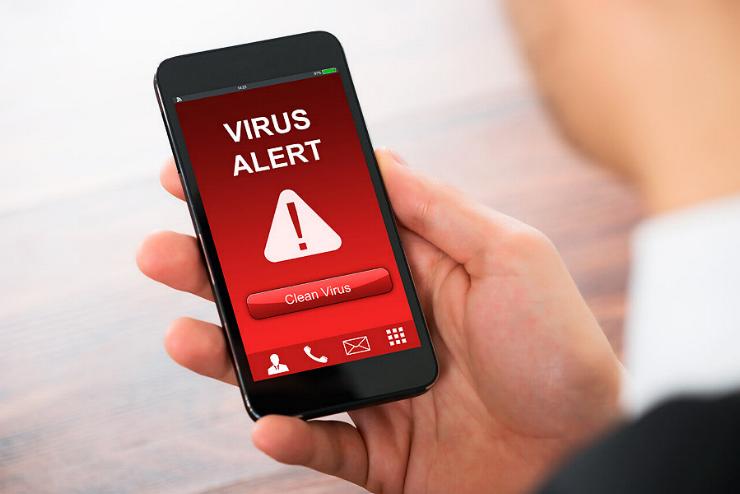 While common sense should always be your first line of defense against malware and hackers, a dependable antivirus solution can save the day when common sense fails. Even if you consider yourself to be an experienced computer user, you shouldn't underestimate how cunning malware authors can be in finding ways how to deploy malware without anyone noticing.
The best antivirus software won't slow down your computer nor cost you a lot of money. What's more, you most likely won't even know that you have it installed until it detects a threat and prevents it from ruining your day—and potentially even your whole life in the case of banking malware, such as the notorious Zeus trojan, which was designed specifically to steal banking credentials and overcome two-factor authentication.
Based on numerous antivirus tests and user reviews, we have put together a list of top 10 best antivirus solutions for Windows computers and Android smartphones and tablets. The list includes the best free antivirus solutions as well as several premium products, and we hope that it can help you find the right antivirus product for you.
Top 10 Best Antivirus Software
Year after year, countless satisfied users from around the world name Malwarebytes the best free antivirus on the market. This excellent product is not only the best antivirus for Windows 10, but many also consider it to be the best antivirus for Android. In its free version, Malwarebytes provides fast on-demand scanning. The paid version of Malwarebytes adds scheduled scans, real-time protection, and a flash-memory scanner, among many other useful features.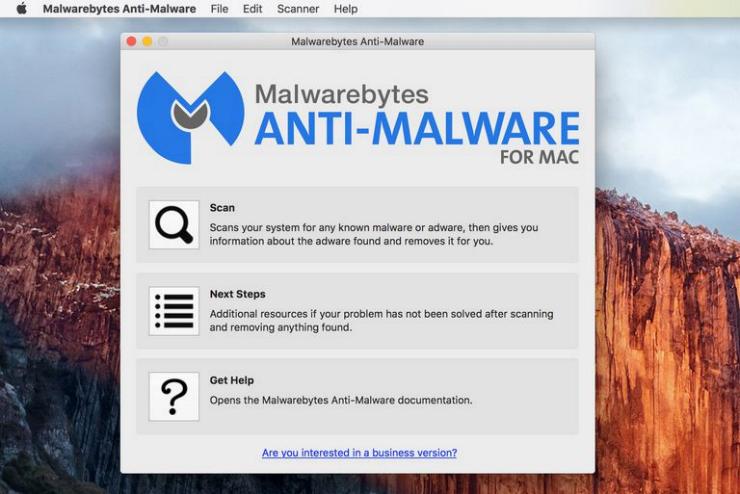 Malwarebytes was first released in 2006 with the goal to create an unobtrusive antivirus solution with near-flawless detection rate and extremely small footprint. Malwarebytes has its own bug bounty program, which rewards white hat hackers who find bugs in the software and disclosed them in a private manner.
Besides Windows 10 and Android, Malwarebytes is also available for macOS. A free version of Malwarebytes can be downloaded from the official website, and specialized products are available for home users, businesses, and technicians.
Avast has been around since 1998, and it is now available in 45 languages for Windows, macOS, Android, and iOS. Avast is a comprehensive cybersecurity solution that provides browser security, anti-malware, anti-spam, firewall, and several other layers of defense. According to independent antivirus usage surveys, Avast has the largest share of the market for antivirus software.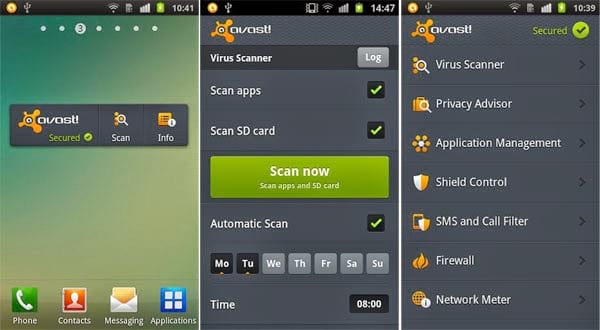 Avast is available in several different editions for home and business users alike. Recently, the Avast Antivirus 2018 app for Android devices has seen a massive rise in popularity as more and more people have learned about the large number of compromised apps that are on Google Play Store as well as about other forms of mobile-specific malware. Besides being a highly effective anti-malware solution, Avast Antivirus 2018 also features an app lock, call blocker- anti-theft functionality, photo vault, power save, firewall, RAM boost, junk cleaner, web shield, Wi-Fi scanner, and Wi-Fi speed test.
Windows Defender was first shipped with Windows Vista, and it has remained a core component of the Windows operating system since then. In its early days, Windows Defender was a few steps behind third-party antivirus solutions, but Microsoft has kept improving it to the point where we can recommend it to anyone, knowing it offers a respectable level of protection against modern malware.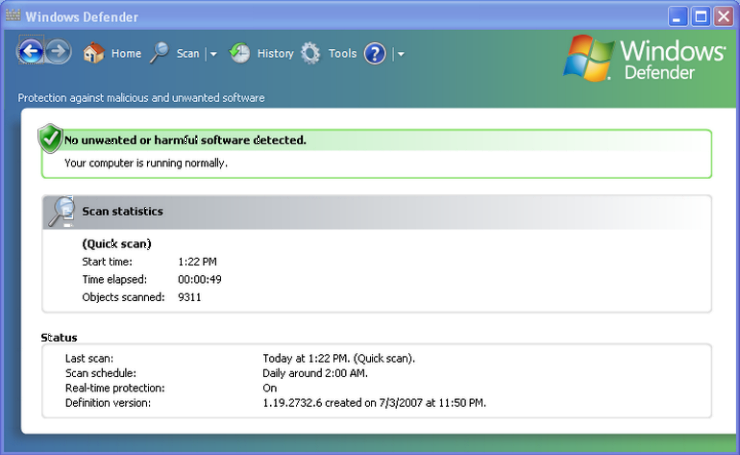 Because Windows Defender is already part of the Windows operating system, there's no need to install any additional software to use it. Windows Defender is a surprisingly non-verbose antivirus, meaning it won't nag you all the time with update notifications or malware alerts. It's only when Windows Defender detects a real threat when it alerts you and lets you decide how you would like to proceed.
Trend Micro's flagship product offers excellent and comprehensive protection that covers up to 10 devices, including Windows and Mac computers as well as Android and iOS smartphones and tablets. Trend Micro Maximum Security is available as a subscription-based product, and it starts at just €29.95 for 3 devices.
With Trend Micro Maximum Security, you can protect yourself against malware, block dangerous websites that can steal personal data, prevent your children from being exposed to inappropriate content online, shop online knowing your bank transactions are secured, and even fix common system problems.
Trend Micro specializes in ransomware protection. The company has developed an award-winning ransomware protection solution that safeguards files stored both locally and in the cloud with cloud storage providers such as Dropbox, Google, and Microsoft. Every day, Trend Micro stops over 250 million threats, so it's not easy to see why so many people trust it.
Avira offers antivirus solutions for Windows, macOS, iOS, and Android. Avira has been named the best antivirus for PC several times, with its excellent detection rate often being cited as its main advantage. Regardless of whether you use Avira on a computer or on a mobile device, you always get access to a comprehensive set of security- and privacy-oriented features, including real-time malware protection, firewall, web protection, cloud scanning, spam filtering, and remote device control.
Avira also offers an untraceable VPN, called Avira Phantom VPN. In the day and age of corporate and state surveillance, a reliable and completely anonymous VPN service such as this one can help you reclaim your privacy and enjoy the internet the way it was meant to be enjoyed—without anyone snooping on your online activity and selling the information to the highest bidder.
The Avira Antivirus Security 2018 mobile app is one of the best mobile antivirus solutions currently available, featuring an advanced malware shield, data protection, and a handy device finder that can help you locate and recover a stolen smartphone.
ESET was among the best antivirus 2017, and it continues to lead the way even in 2018. ESET is available in three editions. The basic edition is called ESET NOD32 Antivirus, and it features ESET's award-winning antivirus and ransomware protection.
A tier above it is ESET Internet Security, which is ESET's middle-of-the-road internet security solution with online banking protection and support for smart home devices.
ESET's flagship product is called ESET Smart Security Premium, and it has all the features of both ESET NOD32 Antivirus as well as ESET Smart Security Premium plus a password vault and private content safe.
AVL is one of the best free antivirus 2017 for Android devices. In 2013, it won the AV-Test award for best protection, and its detection rate has only improved since then. AVL brings you instant app identification, allowing you to recognize and contain malicious apps before they can do any harm.
Unlike other similar tools available on Google Play Store, AVL doesn't rely just on app signatures. Instead, it meticulously analyzes each .apk package on your smartphone by disassembling it and verifying its opcode data. This ensures that even the stealthiest malware out there is not able to slip through and cause problems.
Webroot is a multi-vector antivirus solution for home and business users. It features lightning-fast scans with no interruption, identity theft protection, real-time anti-phishing, password and login protection, mobile security, webcam protection, system optimizer, and automatic backups with secure cloud storage.
Webroot was founded in 1997, and the company is headquartered in Broomfield, Colorado, with offices around the world. Since its foundation, Webroot has received a number of awards not only for the excellent detection rate of its antivirus products, but also for their low hardware requirements.
Named the best Android security product two years in a row, Bitdefender considers itself to be the most advanced cybersecurity application for Android. Like many other anti-malware apps for Android, it features a malware scanner with an excellent detection rate, privacy tools, and real-time protection for most web browsers. What makes it stand out is the inclusion of a VPN service with 200 MB of free data per day, which allows you to easily circumvent internet censorship and geo-blocking.
Kaspersky Mobile Antivirus is one of the most popular antivirus solutions for Android, featuring the ability to perform automatic scans of downloaded apps. Kaspersky's App Lock feature allows you to protect sensitive apps with a password so nobody besides you can access your text messages, contacts, internet history, or pictures. Kaspersky Mobile Antivirus also allows you to remotely turn on an alarm to help you locate your lost phone, and it can even remotely delete all personal information when your phone gets stolen.