Asoftech Data Recovery alternative – Disk Drill
The truth is that we live in a particularly rapidly improving environment. In the corporate world, a lost piece of document or a picture, for instance, could turn out to cause thousands of dollars worth of expenses. Apart from having a comprehensive backup scheme, you should also consider implementing the right software in order to properly recover information upon accidentally losing it. One thing that you'd have to remember, is that you can only recover information which has been saved and lost afterwards. You can't recover something that hasn't been saved, regardless of what piece of software you use. So, for instance, if you accidentally press the "no" button upon being asked whether you want to save a certain document or not, there's nothing anyone can do to help you out.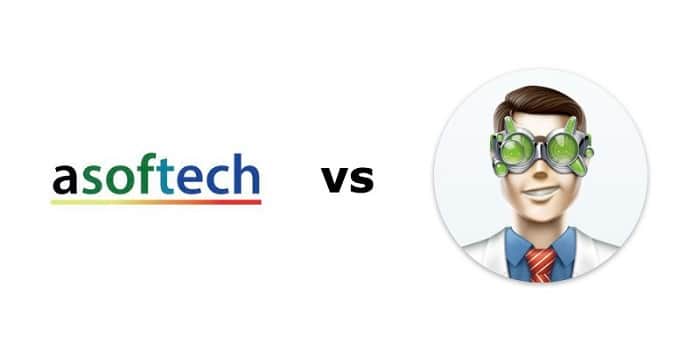 However, if you've accidentally lost some important piece of information, you will need to download and install a recovery tool. Luckily for you, there are plenty of good options out on the Internet. For example Asoftech's software is pretty comprehensive. Even though it offers a free trial, however, you'd quickly find out that it's pretty limiting and there's nothing much you can do with it. The Asoftech data recover free trial is as good as showing you the files which you might be able to recover. However, upon purchasing the full version, there are some considerations that you'd want to take into account.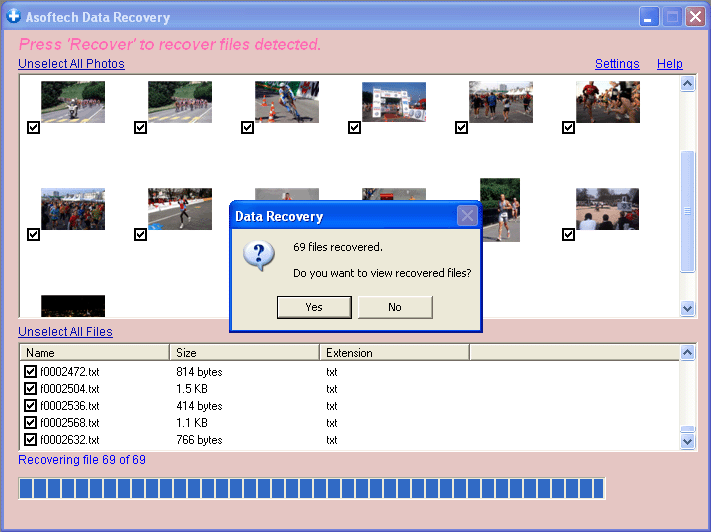 Right off the bat, Asoftech's data recovery review shows that you can only recover from a few file systems like NTFS, FAT16 and FAT32. There are, however, alternatives that you can use if you are to recover information from other file systems. For example, Disk Drill is a software which is known to work with over 200 file types for your convenience. Asoftech data recovery tool is capable of recovering from all sorts of external sources such as memory cards, pen drives, SSD, HDD, memory sticks and whatever you can think of and so can Disk Drill. However, upon making a quick comparison you'd find out that Disk Drill is also usable on Mac computers.
Disk Drill is a comprehensive data recovery tool which comes with a pretty simplistic and user-friendly interface. The developers have made sure that it's usable by people without any kind of IT involvement in advance or what so ever. The interface itself is intuitive, easy to navigate through and basically all you'd need to do is to go through a few quick steps. Now, the Disk Drill software, much like Asoftech data recover tool also offers a free trial that you could use in order to test it out and see what it's capable of doing for you. The paid version, of course, is way more powerful.

Data recovery for free
Your Companion for Deleted Files Recovery
Now, you should also be aware that the tool is going to provide you with the chance to perform regular backups. Upon doing so, you can easily recover your files, regardless of their type, as long as they haven't been damaged in their structure or overwritten. Let us walk you through the entire process so you can understand how easy it actually is to use Disk Drill in comparison to other alternatives such as the Asoftech photo recovery.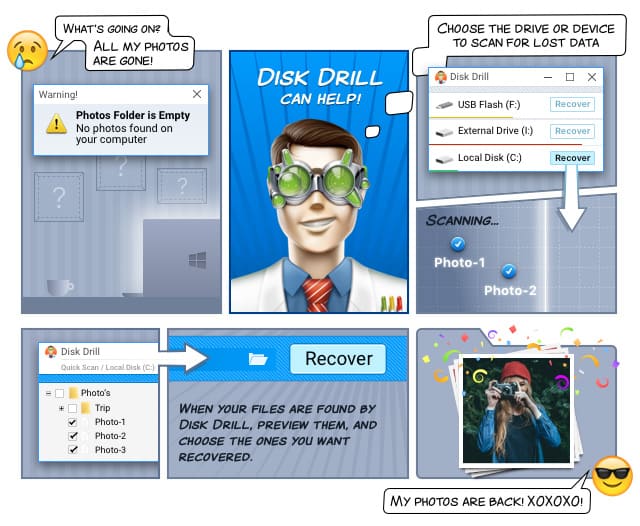 The first thing that you'd obviously have to do is to connect the device that you would want to perform the recovery on. For instance, if you want to recover your Pen Drive, all you need to do is plug it in the computer's USB port. This is going to make it recognizable.
Afterwards you have to run the Disk Drill tool and select the Pen Drive or just a portion of it that you want to recover – this gives you the ability to navigate the entire process in a way which is going to allow you to specify the amount of information you want to recover.
Hit the Scan Button. Now, you will notice that you have two options – Quick and Deep Scan. The former is appropriate if you don't want to spend a lot of time on this and if you want to recover a smaller amount of information. As the name suggests – it's quick! The deep scan, on the other hand, is designated to go on a larger scale and scan the entire device thoroughly. This is more appropriate if you have lost the information long time ago or if you need to recover a larger amount of data or photos. When you do this, simply wait out the process. It's going to take anywhere from a few minutes to a few hours, depending on the amount of information that you have to restore.
You would be presented with a list of recoverable files. You are once again given the chance to select each file you want to recover manually or recover them all at once.
Hit the Recover Button and you are all good to go.
That's it – there are no complicated processes for you to be aware of and there are no technical things to make things harder. All you have to do is click on the "next" button a few times and you would have your data back.
Disk Drill is a powerful solution which is usable on both Windows and Mac OS as the developers have weighed in the influence of both systems. Furthermore, you can perform both deep and quick scans and you can also create backups in order for the process to be even quicker which is uncharacteristic of a lot of other alternatives.
Now, if you are looking for a serial code for Asoftech or for Disk Drill, we strongly advise you to go for the original paid version of the software. The truth is that free serial keys, registration codes, key generators, torrents and whatever you can think of are likely to be filled with viruses and other potentially devastating software. It's best if you stay away from pirate software and it's also illegal – something that you might want to keep in mind.