Today we are excited to share with you an updated Disk Drill 2.3. It's a major upgrade, and it offers a huuuuuge number of major and minor improvements. First of all, it's finally retina-ready… and it looks gorgeous on beautiful retina screens.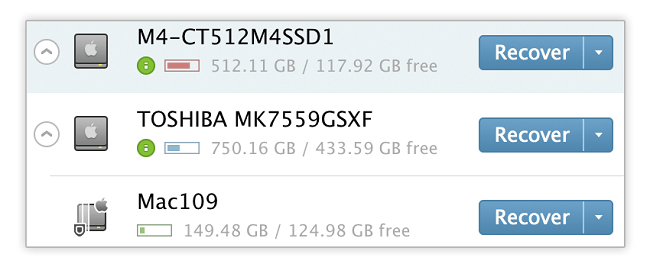 Disk Drill 2.3 is also faster, more powerful, and more stable. It's another major step forward to helping you recover your data easily and in the shortest time. If your data is still recoverable, Disk Drill will find it. All recovery methods got a touch of improvement by our developers.
new

Disk Drill learns several new file types for the Deep Scan: FCPEVENT (Final Cut Events), NRW (Nikon Raw Image File), PEM (RSA Private Key), PUB (RSA Public Key), VDI (VirtualBox Virtual Disk Image for static disks only), QBB (QuickBooks), DPDOC (Digital Performer Document)

new

drive blocks reading indication when scanning for more detailed activity visualization

improved

support of EXFAT within Deep Scan

improved

Rebuild option is no longer available for system-reserved partitions to prevent alteration of restricted system data

improved

MPEG files recovery including erroneous detection of multitude of smaller MP4 videos

improved

compatibility with other installed software by TomTom

improved

when mounting a disk image (DMG), image file name is also displayed in the disk list

improved

autosaving of the scanning session

improved

lost partition search, fewer inexistent partitions are found

improved

pausing/stopping/resuming of scanning (plus a better more distinct action button)

fixed

several cases when found video files are listed at 0 bytes, but previewing, recovering and playing well

fixed

occasional app freezing when canceling scan during freespace allocation step

fixed

several memory leaks when scanning

fixed

erroneous detection of terabytes of bad sectors on some hard drives
Etcetera…
The new release is here, as always.
.updated:
June 3, 2021
author: