Formatting your camera's memory card or accidentally deleting the folder with photos from your hard drive is a far too common scenario. Thus, everyone needs a reliable data recovery app that allows to recover those files because there is no way to make the same shot again.
A wide range of supported file systems and availability of different scanning modes make Disk Drill an ideal photo recovery app. Lost RAW files like NEF (Nikon raw format), CR2 (Canon raw images), etc. can be recovered with Disk Drill no matter whether those files were deleted from your Mac or from an external device.

The procedure of recovering deleted RAW images:
– Install Disk Drill Basic for free and select the drive you need to recover deleted photos from. In case you need to recover the data from external storage like SD card, compact flash or memory stick you need to mount your media in a mass storage mode.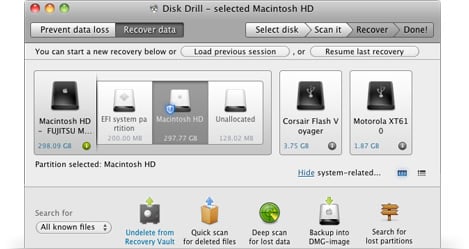 – Scan your storage with Disk Drill. At first you can use Quick Scan to try to find deleted files based on the data in your file system tables. In case the results of Quick Scan are not showing you the files you need – Deep Scan is an option very likely to help. It'll drill down to the data sectors of your storage media on a binary level to search for remaining pictures or other recoverable data. Disk Drill is able to recognize a great variety of file formats, i.e.: TIFF, JPG, PNG, RAW NEF, CR2 files and many others.
– Once the search results of Deep Scan are available you can see all the recoverable files. Preview the files and select the items you need recovered from your media and save them to your internal or external hard disk.
The free edition of Disk Drill also offers such data protection options like Guaranteed Recovery and Recovery Vault. Enabling Recovery Vault or Guaranteed Recovery improves scanning speed and reliability of the recovery itself. But note that turning those modes on should be done before the files loss happens.

PS: It's an article about Disk Drill 1.x, it will be updated soon to reflect the changes in Disk Drill 2.
.updated:
June 3, 2021
author: