What Makes TAR.XZ (XZ Compressed Tar Archive) Different and How to Use It
The TAR.XZ file format is very different when compared to more common file formats like RAR, ZIP, or 7z. As such, it's mostly used IT professionals, and many regular users don't even know about its existence. After you finish reading this article, you'll know all the basics about TAR.XZ, including how to use it and how to recover it.
What is a TAR.XZ File?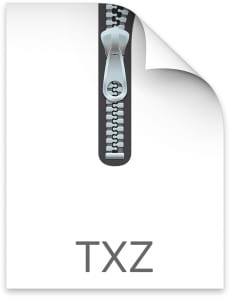 A TAR.XZ file is a lossless data compression file format used for compressed streams, which are typically outputs of various applications. They could be compared to kitchen faucets. For example, a physicist might use a custom-built program to calculate the properties of dark matter. This program would not output a single number or a sentence, but it would instead produce a wealth of data for subsequent analysis. As such, turning the program on is like turning on a faucet. We can catch water flowing from a faucet into a glass, and the physicist can catch the stream of data into a .tar.xz file, thus keeping everything neatly organized and reducing the total file size for the stream.
Storing data stream using the TAR.XZ file format has several other advantages. The scientist from our example would probably greatly appreciate that the TAR.XZ format lets him verify the integrity of all headers using CRC32, CRC64, or SHA-256 hash functions. He can also add binary zeros to pad TAR.XZ files, which can make his backup tapes more reliable. Other features include the possibility to create and decompress TAR.XZ files in a pipe, split the data inside a TAR.XZ archive into independently compressed blocks, or apply up to four filters to improve the compression ratio.
Needless to say, the TAR.XZ file format is one of the worst archive file formats that you can use for your school assignments or work presentations. Most regular users have little to no idea what it's used for, and they would most likely refuse to open something with the .tar.xz file extension.
How to Open TAR.XZ?
The best native support for TAR.XZ files can be seen on Linux- and Unix-based operating systems. There, TAR.XZ is used for compressing packages and distributing kernel archive files. On these operating system, XZ Utils is the main tool for working with TAR.XZ archives. XZ Utils are a set of free command-line lossless data compressors with a high compression ratio written for POSIX-like systems. These tools can be invoked from the command line.
Windows and Mac OS X users, as well as those who prefer the convenience of a well-designed graphical user interface, have several alternative options. These include WinRAR, 7-Zip, The Unarchiver, PeaZip, or File Roller, which is an archive manager for the GNOME desktop environment.
How to Recover Deleted TAR.XZ Files?
One may easily assume that computer-savvy IT professional and scientists who use the TAR.XZ file format on a daily basis would rely on some highly complicated, command-line data recovery tool to perform TAR.XZ data recovery. This couldn't be further from truth. TAR.XZ file recovery is usually accomplished using general-purpose file recovery programs like Disk Drill.

Data recovery for free
Your Companion for Deleted Files Recovery
These tools—and Disk Drill in particular—are better suited for the job because they get the job done the quickest. Why mess with something that comes with a book-long manual when you can get the same, or even better, results with just a few clicks. Disk Drill works on both Windows and Mac OS X, supports all popular file formats and storage devices, and has been successfully used by hundreds of thousands of satisfied customers.