There are multiple data recovery services in the San Jose area. These local businesses can help you restore accidentally lost, deleted, or corrupted digital files of nearly every kind. On this page we list these services and share their contact information for your convenience.
We also discuss free data recovery software that can do the same job that the centers would do for you. Both options have pros and cons, depending on your situation. With this page you'll be able to determine which option is right for you.
List of Data Recovery Services in San Jose
San Jose is home to multiple companies that specialize in recovering missing data. Each company has professional, certified personnel available to help you get your files back. They can assist you whether the files were lost from a hard drive, a micro sd card, an Android phone, or an iPhone.
Any of the data recovery labs that we've listed should be able to help get your data back. But, if you're having a hard time getting to the store, or if you want to save money, you may want to secure a digital recovery software.
The digital alternative can be obtained with the simple click of a download button. We'll discuss it in more detail below.
Recovery Software for Failed Data
Whether your files have been accidentally deleted or corrupted through a failed save attempt, they can probably be rescued by data recovery software. There's an extra layer of difficulty if the files have gone completely unsaved, but even then all hope is not necessarily lost.
Our favorite alternative is Disk Drill, which is a free software that can be used for both Mac computers and PCs, as well as for both iPhone and Android. It's available online.
After you have downloaded the software, open it as you would open any other application. A pop-up will ask you for permission to make changes to the device. Until you ask Disk Drill to recover your files, no changes will be made. The prompt is just to initiate the product. Selecting "yes" takes you to the Disk Drill interface.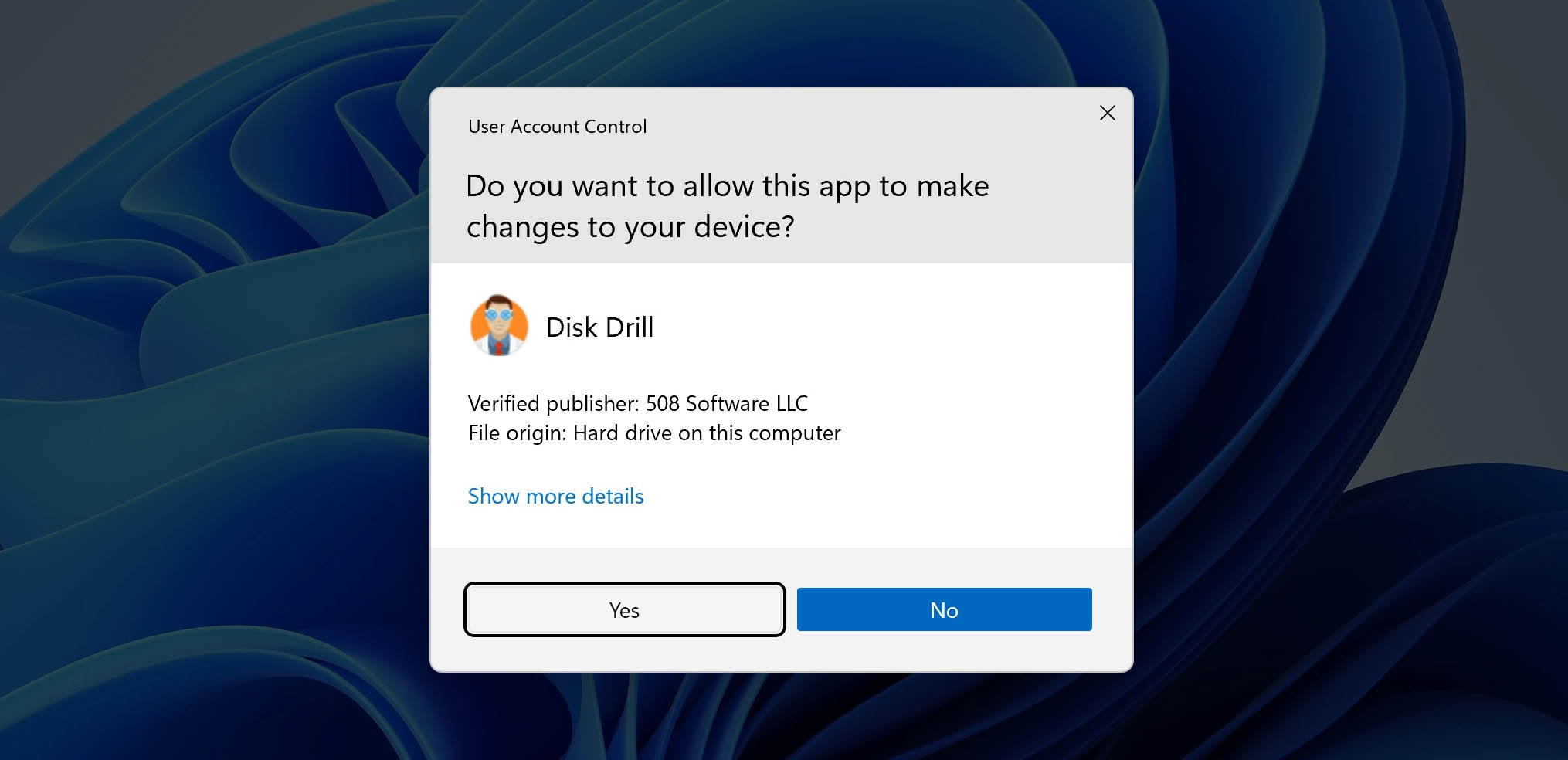 In the center of the interface is a pane that includes a column reading "Device/Disk." Listed here will be all devices in or connected to your machine. If you don't have the files on this location already, you'll need to transfer them over or at least connect the device so that Disk Drill can read it. You'll know it's read and available if its name appears in this column.
A gray down-arrow to the left of a device indicates that it has sub-devices that you can select from. Simply click on that arrow to reveal a list of those segmented devices.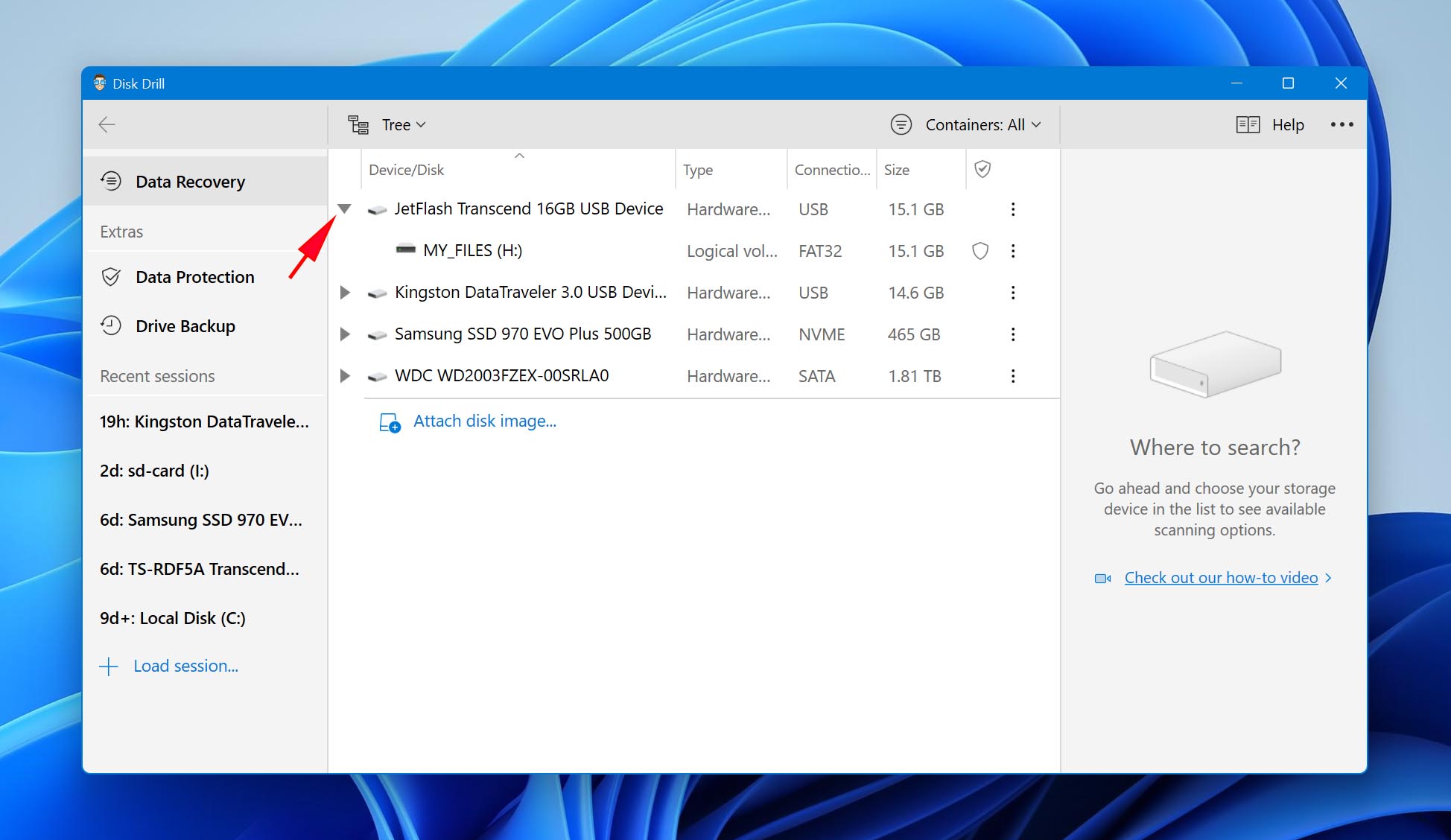 Select the device you want to recover files form. To the right are buttons reading "All recovery methods" and "Search for lost data." We can stick with the default "All recovery methods" for now. There are other options, but those are for special circumstances that can be explored at another time. With that default option selected, click on the blue "Search for lost data" button.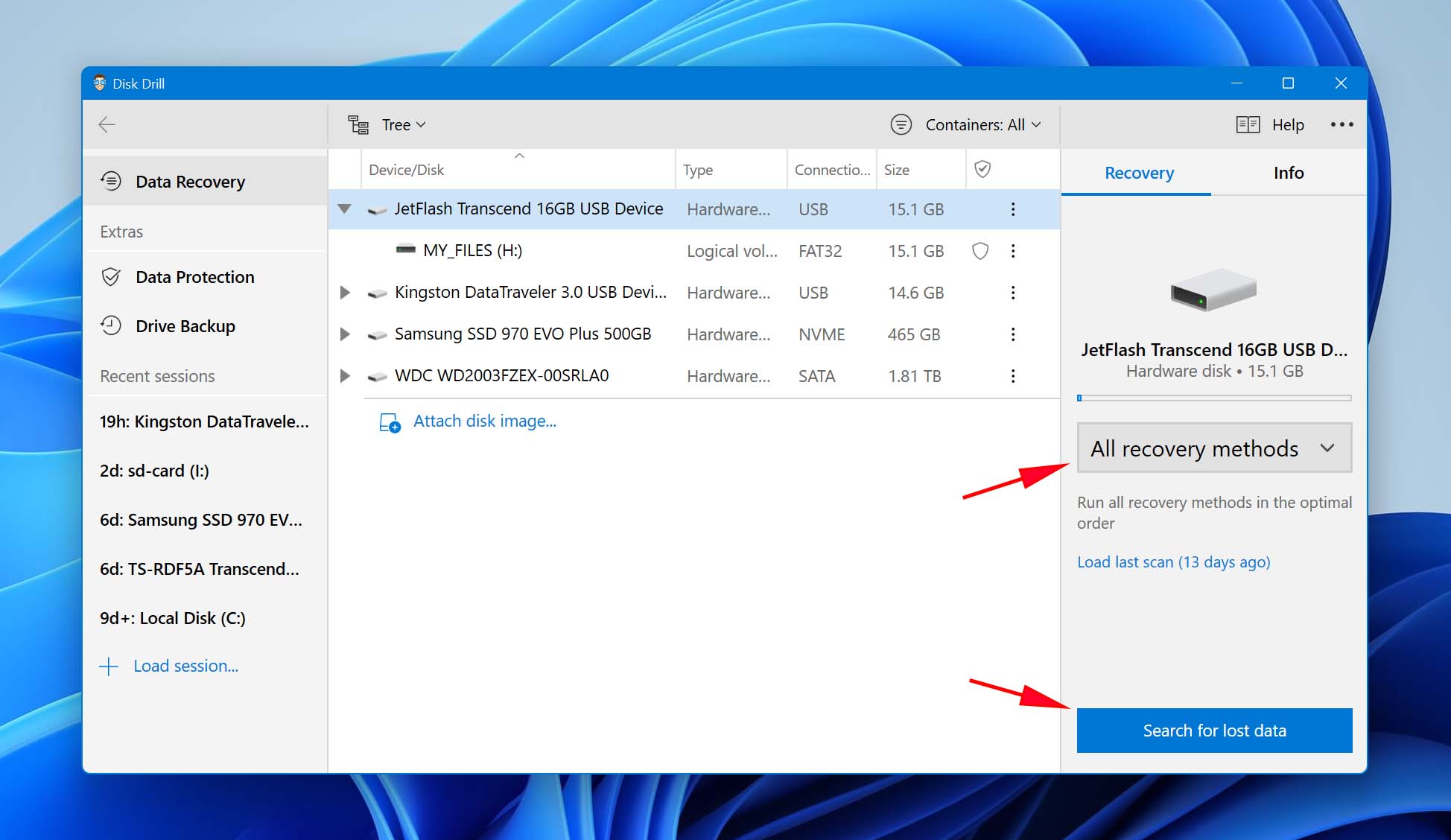 You will now see Disk Drill reading through the files from your selected location. Remember that it's looking through not only currently available files, but also all the deleted ones. It moves very fast, but it's so thorough that it can take some time to search through every file.
You can wait for Disk Drill to complete its scan, or you can click on "Review found items" whenever you want. The software will keep scanning in the background while you work with the files that have already been found. You can also choose to "Stop scanning" at any time by selecting the top-left button pointed to in the image below.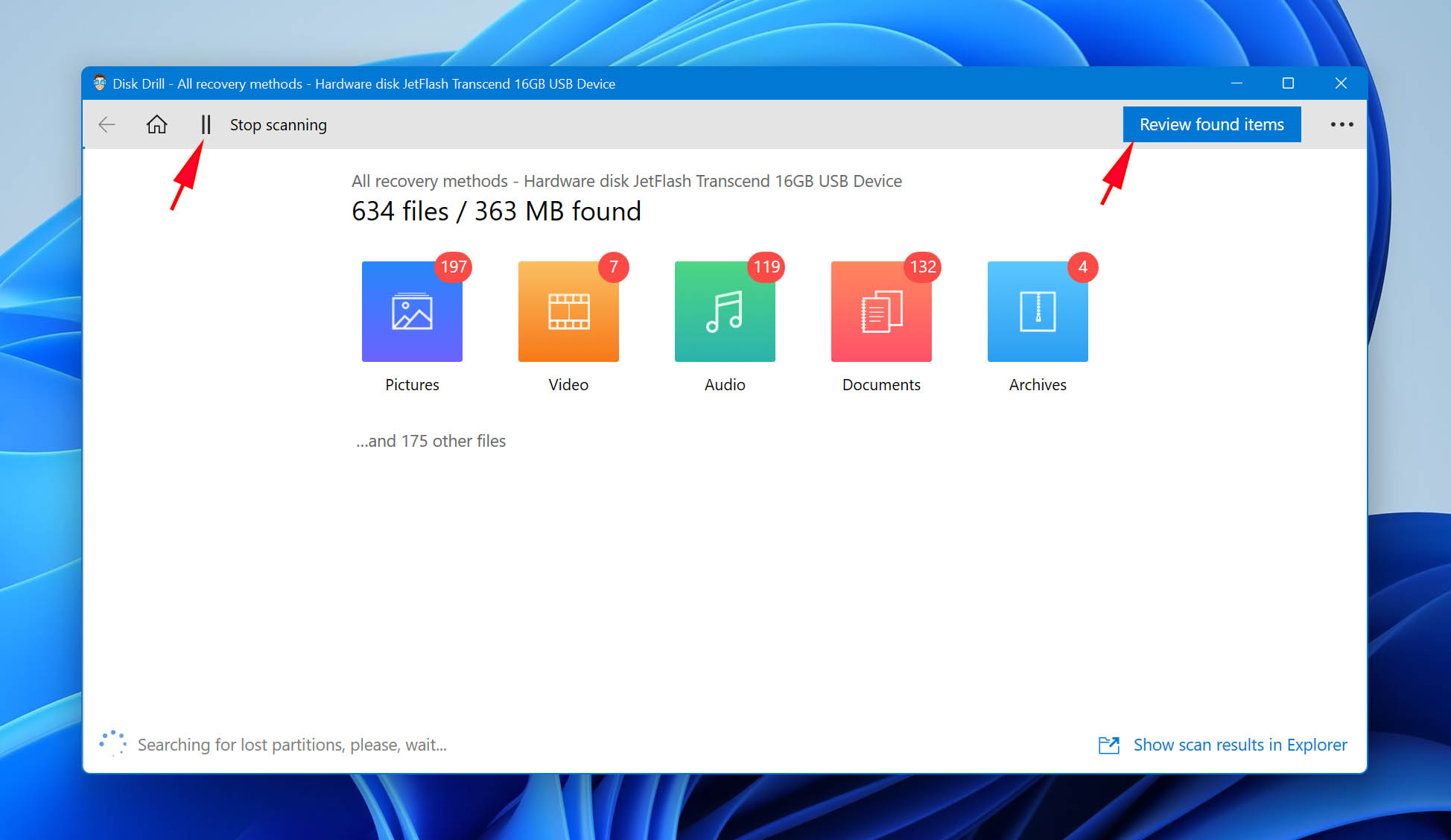 Now you'll see the scanned files that are ready to be recovered. Click the checkbox of the ones you want to target. You can do this for individual files or for batches. It's entirely up to your preference. If you want to recover all the scanned files, select "Recover all".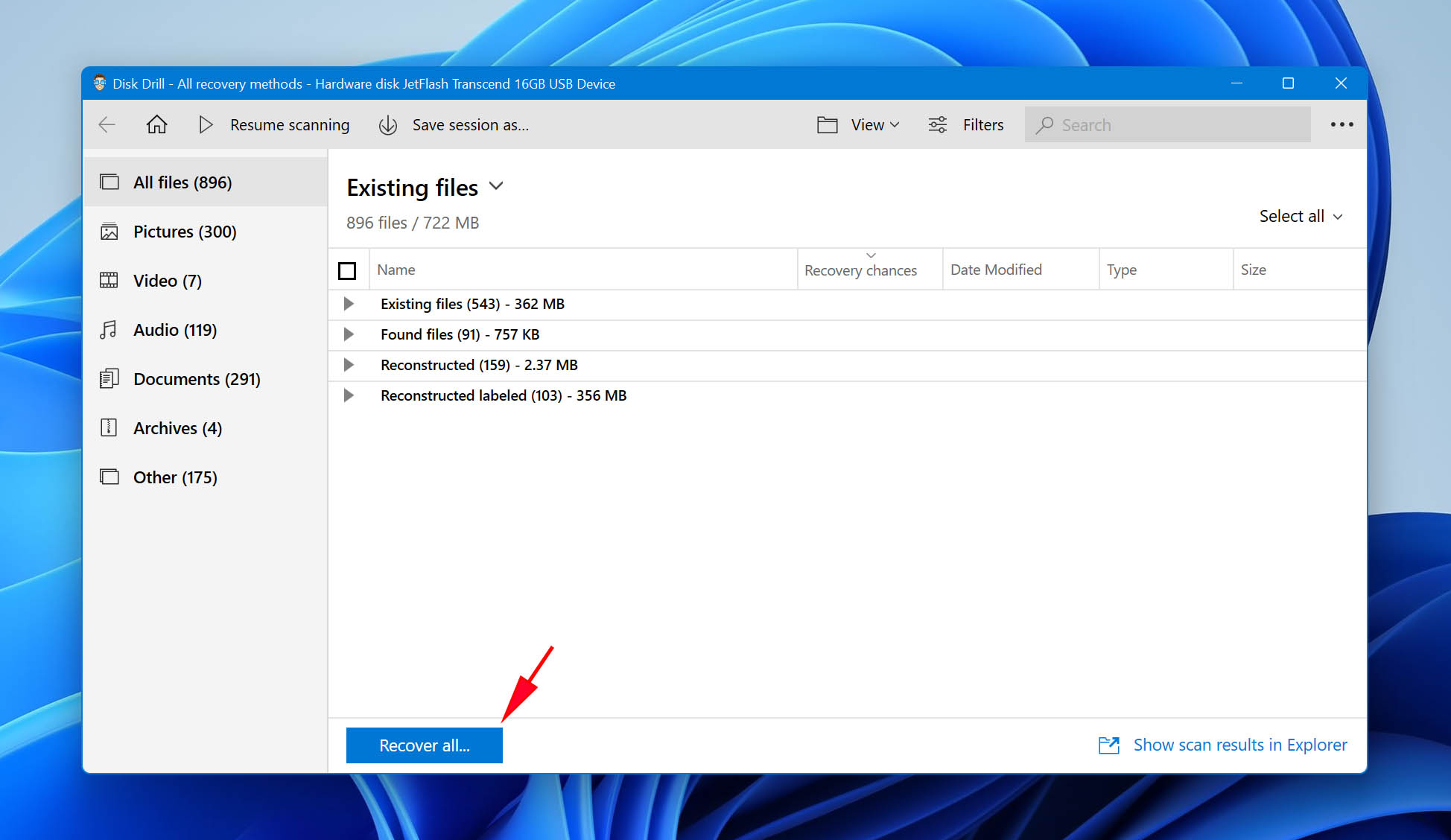 You can also narrow the files down to smaller segments by selecting the gray down-arrow and clicking the checkbox to the left of the file. Then, choose the blue "Recover" option.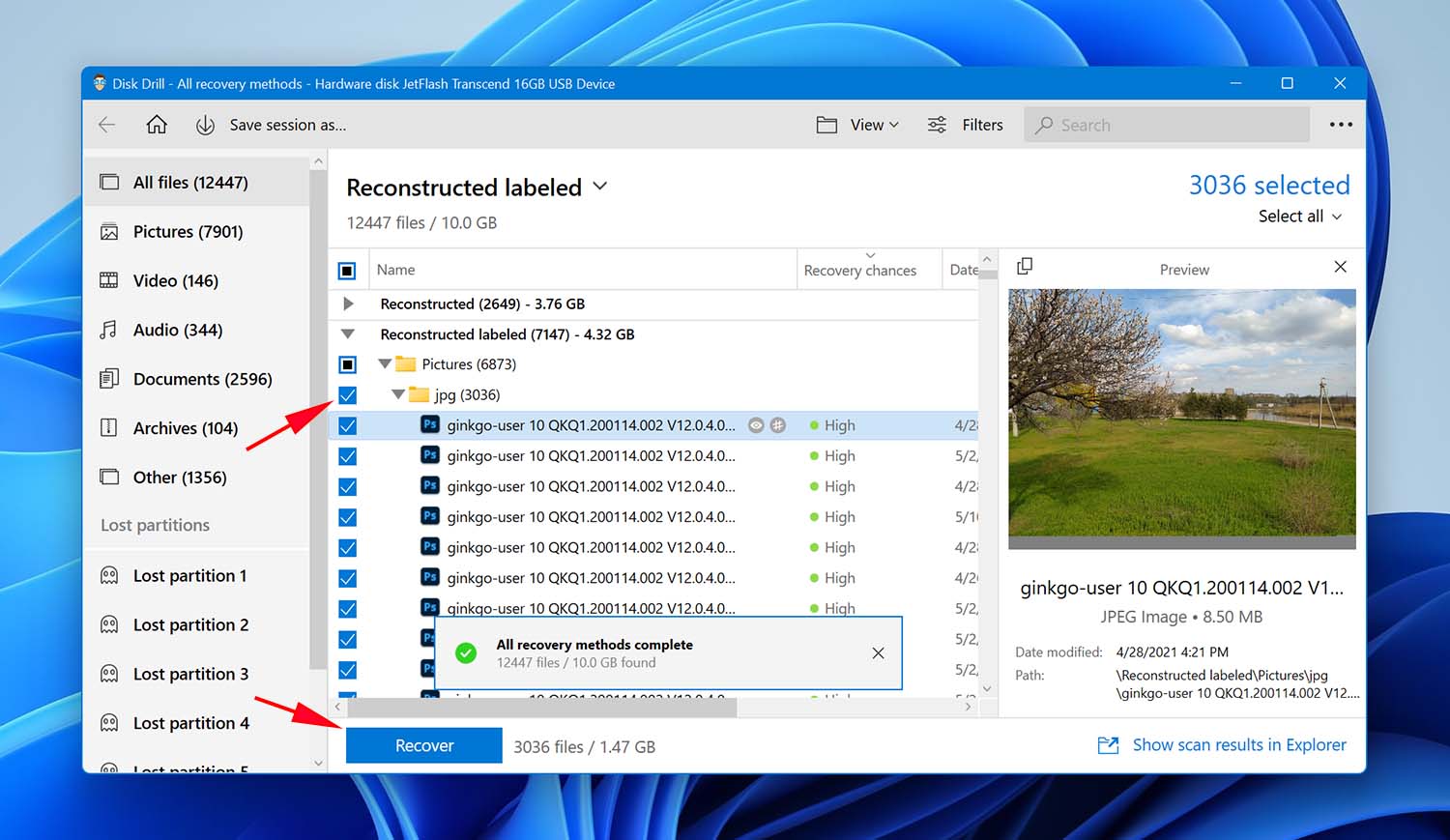 If you click on any single file, you'll get an image to the right of the pane. That image will either be a blank thumbnail or a whole, previewed image. If a whole image shows up, the file is almost certainly recoverable. If it's a blank thumbnail, the chances diminish (but aren't necessarily zero).
Once your files are recovered, Disk Drill will ask where you'd like to store them. Choose any location you want to save to but note the path so that you know where to find the files. With that done, you can enjoy your recovered files and resume your affairs.
Choosing Between a Physical Data Recovery and a Digital Alternative
Unless your storage device has been broken beyond repair, data is rarely completely lost. Deleting files really just moves their location and opens them up to be written over by new information. Over time, so much new data can be written over a file that it is beyond the point from which you can retrieve it. If you catch it soon enough, though, data recovery centers and software can usually get your missing files back.
The only real question is which method of recovery is best for you.
The experts at a physical data recovery center can take the matter off your hands and help with your emergency data loss. This option generally appeals to a customer who is uncomfortable with dealing with technology.
The truth is, though, that the data recovery software solution is very easy to use. You don't have to be tech savvy to use it. With the directions provided above, nearly anyone can use it. It can be obtained for free and is easier to access than driving to a San Jose store, but does the exact same job.
Whichever option you choose, we wish you good luck with getting your files back!