What is R3D File Format?
The R3D file format is a raw file type introduced by the Red Digital Camera Company, an American firm with headquarters in Irvine, California. Raw image files contain minimally processed data. Therefore, in order to be edited, they have to be processed by a raw converter.
Characteristics and Uses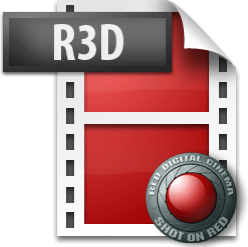 The R3D, or REDCODE file format encodes measurements from the digital sensor of a camera. Each color channel data is stored separately, and then converted into a full color image with the aid of software.
The R3D file format is compressed using a variable bitrate wavelet technique. This file type is an extension from JPEG2000, which produces results of higher quality and smaller file sizes. It is therefore ideal for editing large videos.
The wavelet compression technique encodes image features at different scales separately. For this, it uses a base image with low resolution, and through processing, adds higher resolution components, until the image with the full resolution is obtained. Thus, also, a low-resolution preview can be easily generated.
The wavelet compression technology preserves the frame-to-frame tonality. In addition, it allows a wide range of settings for different storage and usage requirements.
Compression is indicated as a size ratio, compared to an equivalent uncompressed data stream. The higher the ratio, the more compressed the image is. Useful ratios vary from 3:1 to 18:1. Below 3:1 is mathematically lossless. The creators of the R3D format advise ratios from 5:1 to 8:1.
However, the compressed ratio has to be considered in conjunction with the frame rate, as some low compression ratios are not available at the highest frame rates.
In addition, in order to deal with the FAT32 size limitation, R3D auto-segments the image into 4Gb files.
The R3D file format is royalty free, and it has been used in major motion pictures, such as The Amazing Spider-Man and The Hobbit.
Brief History
The Red Digital Camera Company was founded in 2005 with the aim of delivering an affordable 4k digital cinema camera, as an alternative to the more expensive 35mm film cameras.
The REDCODE file format was created as a technology that provides the cameras with the aimed quality and practicability. The company delivered the first camera in August 2007. This camera was able to capture 4k images at up to 60 frames per second, using the REDCODE file format.
However, by 2016, the Red cameras' price had increased, positioning them in the most expensive range of cameras.
Programs That Open R3D Files
Windows:
REDCINE-X
Adobe Premiere Pro CC 2015
Adobe After Effects CC 2015
Adobe SpeedGrade CC 2015
Avid Media Composer
Microsoft Windows Photos
Mac:
REDCINE-X
Adobe Premiere Pro CC 2015
Adobe After Effects CC 2015
Adobe SpeedGrade CC 2015
ShedWorx Smart Converter
Apple Final Cut Pro X
How to Recover Deleted R3D Files
If you are a Red Digital Camera user, you probably love your work and the videos you recorded with so much care. Sadly, sometimes in our digital times, it is quite frequent that we unintentionally delete a file.
The good news is that the operating system usually deletes a reference to the file, keeping the data intact until overwritten by another file.
Disk Drill is a data recovery application that uses this principle to recover R3D files. This app can work on multiple digital devices, such as internal and external hard drives, iPhones, USB flash drives, memory cards, and many more. The application is available for free!

Data recovery for free
Your Companion for Deleted Files Recovery
So, if you want to do your R3D file recovery, just follow the steps below. Disk Drill will do the rest for you:
Download Disk Drill from one of the links above.
Install Disk Drill by clicking on the installer's icon, and just follow the given steps. The program will guide you through the whole process.
Open Disk Drill by clicking on the app's icon. The program will automatically detect all connected devices, and show them to you in the form of a list.
Go to the main menu and select "Preferences", then "Video", and then "r3d". In this manner, Disk Drill will specifically look for this type of file, performing a faster and more efficient scan.
Press the "RECOVER" button next to the device that contains your files. Disk Drill will scan it. The scan can be paused or cancelled at any time. In addition, by pressing on the "SAVE" button, you can save the session, and continue later on. This is particularly useful with devices of large sizes.
Once the scan is done, Disk Drill will present the results as a list. This list can be narrowed by using filters by date or size. Once you have found your files, just retrieve them to a folder of your choice.
Your R3D recovery is done!