What is OGM File Format?
The OGM (OGG Media) file format was developed as an independent extension of the OGG file format created by the Xiph.org Foundation. It was designed as a container for OGG Vorbis soundtracks, video and subtitles that can be used with DirectShow. It was never formally endorsed by the Xiph.org Foundation.
Characteristics and Uses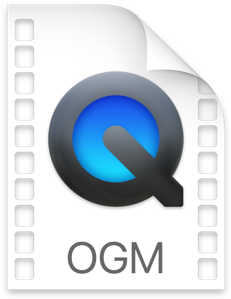 The main problem with this file format is that there is almost no documentation except for the source code. Thus, most characteristics have to be deduced by reading the code.
Adding to it, there is no standard way to verify if a file is a valid OGM file, as this verification has not been defined by its creators.
One important difference of this file format is that OMG files can be of unlimited size as they are not indexed. This lack of indexation has been praised by some people and criticized by others.
OGM files are compressed using the Ogg Vorbis compressing technology. Vorbis is a free, open source project managed by the Xiph.org Foundation. As its website explains, it is a patent-free, professional audio encoding and streaming technology, created after plans by the Fraunhofer Society to implement licensing fees for the MP3 audio format.
The Xiph.org Foundation defines itself in its website as "a non-profit corporation, dedicated to protecting the foundations of Internet multimedia from control by private interests". It also declares its main purpose as "to support and develop free, open protocols and software to serve the public, developer and business markets".
Brief History
In 2002, as a result of the lack of video support in the OGG file format, the Xiph.org Foundation created the OGM file format. This file format embedded a video from Microsoft DirectShow into an Ogg-based framework.
However, later as the Matroska container file format provided a better option, the Xiph.org Foundation decided to drop its support for the OGM format and to discourage its use.
Programs That Open OGM Files
Windows:
File Viewer Plus
MPUI
MPlayer
VideoLAN VLC media player
NCH Prism
Mac:
MPlayer
VideoLAN VLC media player
Linux:
Totem
MPlayer
VideoLAN VLC media player
Concerns
An important limitation of the OGM files is their incapacity to handle Unicode subtitles, creating problems with films in languages with different alphabets, such as Russian.
How to Recover Deleted OGM Files
If you have your memories in OGM files, and unintentionally delete one on of them, don't worry, Disk Drill will help you.
Disk Drill can help you because, when we delete a file, we actually delete a reference to it, keeping the data intact, until overwritten by the operating system. This fact allows Disk Drill to scan and search for the data.
Disk Drill is a data recovery application available for free!

Data recovery for free
Your Companion for Deleted Files Recovery
The OGM file recovery process is easy. Just follow the steps below:
Download Disk Drill from one of the links above.
Install Disk Drill by clicking on the installer's icon, and then following the given steps.
Open Disk Drill by clicking on the app's icon. Disk Drill will automatically detect all devices connected to your computer. Disk Drill can recover OGM files from many different devices, such as internal and external hard drives, USB flash drives, memory cards, and many more. Select the device that contains your files.
From the main menu select "Preferences", then "Video", and finally "omg". In this way, your search will be narrowed to omg files only.
Press on the "Recover" button available next to the previously selected device. Disk Drill will scan it. You can pause the process by pressing the "PAUSE" button. You can also save the session, and continue later by pressing the "SAVE" button. Alternatively, you can cancel the session by pressing the "CANCEL" button.
Once the scan is finished, Disk Drill will present the results in the form of a list. This list can be narrowed by filtering it according to date, size or both. Select the files you were looking for, and restore them to a folder of your choice.
Your OGM recovery is done!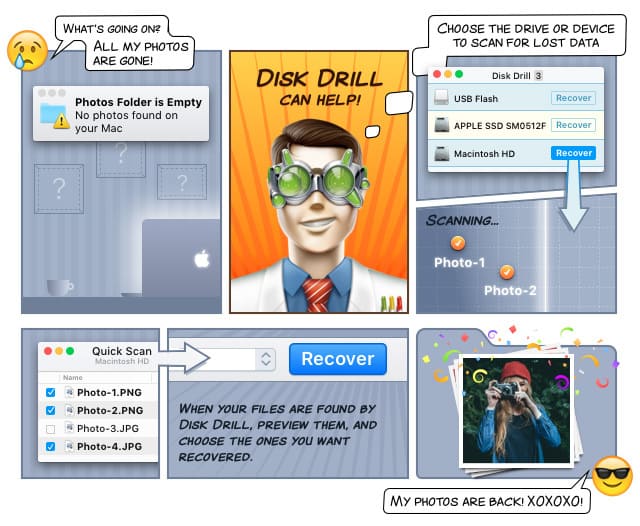 How to Use Image Files to Recover OGM Files
Image files are a bit-by-bit copy of an original digital drive. Thus, they are an exact copy that contains all information, including your deleted files.
It is a very good practice to perform your OGM file recovery from an image copy. In this manner, if you make a mistake, you won't damage the original source, and you can repeat the OGM recovery on another image copy.
Disk Drill has the capability to create image files. Just click on the "Extras" menu, and you will find the corresponding option. Once your image is created, perform your OGM recovery from it, by selecting the image drive.