What is M4P file extension?
The m4p file is an Advanced Audio Coding (AAC) standard that is copy protected using the proprietary Digital Rights Management (DRM) technology. This prevents files from being played on unauthorized devices. As a file format designed by Apple, the files are sometimes referred to as iTunes music store audio files.
The m4p is basically Apple's alternative to the mp3, as seen when you download songs from Apple Music or iTunes to your computer. The audio quality of this type of file is generally better compared to mp3. It is compressed without sacrificing quality.
But what happens when you lose an m4p file? Find out below as we explain more about m4p in the next sections of the article. 
How to Recover Deleted M4P Files?
Thinking that "deleted files are gone forever" is a common misconception. The truth is, when files get deleted, they still exist somewhere in your hard drive, making it possible to retrieve them. 
There are simple data recovery processes that can help you retrieve lost, unsaved, or deleted m4p files. The key is to start the data recovery process as soon as possible before it gets overwritten and difficult to recover. 
How to Recover m4p Files with Software
One of the solutions to get your missing m4p files back is to use reliable data recovery software. There are several options available online, but Disk Drill particularly stands out. It is powered with advanced scanning algorithms while still having a user-friendly interface. With Disk Drill, expert skills are not needed. It's a do-it-yourself recovery app with a 3-step recovery process—scan, search, and recover. 
Aside from the easy recovery process, Disk Drill is also packed with other extra features that protect your important files and disks. It has byte-to-byte disk and partition backups, S.M.A.R.T. monitoring, and disk clean-up.
To perform the recovery method of lost m4p files using Disk Drill, just follow the steps below:
Step #1 Start by downloading Disk Drill from their official website.

Data recovery for free
Your Companion for Deleted Files Recovery
Step #2 Next, open the downloaded file from your Downloads folder then drag the Disk Drill icon to the Applications folder.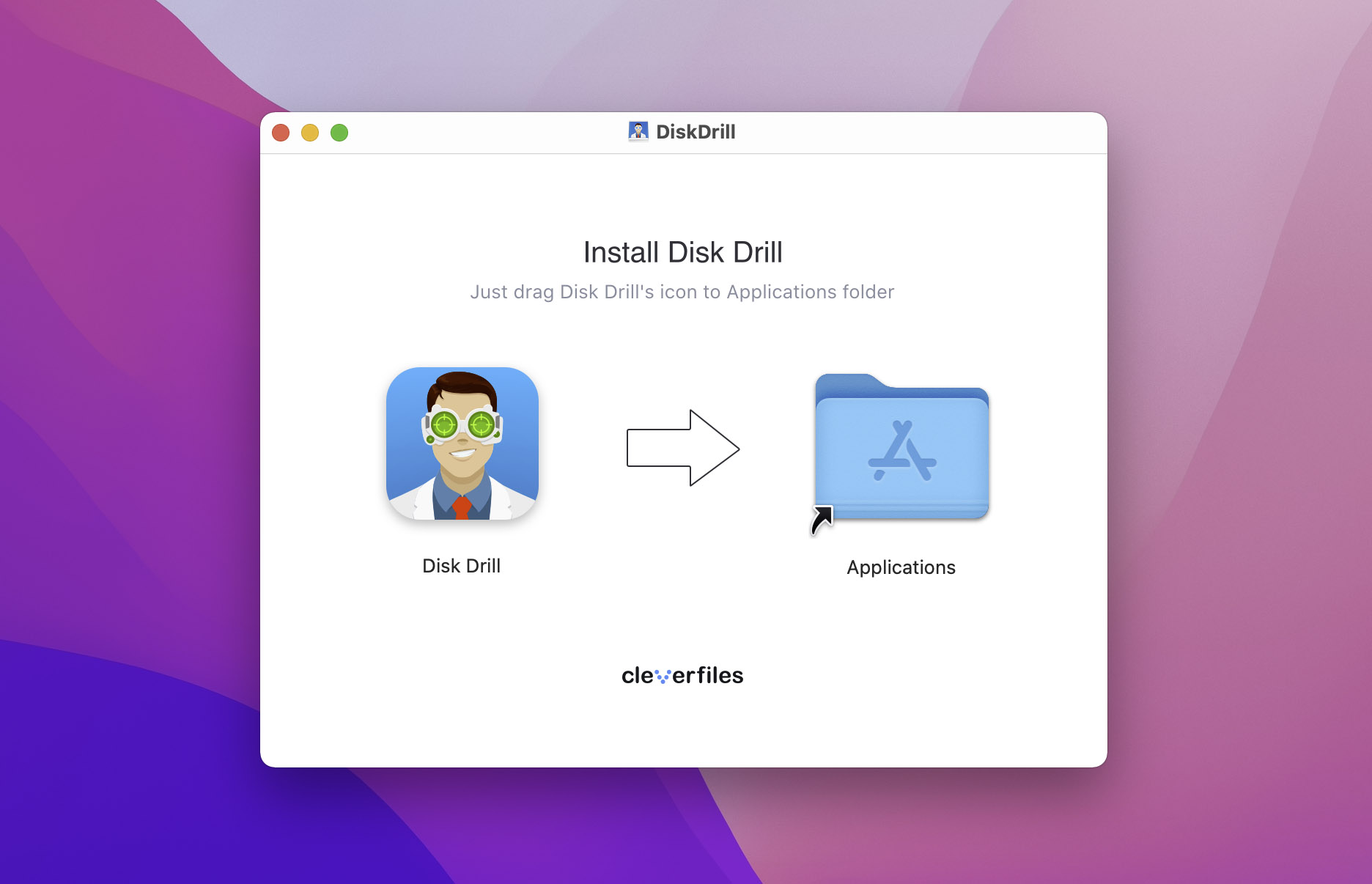 Step #3 Then, open Disk Drill from the Applications folder. A prompt may appear. It will ask you to confirm if you want to open the application. Click Open to proceed.
Step #4 You should now be on the Disk Drill homepage. All disks that are available for scanning are listed under Storage Devices.
Step #5 Select the disk that you want to scan, then click the button Search for lost data.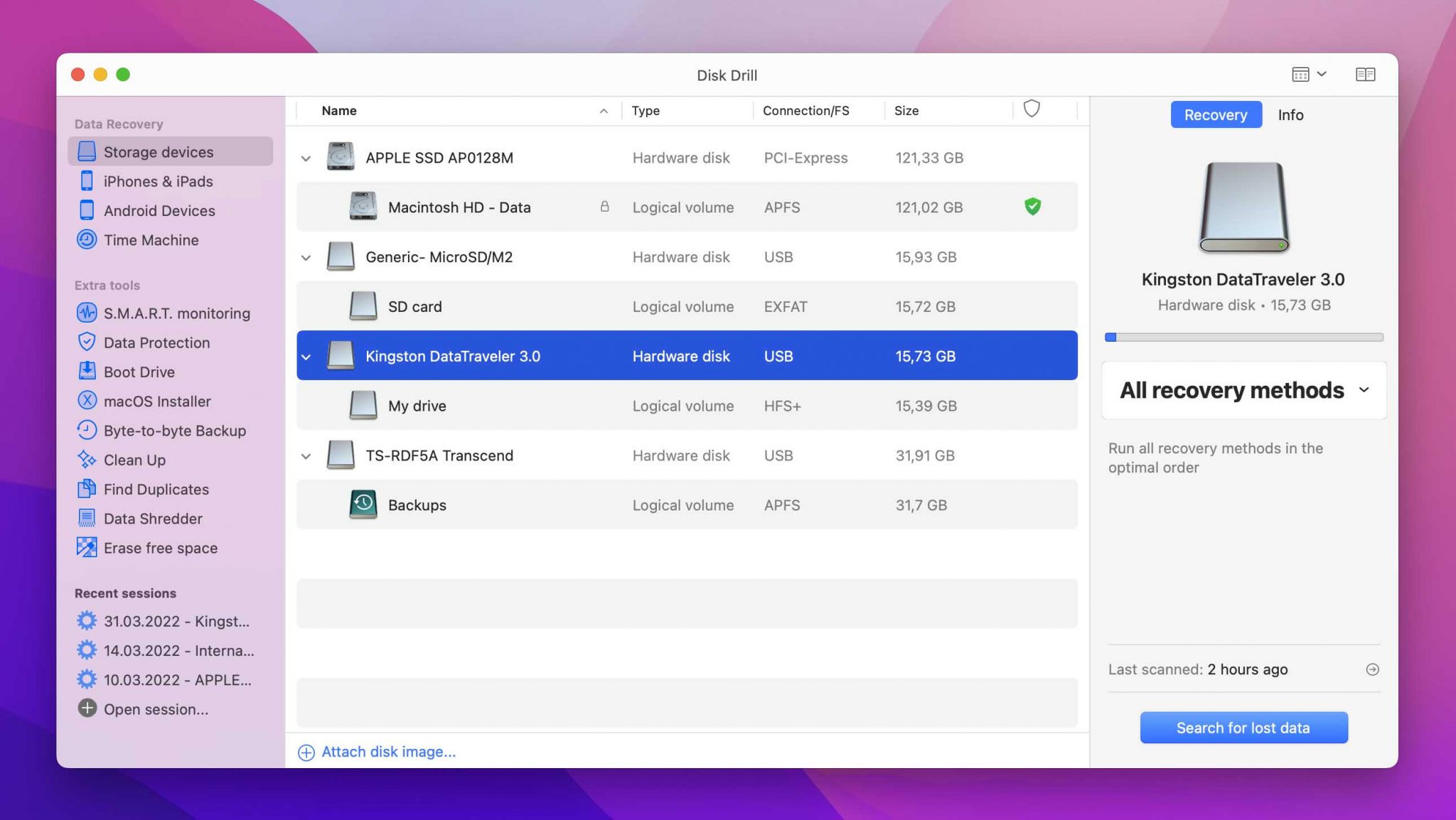 Step #6 For best results, wait for the scan to finish completely. Disk Drill uses its quick scan by default so this should not take too long.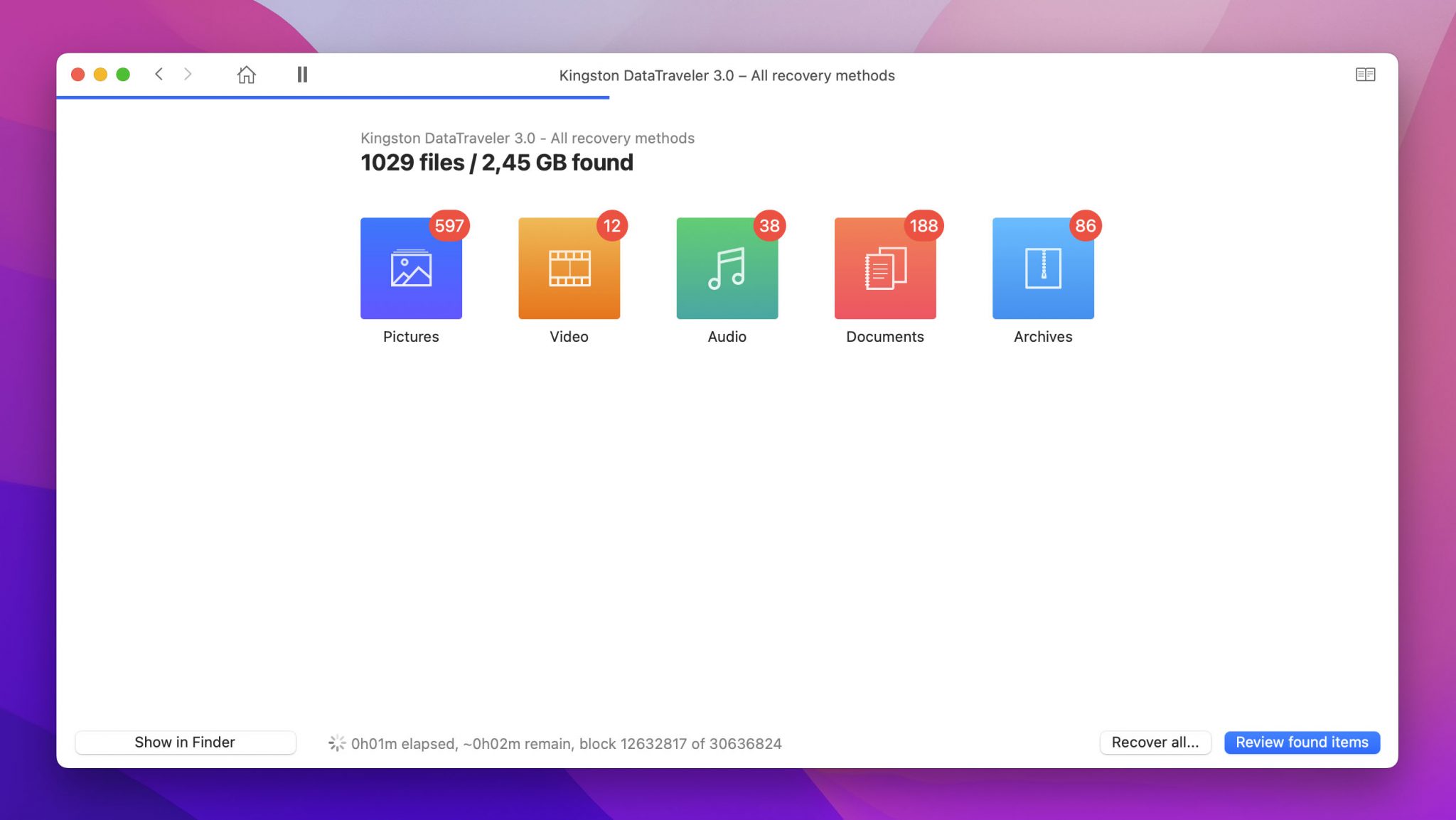 Step #7 After the scan is done, Disk Drill will show the items that you can retrieve. You can also filter the results by typing m4p on the search bar.
Step #8 Once you've found the file that you are looking for, click the Recover button located on the lower right of the screen.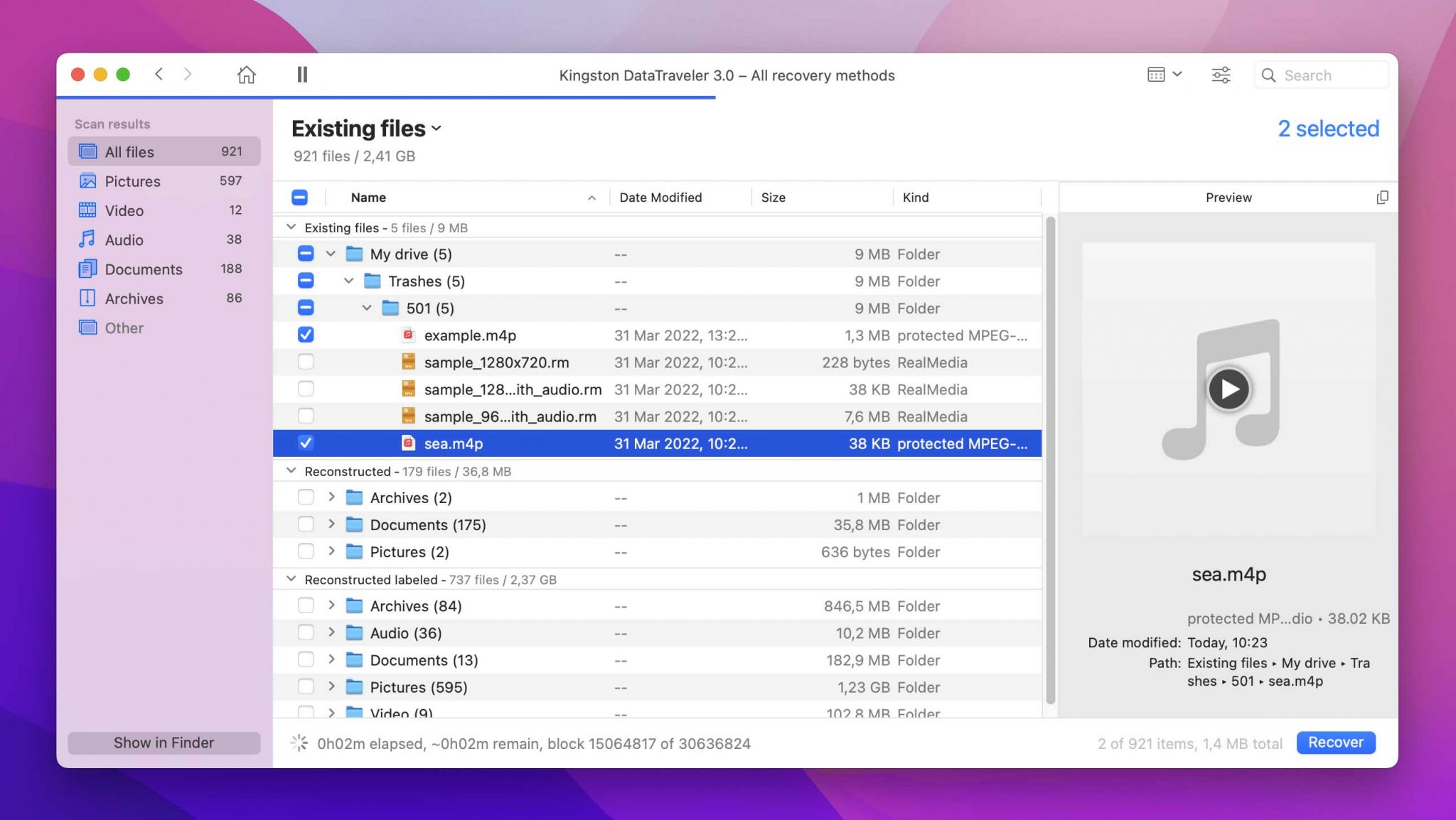 Step #9 Lastly, select the destination folder where you want your retrieved file to be placed.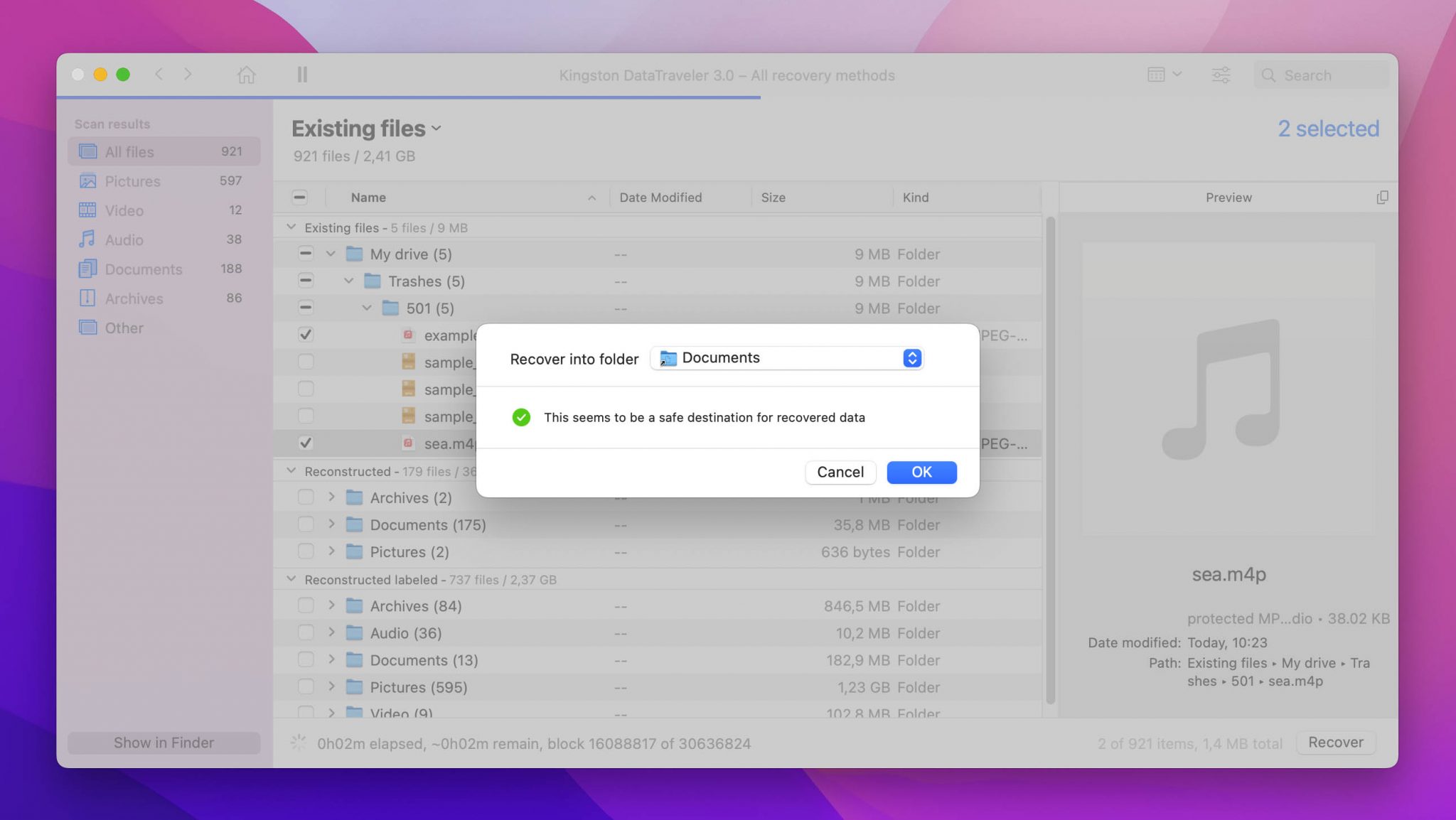 As you can see, recovering files using Disk Drill is very easy! You can even pause a scan and resume it at a later date if you're pressed for time. 
Disk Drill is available to download for free on Windows and Mac. However, you can only recover a limited amount of files when using the free version. If you want to recover more than 500MB worth of files, you will need to upgrade to the PRO version, which costs $89. 
For more information about Disk Drill, you can visit their official website. 
Recover m4p Files From Windows Recycle Bin or Mac Trash
If you accidentally delete files, they will automatically go to your Recycle Bin or Trash. They will stay there unless you have auto deletion enabled on your computer settings. So the easiest way to restore deleted m4p files is by checking these applications on your computer.
See for yourself how easy it is by checking out the steps below:
How to Restore Recycle Bin Files for Windows Users
Step #1 On your desktop, double-click the Recycle Bin icon to open it.
Step #2 Your deleted files should be displayed on the window. Right-click the file that you want to restore and click Restore this item.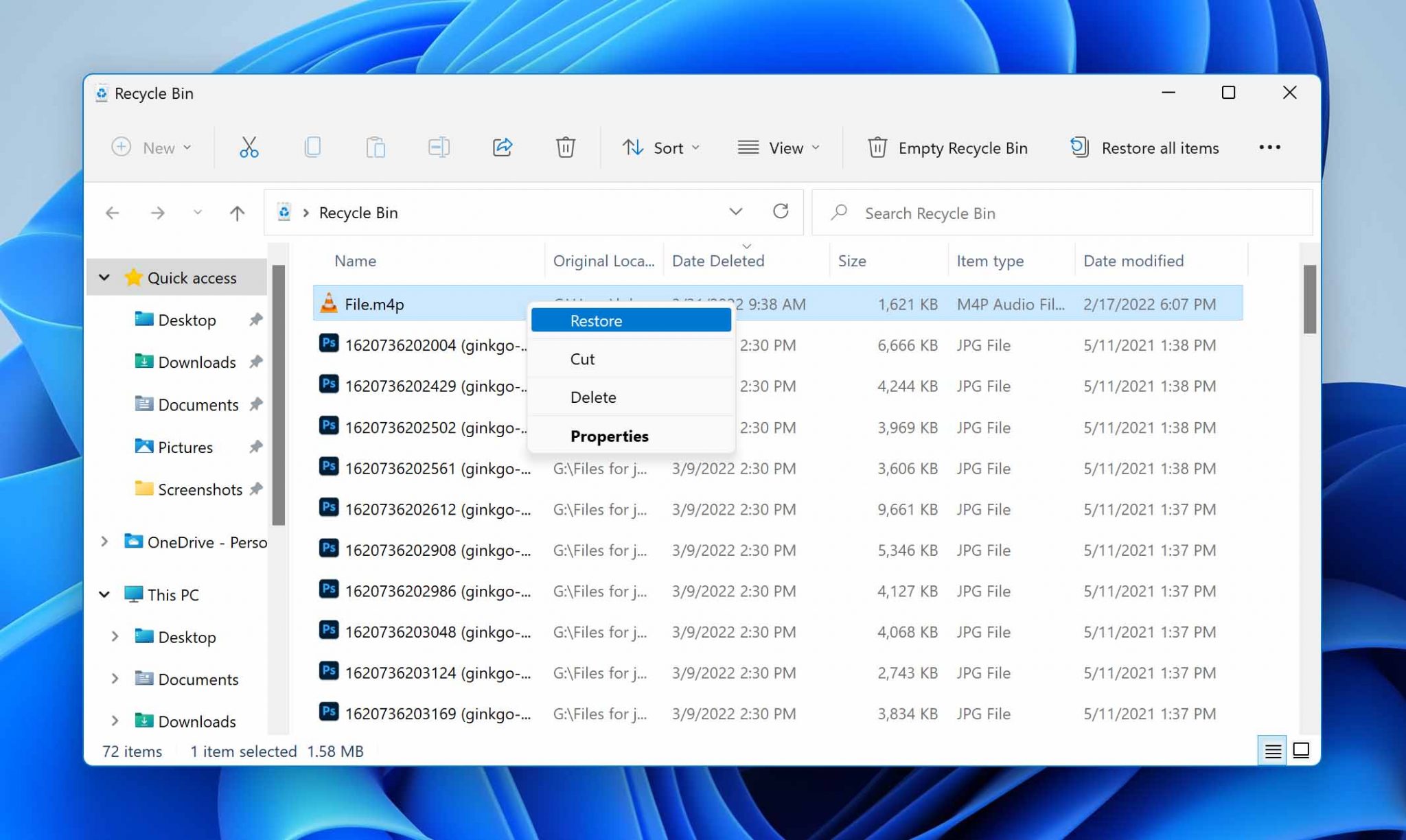 Step #3 The file will be brought back to its original folder, or you can drag and drop the file to another folder on your computer.
How to Restore Trash Files for Mac users
Step #1 Click the Trash icon on your dock.
Step #2 Right-click the file that you want to retrieve and select Put Back.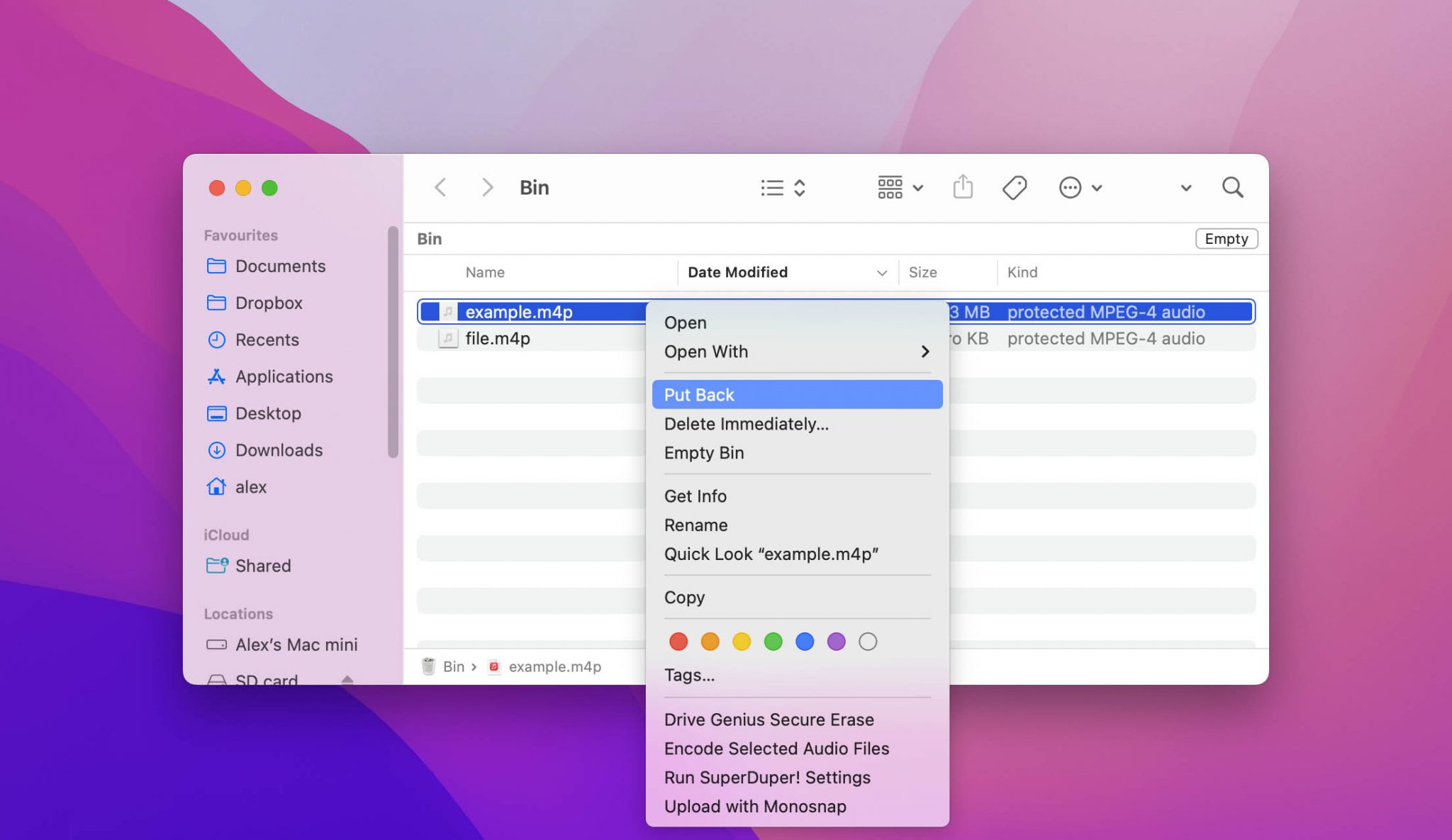 Step #3 The file will be placed back to its original folder.
Restore from Recents File Folder
Recents Folder on Mac is where you can quickly access the files you recently worked on or opened. You can also access unsaved files from here if you forgot to save them before exiting. 
Deleting files from the Recents Folder will send them to Trash, but you can undo this as long as you move quickly. 
To restore a deleted file from the Recents file folder, you can make use of the Undo command. On the top bar, select Edit and click Undo Move of [file name]. You can also do the keyboard shortcut Command + Z to restore the file to the Recents file folder.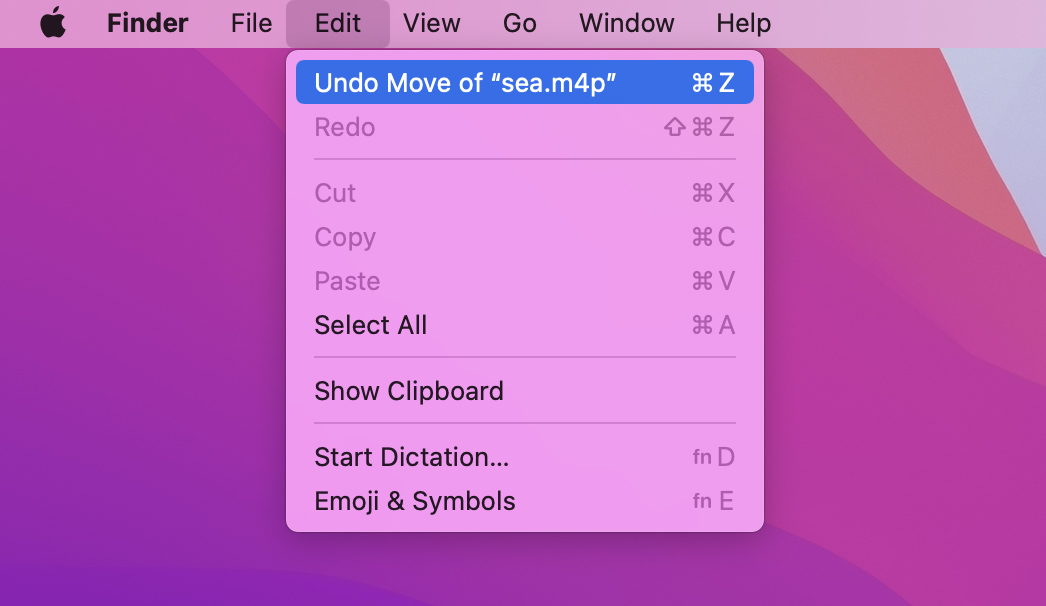 Recover from Time Machine
If you are in the habit of backing up your Mac's data using Time Machine, this is another method to try when you want to get back your files, even m4p files. The Time Machine is Mac's built-in backup feature that can restore your Mac to earlier iOS versions and recover files that have disappeared from your main folders. 
To recover files using Time Machine, follow these steps:
Step #1 First, make sure that the Time Machine backup disk is connected to your Mac. 
Step #2 Next, launch Time Machine using the Spotlight search bar located on the top right of the screen, or you can also click the Time Machine icon in the menu bar.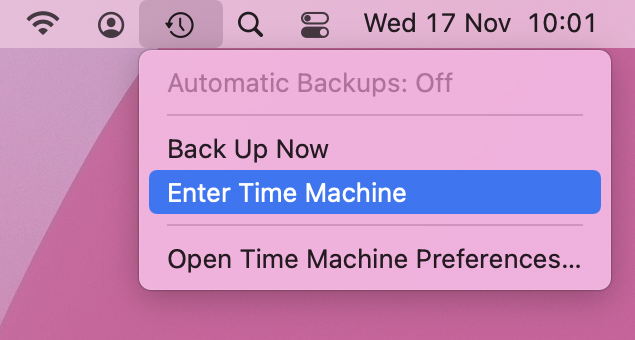 Step #3 The Time Machine window will show up, and you can scroll to find the specific file that you want to restore.
Step #4 Preview the file by pressing the space bar on your keyboard. 
Step #5 If you are sure that you want to restore that file, just click the Restore button located at the bottom of the window.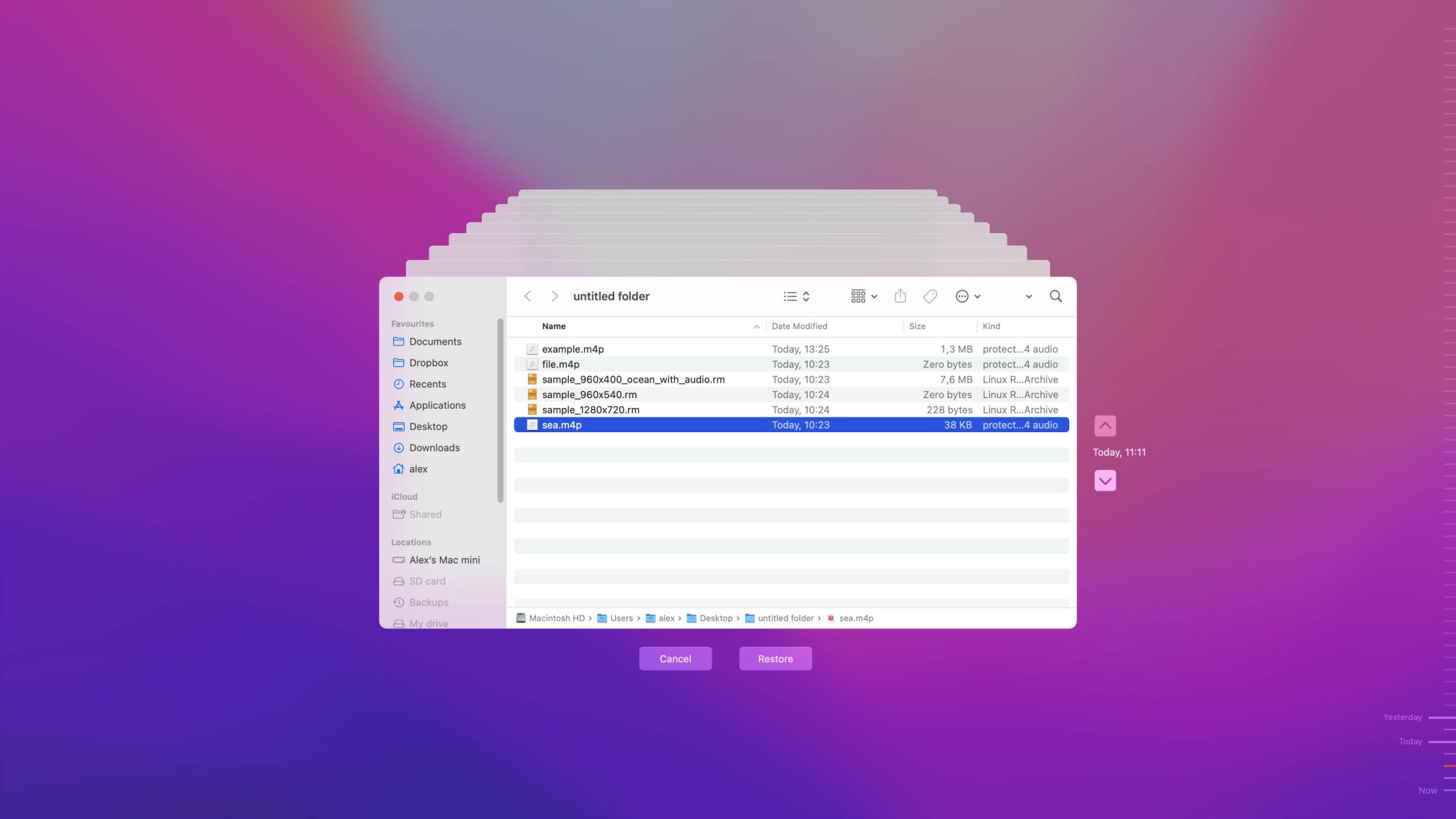 Step #6 Exit Time Machine. You can now view the file in its original folder or destination.
How to Open M4p Files on Mac and Windows
Since m4p is associated with Apple, you can easily open m4p files using your Mac. But if you are using Windows, you will need to download programs that will enable you to open this file type. 
Mac Programs That Open m4p Files
For Mac, it's best to open m4p files using the following programs:
Windows Programs That Open m4p Files
For Windows, download the following programs to open m4p files:
VLC Media Player
iTunes for Windows
QuickTime for Windows
Final Media Player
KMPlayer
Tips to Avoid M4p File Loss
With several data recovery options available, it is undeniable that technology has enhanced our quality of life. But while losing files is inevitable, it's something we all want to avoid. Here are tips to follow to prevent m4p file loss:
Backup your data. You can set up automatic backups on your computer to prevent data loss. Take advantage of Time Machine, the built-in backup feature of Mac. 
Keep your device safe. A device that is safe from malware attacks and viruses prevents unexpected data loss. You can use a firewall for added protection to your device. 
Store your hard drives properly. Since your files are stored in hard drives or disks, you always need to keep them safe. Put them somewhere away from dust and extreme weather conditions as these may affect the drive.