What is M4P File Format?
M4P stands for MPEG 4 Protected (audio), and it is a protected audio file, encoded with advanced audio codec (AAC). It is sometimes called an iTunes Music Store audio file.
Characteristics and Uses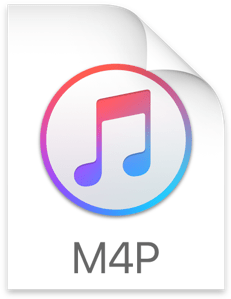 The M4P file format was developed by Apple Inc. and uses its FairPlay Digital Rights Management (DRM) system. FairPlay is based on technology created by Veridisc.
The FairPlay protection mechanism works by encrypting the AAC audio stream using the AES encryption algorithm. In order to decrypt, the user receives a master key assigned to his account. This file format was designed to replace the MP3 file format, because the MP3 was not originally intended as an audio file, but as layer III in a MPEG 1 or 2 video file.
In general, it produces better sound quality and files of smaller size, when compared to the MP3 format. This is due to several design facts. Amongst them, compression based on perception, sample block size of 120 or 128 samples, and block sizes in stationary signals of 1024 or 960.
Usually opened with iTunes, an iTunes account can be authorized on up to five computers. An iPod may contain a maximum of five accounts. Tracks may be copied to a CD any number of times.
The CD may then be ripped and played without restrictions, but cannot be legally leased, sold or distributed. As some compression artifacts are still present in the CD, distorting the quality of the sound, it is advisable to rip it to a lossless audio codec, such as wav. The resulting file will be of bigger size.
However, Apple has stopped using FairPlay in songs offered through the iTunes Store. It continues using the technology in offered apps and in subscription songs for offline listening.
Programs That Open M4P Files
Designed to be opened with iTunes, there are references to other tools that can open them.
These apps are:
KMPlayer
iTunes
Spotify
VideoLAN VLC Media Player
QuickTime
How to Recover Deleted M4P Files
Our lives have been transformed by the digital revolution. In it, one of the problems we often encounter is unintended deletions.
However, to recover M4P files is easy, when using Disk Drill. The app can be downloaded for free!

Data recovery for free
Your Companion for Deleted Files Recovery
Disk Drill works based on the fact that when you delete a file, you are actually only deleting a reference to it. The actual data remains untouched, until overwritten by the operating system. Thus, Disk Drill uses some powerful algorithms to rescue all data still available on the device.
The M4P recovery procedure is simple. Just follow the steps below:
Download Disk Drill from one of the links above.
Install Disk Drill by clicking on the installer's icon. The program will guide you, doing the hard work.
Open Disk Drill by clicking on the app's icon. The application will detect all connected devices, and present them in the form of a list. Select the one that contains your files. Disk Drill supports a variety of digital devices, such as internal and external hard drives, USB flash drives, memory cards, iPods and more.
Go to the main menu, and from the "Preferences" item, select "Audio" and them "m4p". In this manner you narrow the search to a specific file format, and Disk Drill performs faster and more efficiently.
Press the "RECOVER" button. Disk Drill will scan your device. You can pause or cancel the scan. You can also save the session, and continue later on, without any loss of your work.
Once the scan is completed, go over the results to find your files. You can narrow the search by filtering the data according to date or size.
Retrieve your files to a folder of your choice.
Your M4P file recovery is done!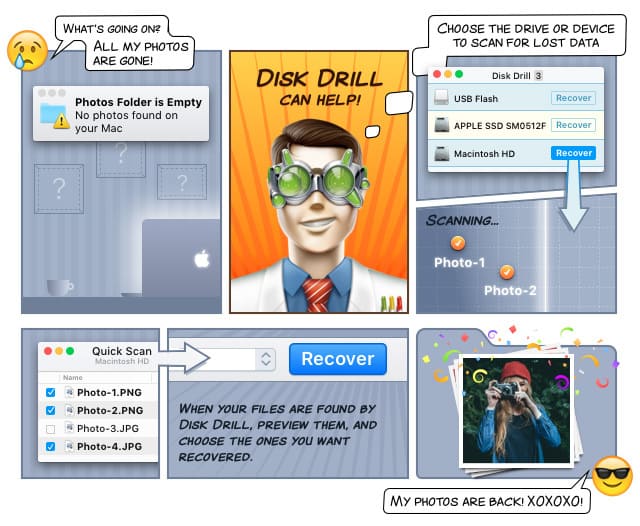 How to Use Image Files to Recover M4P Files
You can reduce the risk of damaging your source device by using an image copy. An image file is a bit-by-bit copy of an original source. Thus, it contains all available information, including deleted files. The use of image files is a standard practice in Digital Forensics, because they permit you to work on a different environment, while keeping the original sources intact.
Disk Drill is a very complete tool that allows you to create an image file, and then perform your M4P file recovery on it. In order to create an image copy, just select the corresponding option from the menu next to the device reference. Once created, the image copy must be attached to the program, and the files recovered in the same way as explained above.
In addition, you can also create your backups using image files. In this manner, you are also saving unintended deletions, and later on you can recover M4P files from them.