What Is FLV File Format?
A FLV file is a binary file format that delivers a "bitmapped" video. The complete name of this file format is Macromedia Flash Video File Format, shortened as FLV.
Characteristics and Uses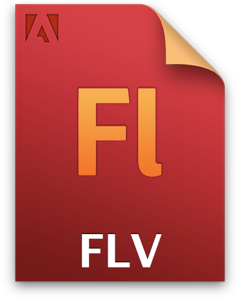 A FLV file encodes synchronized audio and video streams. Each tag in the file represents a single stream. One audio stream can only synchronize with one video stream.
A FLV file has a header and a body. The header contains the FLV signature and version. The body consists of alternating back-pointers and tags. FLV tags contain the tag type, data size, timestamp and the body or proper data of the tag. The timestamp is used to define the sequence of the video.
Audio tags are similar to the DefineSound tag in the SWF format, except that they can also contain Nellymoser 8kHz sound format. The storage of data is in multi-byte integers. If the data is 8-bit, FLV uses unsigned bytes. If the data is 16-bit, samples are stored as little-endian signed numbers. For stereo sound, left and right samples are stored interleaved as left-right-left etc.
Video tags are similar to VideoFrame tags in the SWF file format, and their payload section is identical.
This file format limits content delivery over the Internet to one video and one audio system per file. The content is delivered to a Macromedia Flash Player. FLV content can be incorporated in SWF files by using ActionScript external references.
This file format is used for final-state, end-user delivery. In general, the clarity of the video delivered ranges from good to very good.
Brief History
Developed by Macromedia and now owned by Adobe Systems, the FLV file format specification was defined in the Flash Video (FLV) File Format Specification, Version 8, copyright notice 2005, pages 257 – 65. As of 2013.
Programs That Open FLV Files
Windows:
File Viewer Plus
Adobe Flash Player
Adobe Animate CC 2015
Xilisoft Video Converter Ultimate
VideoLAN VLC Media Player
Media Player Classic
Nullsoft Winamp
Mac:
Adobe Flash Player
Adobe Animate CC 2015
RealNetworks RealPlayer Cloud
Eltima Elmedia Player
VideoLAN VLC media player
Apple QuickTime Player with Perian component
Linux:
VideoLAN VLC media player
RealNetworks RealPlayer Cloud
Android:
BIT LABS Simple MP4 Video Player
antvplayer Media Converter
J2 Interactive MX Player
Concerns
The FLV file format limits uncompressed audio to 44 KHz sampling and 16 bit words.
How to Recover Deleted FLV Files
It is easy to delete a file without even noticing it. Fortunately, you can recover FLV files with Disk Drill, a file recovery tool that is available for free!

Data recovery for free
Your Companion for Deleted Files Recovery
Once downloaded, the process is as follows:
Click on the downloaded installer and follow the given steps.
Open Disk Drill. This application will automatically detect all connected drives. Disk Drill works on many different digital devices, such as internal and external hard drives, USB flash drives, memory cards, iPhones and many more. Select the drive for FLV file recovery.
From the main menu select "Preferences", "video" and then "flv". In this manner, you narrow the process to FLV recovery only.
Click on the "RECOVER" button. Disk Drill will scan the selected drive, searching for all FLV files still on it.
The scan can be paused and continued later on. If you need, you can also save the session and continue at a later stage, starting from the point you saved, without losing any information already obtained. You can also cancel the session.
Once the scan is done, Disk Drill shows the results in a list form. This list can be filtered by date and size. Select the files you need and restore them to any folder of your choice.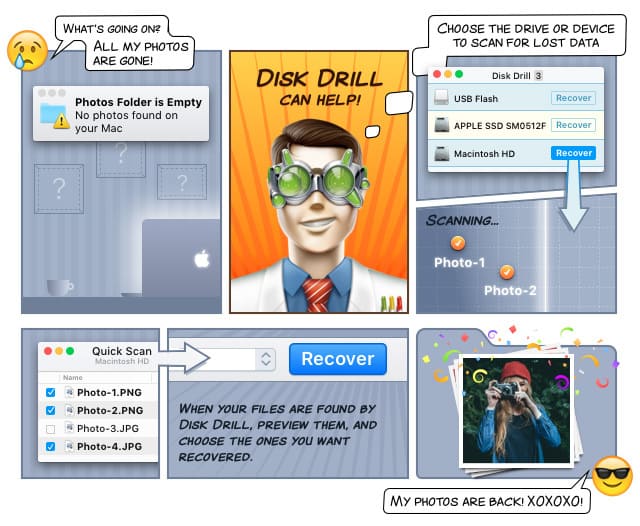 How to Use Image Files to Recover FLV Files
Image file are a bit-by-bit copy of a digital device. As the copy is at binary level, all data on the device is copied. Therefore, image files are the perfect tool for performing a FLV file recovery without taking any risk of destroying information on the original device.
Disk Drill also helps you with image copy creation. You can create one from any of your devices by going to the "Extras" menu available next to each drive item. An added advantage of this application is that it creates image files with the most common formats such dmg, img and iso. These file formats can also be opened with many other apps.
In addition, image files can be used for backup purposes. As they are a binary copy, the backups will also include any accidentally deleted files. In this regard, they can also help to comply with the widely recommended 3 x 2 x 1 rule for backups, which states: make three backups, two of them in different formats, keep one in a different place.