What is TS File Format?
TS is a video stream file format, originally developed for storing video on DVDs. TS stands for Transport Stream.
Characteristics and Uses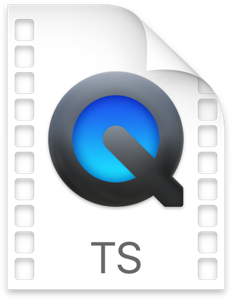 Transport streams are designed for terrestrial or satellite broadcasting. They may hold multiple programs.
A transport stream may hold several substreams, wrapping the data of an MPEG codec or other non-MPEG codecs, such as AC3 or DTS audio, and MJPEG or JPEG 2000 video, texts, pictures, tables, and broadcasting information. Many unrelated streams are often grouped together. They are usually broadcasted at constant bitrate.
A transport stream is composed of packets. Each packet has a sync byte and a header, followed by payload. Packets are 188 bytes in length.
Transport streams are managed by programs, which are described by a Program Map Table (PMT). Each program has an ID and can represent a channel. In order to decode the content for a specific channel, it is necessary to identify all payloads having the channel's ID. A transport stream with only one program is called Single Program Transport Stream (SPTS). Similarly, when it contains multiple programs, it is called Multi Program Transport Stream (MPTS).
Thus, a TS file works as a container, holding many pieces of data. It can store audio and video data, which is stored according to the MPEG-2 part 1 standard. Videos are often stored in DVDs as multiple TS files.
The MPEG-2 multimedia file format, is defined in the ISO/IEC standard 13818-1. It is also known as ITU-T Rec. H.222.0.
TS files are recorded with DVD recorders or Digital Video Broadcasters (DVB) receivers, and can be converted into AVI, WMV, WMA, MPG, MP3 and MP4 file formats.
File Signature
ISO 88859-1: G
Hexadecimal: 47
Programs That Open TS Files
Windows:
File Viewer Plus
Roxio Creator NXT Pro 5
Corel VideoStudio Pro X8.5 Ultimate
Audials One 2016
VideoLAN VLC media player
CyberLink PowerProducer 6
Squared 5 MPEG Streamclip
Pinnacle Studio 20
DRD Systems VideoReDo
Mac:
Roxio Popcorn
Apple DVD Player
Squared 5 MPEG Streamclip
VideoLAN VLC media player
Aiseesoft Video Converter Ultimate
Linux:
VideoLAN VLC media player
SMPlayer
How to Recover Deleted TS Files
It is not uncommon to accidentally delete an important TS file. Happily, you can use Disk Drill to recover it. Disk Drill is a data recovery app available for free!

Data recovery for free
Your Companion for Deleted Files Recovery
Disk Drill works on the premise that when you delete a file, you actually remove a link to it, but the content remains intact, until overwritten by the operating system. Disk Drill uses powerful algorithms to search and recover the data still available.
The method to recover TS files is easy. Just follow these steps:
Download Disk Drill from one of the above given links.
Install the application by clicking on the installer's icon. Then, just follow the given steps. Disk Drill will do the hard work.
Open Disk Drill by clicking on the app's icon. The program will detect all connected drives. Disk Drill works on several different devices, such as internal and external hard drives, USB flash drives, memory cards, iPods, iPhones, and more. Select the drive that contains your deleted files.
You can narrow the search by selecting the "ts" file format from the main menu. In this way, the TS file recovery will be faster and more efficient.
Ask Disk Drill to search for your files. The app will scan the drive, and present the results in a list.
You can stop the scan, or pause it and continue later on. You can also save the session and continue at another time, without any loss of the work already done.
You can narrow the results list by using a filter according to date or size or both.
Select the files you want and retrieve them to a folder of your choice.
Your TS recovery is done!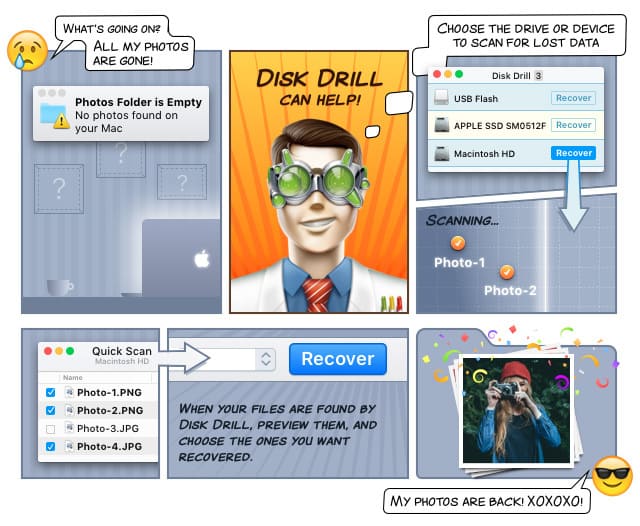 How to Use Image Files to Recover TS Files
Image files are a very useful tool to recover TS files, without having the risk of mistakenly modifying the original drive. As they are bit-by-bit copies of the drive, they also contain all deleted content, still not overwritten by the operating system.
Disk Drill helps you to create image files. This app also lets you perform your TS file recovery from an attached image copy.  The recovery procedure is the same as described above. This approach is a recommended practice in Digital Forensics.
Image files can also be useful for backup purposes. Although they can be big in size, they have the advantage of containing deleted files, making them available for future TS recovery.