What Is M2T File Format?
The M2T file format is a high-definition video recording format. It is usually referred to as HDV, and it is used by many HD camcorders. This file format uses MPEG-2 compression and supports resolutions of 720p and 1080i.
Characteristics and Uses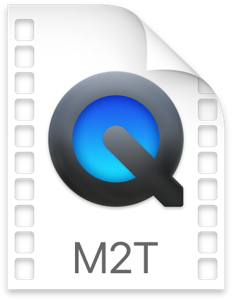 MPEG-2 file compression is the de facto compression standard in the entertainment industry. This is due to several reasons. First, it is an international standard (ISO/IEC 13818-2). Second, the standard doesn't put any restriction on the implementation. This permitted the introduction of several improvements by its users. The result has been a 30 to 40% improved efficiency.
However, MPEG-2 is seldom used over the Internet, because the Internet cannot guarantee the quality of service parameters necessary for MPEG-2.
MPEG-2 uses lossy compression methods. This means that during compression, some data is lost, and therefore, the quality of the compressed version is less than the quality of the original source. This quality loss depends on the source. Fortunately, the eyes work in a similar manner, and humans tend to accept a lesser amount of detail in motion scenes.
The MPEG-2 lossy compression method is based on motion vector estimation, discrete cosine transforms (DCT), quantization and Huffman encoding.
Motion vector estimation is used to capture changes between frames. DCT is used to transform spatial information into frequency values. Thus, it can be used to discard high frequencies, as they are less detectable by human eyes. Quantization is used to group similar values, reducing the amount of information transmitted. Huffman coding is a type of entropy coding, which uses shorter codes to describe common values, and longer codes to describe rarer values.
Programs That Open M2T Files
Windows:
File Viewer Plus
Microsoft Windows Media Player
Adobe Flash Professional CC
Adobe Premiere Pro CC 2015
Roxio Creator NXT Pro 5
Corel VideoStudio Pro X8.5 Ultimate
CyberLink PowerDVD 16
CyberLink PowerDirector 15 Ultra
CyberLink PowerProducer 6
MPlayer
MAGIX Vegas Pro 14
Squared 5 MPEG Streamclip
Mac:
Apple iMovie 10
Adobe Flash Professional CC
Adobe Premiere Pro CC 2015
Roxio Toast 15
MPlayer
Squared 5 MPEG Streamclip
How to Recover Deleted M2T Files
Nowadays we are dealing with so much digital information that is easy to mistakenly delete a file. However, the good news is that most of the time, when we delete a file, the operating system only removes a reference to it. The content is kept unmodified until the operating system overwrites the storage space with new data.
Disk Drill is a data recovery application that is based on this fact. It is available for free!

Data recovery for free
Your Companion for Deleted Files Recovery
The M2T recovery procedure is straightforward. Just follow these steps:
Click on the installer's icon and follow the given steps.
Open Disk Drill by clicking on the app's icon. Disk Drill will automatically detect all connected devices, and show them in a list. Select the one that contains your files. Disk Drill can recover M2T files from a variety of digital devices, such as internal and external hard drives, USB flash drives, memory cards and many more.
Go to the main menu and select "Preferences", then "Video", and then "m2t". In this manner you narrow the search to a specific file type, resulting in a faster and more efficient scan.
Press the "RECOVER" button next to the selected device. Disk Drill will scan your device.
The scan can be paused or cancelled at any time. Also, the scanning session can be saved and continued later on, without any loss of the work already done.
Once the scan is completed, Disk Drill presents the results in a list manner. The list can be narrowed by filtering it according to size or date.
Select the files you are interested in, and retrieve them to a folder of your choice.
You have now completed your M2T file recovery.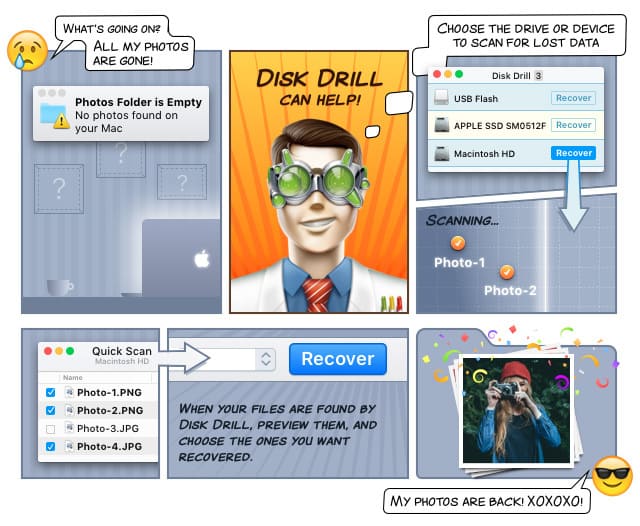 How to Use Image Files in M2T File Recovery
An image file is a bit-by-bit copy of a digital device. Therefore, it contains all information available on the drive, including deleted files and empty space.
As Disk Drill has the capacity to create image copies, you can perform your M2T file recovery on an image file, reducing the risk of damaging the original device. This a standard practice in Digital Forensics.
In order to create your image copy, just go to the "Extras" next to your device reference, select the corresponding item, and follow the steps given to you. Once you have your image, go to the main menu and attach it. Then, do the M2T file recovery on the copy, by following the above given steps.