Changing the background of your Mac's login screen will not do anything to improve the performance of the machine. It is a purely cosmetic change that will not affect anything except the visual impact when you login to your Mac. Some people might argue that there is no valid reason to even spend a second of your time in such a worthless modification to your computer.
We disagree with this assessment and believe that there are a number of reasons that it is a good idea to change the background screen. These will be discussed at the end of this article. First, let's take a look at how you go about changing the background of your login screen on a Mac.
How to Change Your Background Login Screen
There are two background images that you will see when using a computer running macOS. One is the default background that appears before you login to your account, and the other is the background image that is displayed while you are logged in.

Changing Your Login Background
Changing the image you see when you are logged in is a simple task. Since this screen will be viewed more often than the pre-login screen, more users take the time to make this change. Here are the steps to follow:
Open System Preferences
Select Desktop and Screensaver
Click on the Desktop tab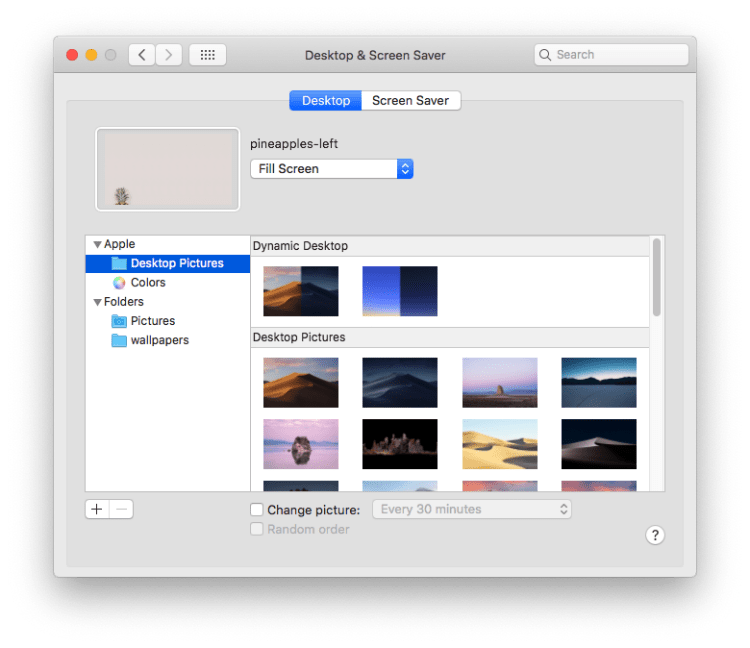 Use the left window panel to navigate to the picture that you would like to use as your background
That's all there is to it. Now when you login to your Mac you will have a custom background image. It's a small touch that can make your computer usage a bit more pleasant.
Changing the Login Screen Background Prior to macOS Mojave
Use this procedure on Macs running operating systems prior to Mojave.
Select the image that you want to use as your background and save it to your machine with this east filename — "com.apple.desktop.admin.png".
Navigate to the /LibraryCaches folder.
If you want to retain the current background image, rename the current "com.apple.desktop.admin.png" file to another name. You can just overwrite it with your new image if you so choose.
Copy and paste your new "com.apple.desktop.admin.png" file into the /Library/Caches folder.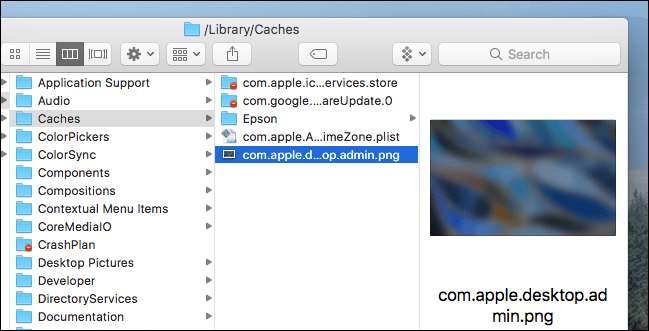 Log off from your machine and you will see the new background image.
Users will now be presented with the new background before they log into their account.
Changing the Login Screen Background on macOS Mojave
This procedure needs to be followed on Macs running the new Mojave upgrade. The filename and its location have changed in the new operating system. Here's what you need to do.
Navigate to /Library/Desktop Pictures folder on your Mac.
Find the file named "Mojave.heic". This is the login screen background image.
Rename "Mojave.heic" to something like "Mojave.heic.old".
Copy and paste the image that you want to use as the background to the /Library/Desktop Pictures folder.
Edit the picture if needed to conform to the original background's size, DPI, and other parameters.
Rename this file as "Mojave.heic".
Restart your computer and the new image will be the first image you see before logging in to your machine.
Why Would You Want to Change Your Login Screen's Background
Several reasons come to mind when considering why you would bother to change your login screen's background.
#1 Creating a pleasant work environment — If you spend any significant amount of time using your machine, you end up seeing that background quite a bit. Granted, you will often have apps and other programs filling your screen and may not even catch a glimpse of the background for long periods of time. But you will eventually. Why not use an image that pleases you or has some meaning? It might just make your Mac even more user-friendly than it is already.
#2 Presenting a unified company image — You might want all of your employees to present the same image to your clients. Using a company logo or standardized background on their company-issued MacBooks is one way of accomplishing this. It eliminates the possibility of an employee using an inappropriate background and gives your support team's machines a distinctive look at startup.
#3 Displaying information — Public computers such as those found in a library can use the background of the login screen to display information to users who may not be familiar with its operation. This can make it easier for novices to use the machine and reduce the number of help requests that need to be addressed.
You may run into the problem of discovering your pictures or wallpapers have been inadvertently deleted from your machine. You can try to get them back by downloading Disk Drill data recovery software. This application can be used for free to scan for files that can be recovered. If you find files you want to restore, you can easily upgrade to a fully licensed version of the software and recover your images.
So there you have it. You can now customize all of the background images your Mac will display both before and after you login. Have fun!
.updated:
June 3, 2021
author: