Disk Drill 4.1 adds new file formats to its Deep Scan recognition algos, improvements in NTFS and FAT32 recovery, various tweaks in managing ongoing scans, and so much more. Disk Drill becomes smarter with every update delivering improved UI and backbone powerhouse.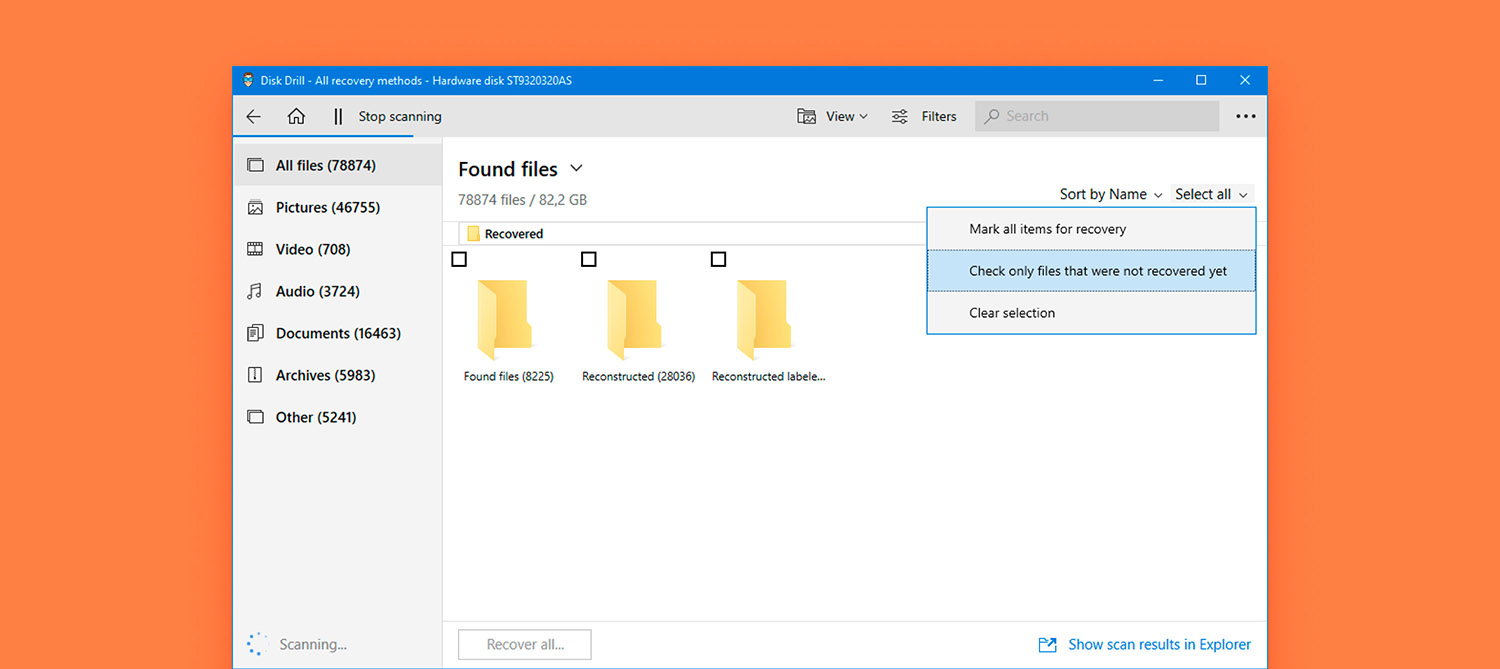 New
Extended selection controls in the recovery tree
New option to "Select only files that were not recovered yet" in the recovery tree
Auto-resuming scans of frequently disconnecting devices
Disk Drill's Deep Scan learns new file formats for Ichitaro Word Processor – .JTD, .JTDC, .JTT, and .JTTC, as well as .PUB (MS Publisher documents)
Improvements
NTFS scanning stability
FAT32 recovery stability enhancements
Window size saving and restoring
Device status and other notifications design
Saving and resuming scans
MS Office DOC/DOCX file format detection while deep-scanning
ZIP and RAR archives recovery and file naming
Detection and recovery of TTF, ICNS and PDF file formats
Recovery speed and memory footprint
Updated sequence of scanning methods for improved recoverability and bad sectors detection
After-scan file postprocessing now shows in GUI as "Reconstructing files and folders"
File previews and hex viewer properly disabled for offline scanning sessions
Refreshed visuals and next steps in the final recovery screen
Disk Drill now properly handles recovery attempts to read-only devices
Preview pane controls consistency
Disk Drill can now save interrupted scanning sessions for disconnected storage devices
Quick Scans on NTFS partitions with cluster size bigger than 64 KB
Recovery destination selection dialog
Undelete Protected Data now properly handles read-only devices
More consistent app window dimensions in various screen configurations
Multiple improvements in "Select All" functionality throughout Disk Drill's modules
Disk status updates could overlap scanning messages and other messaging improvements
Multiple in-app search improvements
Fixes
A bunch of random crashes related to scanning and loading saved sessions
Disk switched into read-only status after partial session loading
Random crashes related to Disk Drill's system tray menu
Crash when detecting TIFF file signature as part of deep scans
Crashes related to non-accessible session files
Offline license activation on Windows 7
Data Protection can no longer be enabled on read-only devices
Crashes when EXT partitions were created while Disk Drill was active in the background
Occasional crash when scanning HFS+ partitions
Error messages when quitting Disk Drill right after starting the app
Session autosaving on device disconnection
Rare crashes when restoring Disk Drill after PC's sleep mode
Visual fixes when searching for long file names in Disk Drill's scanning results
Occasional freeze when loading saved session files
Session auto-saving on multiple device disconnects
Continue button could be truncated due to long device name
Glitchy sorting by name in some UI modes
Save session button disappeared after file recovery
Here's what we were busy with. More to come.
.updated:
June 3, 2021
author: