September 24, 2020: we've just released Disk Drill 4.0.537 for Windows. With this update, we offer fixes and improvements along with some new features. The release is aimed to improve usability of the application and make sure that you get the best results while using Disk Drill.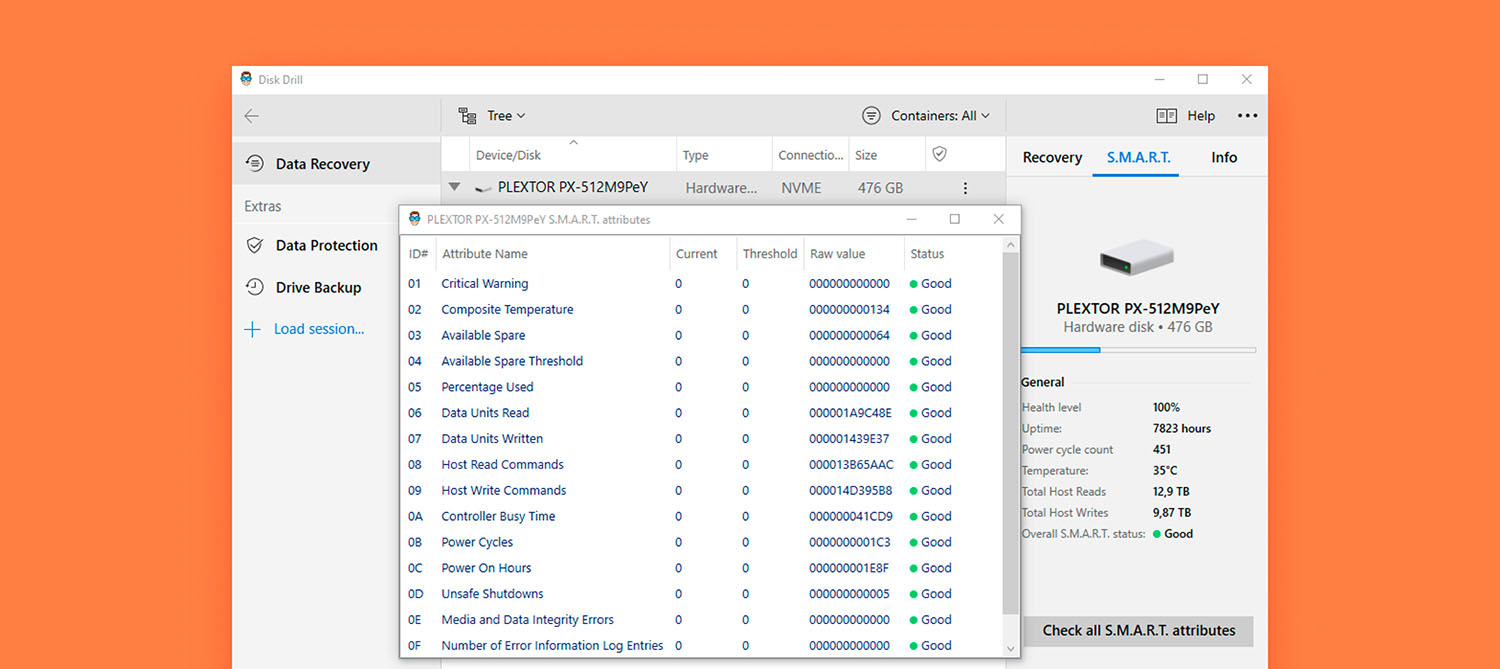 New
Better navigation with the updated right-click menu in the disk list
Support for disk health monitoring on Intel RST NVMe RAID drives
Extended parameters for disk health reports – TRIM, Volatile Write Cache report for NVMe SSD drives, and 4K Sector
Several disk health parameters added to S.M.A.R.T. tab for SSD drives – total host reads, total host writes, overall health and life timespan estimates
Real-time drive temperature monitoring in the S.M.A.R.T. tab
Improvements
Continuous NTFS scanning and recovery improvements
Data detection accuracy when recovering from FAT32 partitions
S.M.A.R.T.-based disk monitoring for Kingston, WD, SanDisk, Transcend, Seagate, and other manufacturers
INDD and ICO file format reconstruction in Deep Scan
Scan and recovery resuming
More than 25% smaller installer
Detection and loading of a dependent Dokan library, required for disk virtualization and scan results mounting
Recovery and labeling of HEIC/HEIF image format generated by mobile Samsung devices
Auto-saving recovery sessions when scanning drives with little data
Indication of paused scans in the taskbar (yellow icon background)
Visual feedback when searching and filtering recoverable items
Hints and labels when selecting the recovery destination
Overall app responsiveness and usability, e.g. ESC key closing the preview window
Recovery won't start if source drives disconnect while selecting the destination recovery folder
Selection consistency in scan results
Indication and control locking when loading saved sessions
Preview panel no longer lags and shows more consistently
File selection in saved/loaded scan sessions
Timestamp detection and replication for deleted files during Deep Scan
Fixes
Some sporadic crashes in JPG and TIFF detection engine
A bunch of known S.M.A.R.T. issues
Select/Deselect options behavior in scan results
Proper disabling of "Recover" option for disconnected drives
Random crash on byte-to-byte backup creation completion
Occasional crashes on quick HFS+ scans and preview
Random crash on Disk Drill start and disk enumeration
Crash on missing default programs for TXT and LOG files in the end-user's systems
Disk Drill returns read/write status to drives accidentally disconnected while scanning after the scan is over
Random crash on right-click in disk list
Occasional crashes while deep-scanning for JPG and TIFF files
"Recover" and "Recover All" buttons could stay deactivated when certain storage devices were reconnected
App crash when entering empty categories in scan results
You can always get the latest release of Disk Drill for Windows from our website. We appreciate your support.
.updated:
June 3, 2021
author: