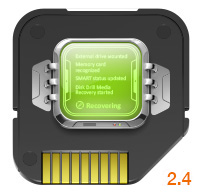 We are really glad that you chose Disk Drill. We really are!
You are reading this article because you either downloaded Disk Drill Media Recovery 2.4 on the Mac App Store minutes ago, or you upgraded your copy of version 1.8.x. Either way, we are happy that you joined us for this quick chat.
It'll take 2 minutes from here…

First of all, Disk Drill Media Recovery works! Even if you don't see any of your internal or external disks in it, as you would normally expect, our app can get all your data recovered even in most no-win cases. And we are here to help! This simple tutorial will explain how you can start your data recovery in a few easy clicks.

Now, here's what you can do, and remember, we are always available for a tech support call if you have any issues following these instructions.
How to Recover from a Disk Image
Being approved by the App Store team, Disk Drill Media Recovery cannot ask for your root password, thus it cannot access your disks directly to read them and recover your data. However Disk Drill Media Recovery can recover your data if you have a disk image of the drive or partition where your lost data may still reside. The disk image has to be a binary copy of the target media, the so-called "read-only uncompressed byte-to-byte disk image".
Here's how you create it:
Run Disk Utility, it's a standard Mac OS X system app.
Once there, go to File > New > Disk Image from "YOUR_DISK_NAME".
When creating a new disk image, it's VERY important to choose "read-write" as your Image format. Do not choose "Compressed" or "read-only", or lost data will not be copied.
Set encryption to "none".
Now save your disk image elsewhere, like an external hard drive.
Get back to the Disk Drill Media Recovery window and load the new DMG file into it by either dragging it there, or opening it using standard file open dialog.
That's it. Your disk image is loaded and you can recover your deleted data right away. Did we mention that data recovery from a disk image is much faster and will not slow down on bad sectors?
Get in Touch.
Just drop us a line that you need help with Disk Drill Media Recovery, and one of our tech supporters will get back to you shortly to guide you through the easy steps of how you can get your data back with Disk Drill Media Recovery.