Apple has produced several lines of Mac printers, but it doesn't support them anymore. Apple's owner must, therefore, rely on third-party products. In addition, as Mac users are frequently related to art production, or in the publishing profession, good quality printers are a must. Here below is a review of the five best printers for Mac presently available.
Best Printers for Mac:
---
This Hewlett-Packard inkjet printer is expensive but has many features that make it one of the great wireless printers for Mac.
Features:
Besides basic printing, the M477 can work as a scan, standalone copier, email sender, and fax machine. It can print from and scan to a USB drive, and it can be connected to smartphones, laptops, computers, and tablets.
Navigation is done through a 4-3-inch color touch screen, with the additional feature of a command input option. Paper is handled with 500-sheet and 50-sheet trays, and a duplexer for two-sided printing. Printing speed is also great, the first page out in as fast as 8.9 seconds for black, and 9.8 seconds for color.
Overall, the LaserJet Pro M477 is a wise choice for the business and individual user, who is prepared to spend some money on a quality printer.
This is a wireless, inkjet printer, which has multifunction capabilities.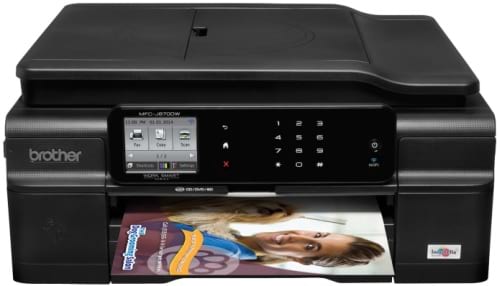 Features:
It can do one-sided and two-sided printing, faxing, scanning and photocopying. Feeding is through a 100-sheet tray, and the printing speed is 4.9 pages-per-minute.
The Brother MFC-J470DW can be connected through Wi-Fi to multiple devices, such as computers, laptops and smartphones. Price wise, it is very affordable, making it ideal for the small office or home environment.
In summary, it is one of the printers for Mac that is versatile, economical, and affordable; which are characteristics much in demand in the small and medium business world.
This is a monochrome, laser, low-cost printer that is small enough to be easily placed on a desk. The HL-L2300D connects via a USB cable to a computer or laptop.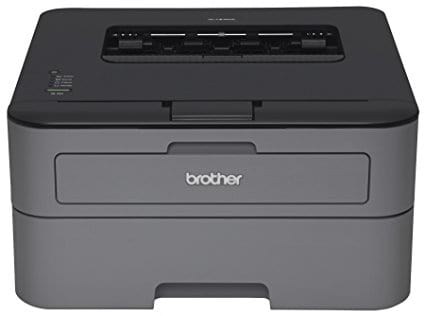 Features:
Regarding paper handling, it has a 250-sheet tray and a one-sheet manual feed tray. It also comes with a built-in duplexer for two-sided printing.
It is a light printer, weighing only 15 pounds, and measuring 7.2 (height) x 14 (width) x 14.2 (length) inches. Thus, it can easily be moved by one person. Its printing quality is good for text, but not good enough for pages that contain detailed pictures. However, photos of not a very demanding quality can be printed with ease. It has a printing speed of 27 pages per minute, which is enough for the average office requirements.
In brief, Brother HL-L2300D is a good printer for personal use, be it at the office or at home. In addition, by being offered at an affordable price of less than US$100, it is a smart choice for a personal everyday printer.
This is a color, multifunction printer with many capabilities for the small and medium office. It is a multifunction printer, providing printing, faxing and photocopying services. In addition, it comes with a Premium free service for scanning to searchable PDF or editable Microsoft Office formats.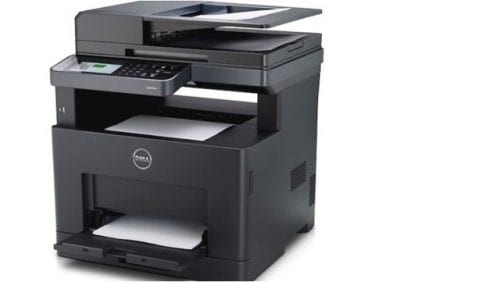 Features:

Its outstanding characteristic is connectivity. Input and output can be done from and to trays, USB devices, Wi-Fi and the cloud. Adding to this, it is equipped with the Dell Document Hub, which allows access to many cloud storage sites, including Box, Dropbox, Evernote, Google Drive, OneDrive, Salesforce and SharePoint Online 2013.
Navigation is excellent, through a 4.3 inch color touch-screen that is also customizable. In addition, it has an alphanumeric keypad, which includes buttons for Home, Login and Logout, Information, Job Status, Wi-Fi, Copy and Fax.
Feeding is through a 250-tray, and a 50-sheet feeder, with an optional 550-sheet tray. That makes a total maximum of 850 sheets. It also has a one-sheet manual feed tray. Its auto-duplexer feature permits two-sided printing.
Its size is 19.7 (height) x 16.9 (width) x 19.8 (depth) inches, and it weighs 70 pounds. Therefore, it requires at least two people to move it, and cannot be placed on a desk. This Dell machine prints 16 two-sided pages per minute, or 25 one-sided pages per minute. Prints are of good quality, both text and photos. Colors are rich.
Summarizing, the H625cdw is an excellent printer for the small to medium business office, capable of producing documents of marketing quality, making the H625cdw a leader amongst all the Mac compatible printers.
This Hewlett Packard printer is of great quality and efficient for heavy duty work. Although it is an inkjet printer, it has many of the advantages of a laser one.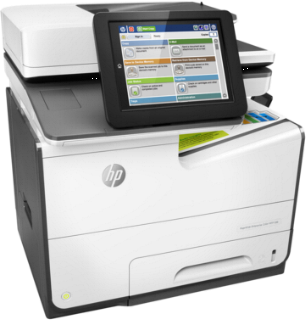 Features:
It has a good speed of 50 pages-per-minute, and a paper handling system that puts it in parallel with laser printers. It has a 500-sheet drawer, a 50-sheet multipurpose tray, a duplexer for double-sided printing, and the option of adding an extra 500-sheet drawer or a floor stand with two 500-sheet drawers. The output tray can hold up to 300-sheets. As with laser printers, paper comes out face down.
A great characteristic of this printer is its connectivity, due to its many options on how to add a printer to a Mac and other devices. It has Ethernet and Wi-Fi connectors, which allow connection to the cloud, and iOS and Android-based devices. It can also connect via NFC protocols, and via USB to a computer. It can work with USB memory devices.
It is big in size, measuring 16.5 (height) x 20.9 (width) x 16 (depth) inches, and weighing 37 pounds. The output quality is good, both in text documents and photos.
Overall, the Pro 552dw is a great choice for a small to medium size office, where it needs to be used extensively and through different devices.