If you are interested in developing an online presence for personal or business reasons, you may be uncertain as to the best way to proceed. One direction you can go is to hire a web developer and spend a chunk of money getting your site up and running. You might think that this is your only alternative, especially if you are not proficient in computer programming. We are here today to show you that there are other, more economical ways to create your website.
Create Your Own Website Online
Don't be intimidated by the prospect of creating your own website. With the flexible tools available today, anyone with basic computer skills can build a working website to promote their business or product.
Many of the website building tools offer a free or very low-cost, entry-level option to get your site up and running. More advanced capabilities can be obtained with further financial investment.
How to Create a Website
There are four basic steps required when building a website.
Register your domain name – The domain name should be associated with your product or service to achieve better results from search engines. Free domain names are available from all of the website builders we will review. These append an identifier from the web builder to your domain name. For example, my.domain.com will become my.domain.webbuilder.com or something similar when using a free website builder's domain.
Identify your web hosting company – Your website needs to be hosted on a network server in order to be available to Internet traffic. Depending on the type of site you will be creating, you may need more than an introductory hosting package.
Create your content – The content that you present on your website is its most important component. Great content will help attract and retain visitors to your site.
Build your website – Your website will display your content and present calls to action that allow your visitors to investigate your product or services and move forward with purchase. A visually appealing website is more likely to interest your visitors and encourage them to further explore. This is the part where software that helps you create a website comes into play.
The free website creators that we will review assist with some of these steps. In most cases, they can help you register your domain name and offer hosting services. All of these applications help you create a visually attractive website without you having to be an expert at HTML or CSS.
5 Best Free Online Website Creators
Let's take a look at 5 of the best free website creation tools available in 2020. They all offer very low-cost options to get your site up and running, as well as more advanced features if you determine that they are needed for your website's functionality. One caveat when using free website creators is that they will advertise on your site as well as incorporate their name into your domain name as mentioned above.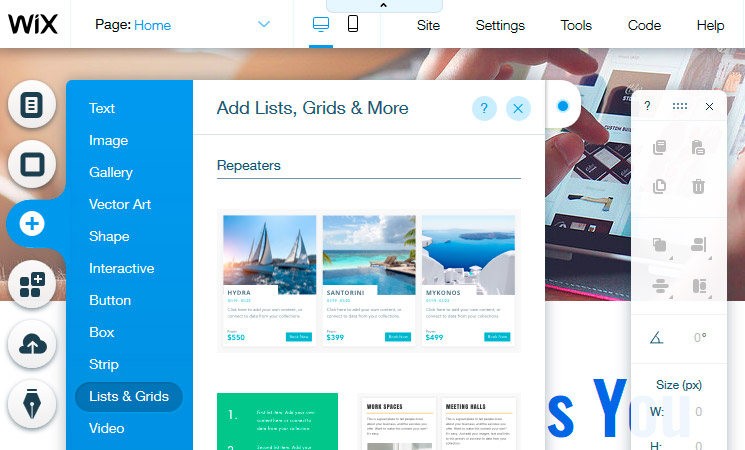 Wix is one of the most popular website builders and you can easily build a free website using the tools they provide. They give you 500 MB of free web space in which to store the content that you will make available to your visitors. Wix features a flexible editor and a large selection of themes designed to allow you the freedom to create a site that will catch your visitor's eye.
You will be provided with a free URL that looks like this: accountname.wix.com/customname. Ads for Wix will appear in the footers of your webpages as well as a button in the upper right. There is no limit to the amount of pages that you can create and full SEO customization is offered.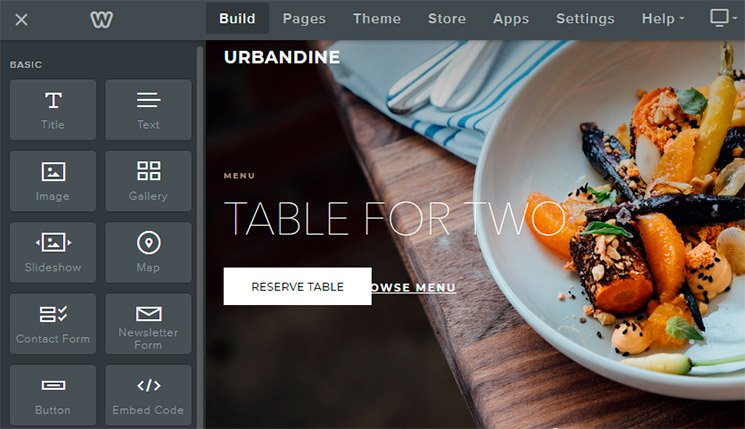 Weebly is another very popular website builder that offers a free plan as well as reasonably priced paid options. If you go with the free plan your website name will be customname.weebly.com. Weebly also offers 500 MB of free space to host your content and features responsive themes and 3rd party add-ons. There is no limit on the number of pages you can create and you can edit the SEO setting for each individual page. Weebly's editor makes it easy to drag and drop elements into your web pages to create the look you desire.
One drawback is the large Weebly advertisement that will appear in the footer of your web pages. It's the price you pay for using the free website building tools that the company offers.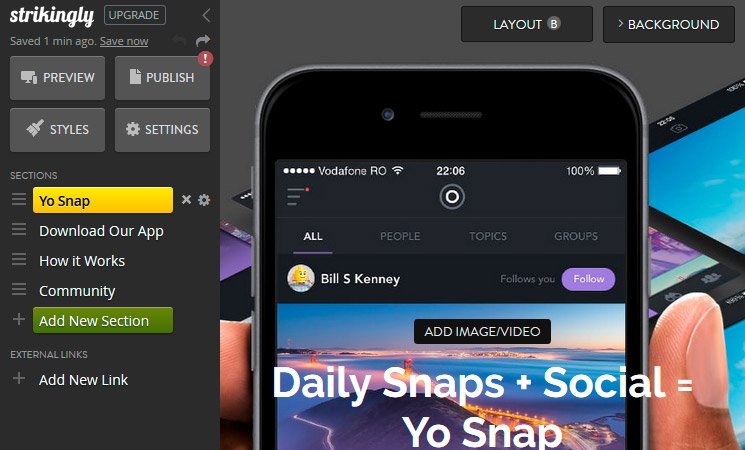 Strikingly is a website builder that focuses on creating free, one-page sites. They emphasize clean, simple design as a way to attract visitors to your website's content. The website creator offers a number of excellent themes that include calls to action to get your visitors more interested in what you are offering. Mobile website editing can be done with an iOS or Android app. A feature that sets them apart from other free options is the ability to use their live chat customer support even when using the free plan.
Like other free website builders, you will be subjected to advertising on your page footers unless you upgrade to the pro plan. Your free URL will be accountname.strikingly.com. If these drawbacks are not a problem for you, then Strikingly is an excellent way to create a great looking, single page website.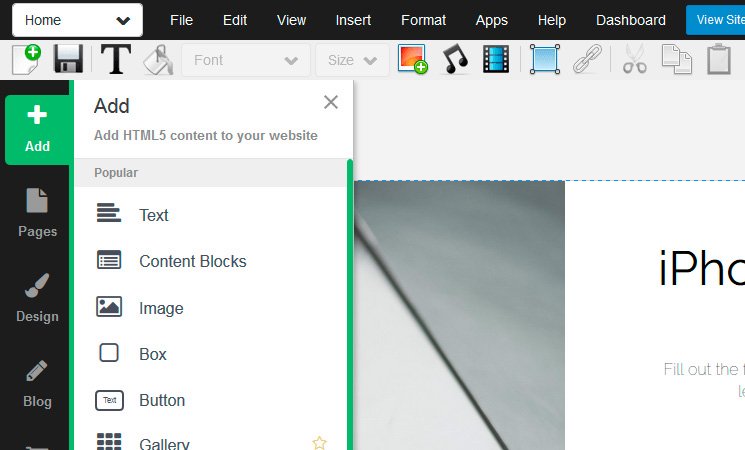 WebStarts is a website builder that offers important features such as the ability to create a blog as part of their free package. They provide 1 GB of free storage space, which is more than most of the competition in the free website building space. You can add an online store to your site with up to 10 items listed for free. You can modify SEO setting for each individual page of your site.
While WebStarts injects their ads into your website, they are less intrusive than other builders and can be closed by your website visitors. The URL you will be assigned will look like this: customname.webstarts.com.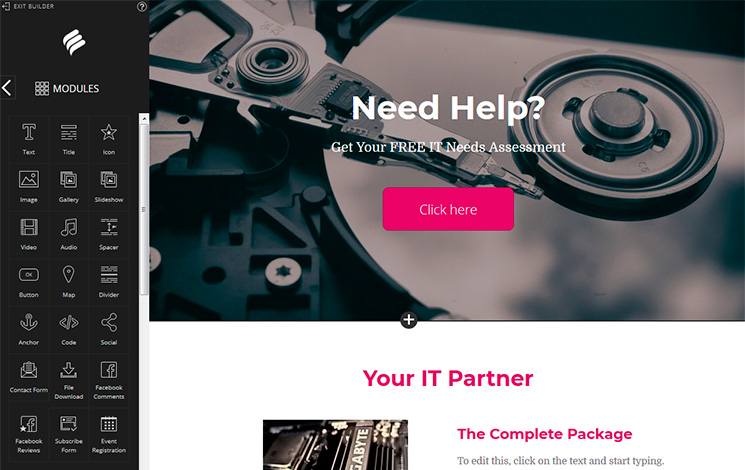 A distinguishing feature of the Bookmark website builder is its reliance on Artificial Intelligence (AI) to assist the user in creating their site. The tool employs an artificial intelligence design assistant (AiDA) that makes a first pass at designing your website based on its name and type of industry. Using the assistant you can create a website in minutes. It features a user-friendly editor that makes it easy to add features and modules to your website.
The free plan offers 500 MB in storage space and provides SSL security to your site. Your URL will be http://yourname.bookmark.com/ as is standard with the free site builders. Bookmark ads will appear on your site unless you opt for a paid package.
Using a Free Service to Build a Website Online
You can definitely save money and create a web presence for free by using the products we have reviewed. If your goal is to create a website economically, then one of these website building tools should do the trick.
Some points to consider when opting for a free website design are the concessions that need to be made in regards to the functionality and appearance of your site.
Domain name – If your website has modest goals and is primarily for personal purposes or to simply promote a product or event, you might be satisfied with the domain format enforced by the free sites. Websites that will be used for serious eCommerce will look more professional without the addition of a "weebly" or "Wix" to their domain name.
Advanced features – In order to use more advanced features such as email or extensive eCommerce stores you will need to upgrade to a paid package.
You can easily try any of these website builders and make use of the free functionality until you reach a point where an upgrade is necessary. You might find that one of them is better tailored to suit your needs just from testing the free option and be comfortable with using the builder for your more advanced and paid website developing needs.