The eBenefits website is managed jointly by the United States Department of Veterans Affairs (VA) and the United States Department of Defense (DoD). Its purpose is to allow Service members, Veterans, and their eligible dependents to access and manage their VA and DoD benefits, claims, and military documents online.
It is a valuable resource that can save members significant time and streamline their access to the multiple services that are available to current and former members of the U.S. military. The site is located at www.ebenefits.va.gov and is also known by the name 'my eBenefits'.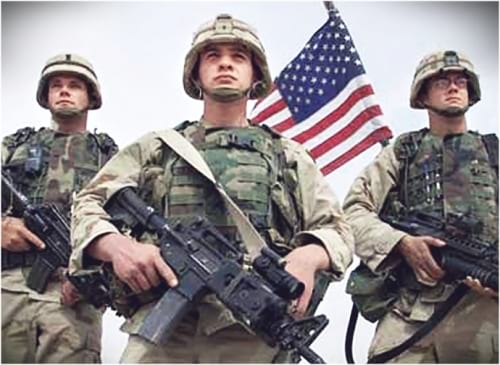 Who is Eligible to Use eBenefits?
The use of the eBenefits system is reserved for current active military personnel as well as veterans. It can also be used by their eligible dependents. To access the site you need to register. Prerequisites for registration are that the individual is registered in the Defense Enrollment Eligibility Reporting System (DEERS), or is a service member with a Common Access Card (CAC).
You can also use a DFAS login (Defense Finance and Accounting Service) to access the eBenefits site. If you do not possess one of these access methods you need to contact your local VA office and request being added to the DEERS system.
How Do I Use eBenefits?
When you register for a VA eBenefits online account you will have an option to choose between two types of accounts:
Premium — A Premium account gives you access to all of the feature of eBenefits. You will be able to view personal data about yourself that resides in VA and DoD systems. You can also apply for benefits and check your claims online, change address information, and perform other functions. To obtain a Premium account you need to be able to verify your identity which is usually accomplished by answering several questions.
Basic — If you cannot verify your identity you will be restricted to a Basic account. With this type of account, you cannot access personal data in any DOD or VA systems, but you will be able to check on information that you have entered into the system yourself. Premium access is preferred and a trip to your VA Regional Office or TriCare Service Center can help you get your identity verified in person, according to military.com.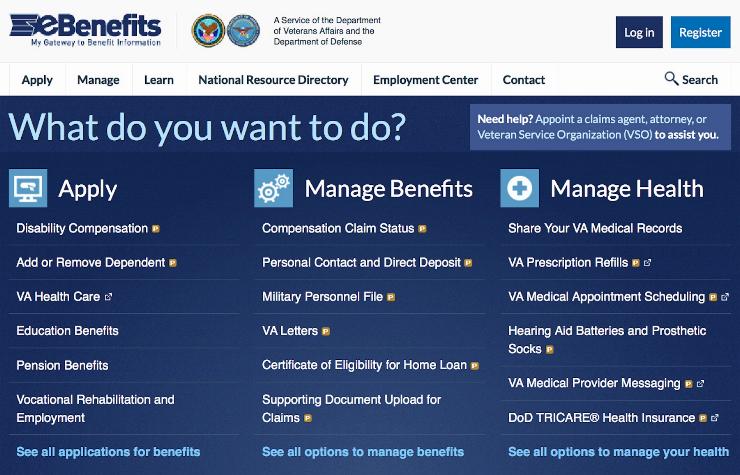 Since eBenefits is a web-based service, it is accessible through any computer with an Internet connection and a web browser. There have been some reported incompatibilities with mobile browsers, so use a laptop or desktop machine for the best results when using this site.
What Services Does eBenefits Provide?
After signing in with your eBenefits login, you are presented with five main choices that are accessed by tabs at the top of the homepage. We will look into some of them more deeply later, but your initial choices are:
Apply — Use this tab to apply for various benefits which we will discuss further below.
Manage — Here you can manage and track various VA and DOD benefits.
Learn — Information regarding a wide variety of programs and benefits are available under this selection.
National Resource Directory — The NRD is an information center whose website helps injured, ill, and wounded service members gain knowledge about resources that are available to them. The tab links to their site here.
Employment Center — This tab takes you to the VA employment information page located here.
What Kind of Benefits Can I Apply for Through eBenefits?
The benefits that an authorized user can apply for using eBenefits include:
Compensation — You can apply for disability compensation for issues related to your military service. Through the site, you can add or remove dependent family members to your compensation claim, upload supporting documentation, and request the services of a representative to help prepare your claim.
Pension — Apply online to receive your military pension benefits.
Housing — You can apply for housing grants and loans with eBenefits.
Education and Training — Education and vocational rehabilitation and employment benefits can be applied for using eBenefits.
Healthcare — Healthcare options for you and your family are available through the site.
Other options — You can also apply for life insurance and submit a claim for funeral expenses with eBenefits.
What Services Can I Manage Using the eBenefits Website?
Drilling down through the options under the Manage tab let you access, track and manage a wide variety of services. Among them are:
Status tracking — You can view the status of any VA claims you have submitted for housing, compensation or any other issue.
View your VA records — All of your official military records with your DD 214 are accessible including personnel and health records.
Contact and Direct Deposit Information — These can be updated through the site ensuring that your benefits are going to the right place if you move or change banks.
Healthcare — Many aspects of your VA health care can be managed through eBenefits. You can schedule VA medical appointments and order VA prescribed prescriptions for home delivery. Your health records are available for you to view and you can participate in health studies sponsored by the VA.
Other options — You can also manage your VA compensation, education benefits and enrollments, the status of housing loans and grants, as well as other benefits and programs.
What Does the Learn Tab Provide?
Simply put, this is the first place to go if you are investigating any of the VA benefits or programs that you think you are eligible to receive. There is an automated Benefits Explorer that uses your eBenefits profile to suggest programs that you may want to explore. You can also explore any state-specific benefits that may be available to you from your state's Veteran Affairs offices. A comprehensive overview of the services and benefits that the VA provides is available by navigating through the eBenefits Learn tab.
As you can see, eBenefits is a valuable resource that is designed to serve the needs of both current and retired U.S. military personnel. If you have a service record with the U.S., you should register today and start taking advantage of what eBenefits can offer you.