Become an Amateur Meteorologist with These Tools
There are several things that professional and amateur meteorologists have in common. Both professionals and amateurs use various instruments and tools to measure temperature, wind, rain, and other weather elements, both observe and record long-term weather trends, and both make forecasts using their knowledge of weather patterns. And what's perhaps most important is that professional and amateur meteorologists are united by their passion for the weather.
As an amateur meteorologist, you don't need a degree or a special certification. All you need are the right tools and the desire to educate yourself about the weather. While we can't turn you into a weather bug, our list of the best tools for amateur meteorologists can help you get started observing local weather patterns and conducting forecasts.
The Ambient Weather WS-1002-WiFi is the best weather station for amateur meteorologists that we know of. The brain of this weather station is an all-in-one sensor array with a wind vane, wind cups, solar collector, thermo-hygrometer with solar radiation shield, UV sensor, solar radiation sensor, and self-emptying rain collector.
The information from the all-in-one sensor array is transmitted wirelessly over distances of up to 300 feet. Included in the box is a Wi-Fi-enabled display console that displays the weather data from the sensor array. The display console is controlled using hardware buttons, and it supports both metric and imperial units of measure. What's more, the display console can retrieve weather information from Internet weather services such as Ambient Weather and Wunderground.
As good as the included display console is, the Ambient Weather WS-1002-WiFi weather station shines the most when it's connected to the Ambient Weather Network, which is a user-friendly solution for weather monitoring across different platforms. It offers customizable interactive modules that can display all sorts of weather-related information, providing dials, gauges, graphs, and text reports for every parameter.
You can even connect the Ambient Weather Network to your IFTTT account and control various smart gadgets in your home, such as blinds and light switches, using a voice-controlled intelligent personal assistant like Amazon Echo.
As an amateur meteorologist, you need more weather data than just those that you record yourself. Weather websites provide a convenient way how you can compare your own measurements with the measurements of professional meteorologists, and they also allow you to look at weather patterns at the national level, instead of being limited to the weather in your local area.
While there are many excellent weather websites to choose from, most are plagued by intrusive advertising and exaggerated weather reporting whose main purpose is to convince the visitors to come back for more weather information. For amateur meteorologists living in the United States, the best weather website is the National Weather Service (NWS), which is an agency of the United States federal government that is tasked with providing weather, water, and climate data, forecasts, and warnings for the protection of life and property and enhancement of the national economy.
After a tornado outbreak over two days in Mississippi, Alabama in late April 2011, the National Weather Service put forward its new strategic plan titled "Building a Weather-Ready Nation". Using the latest advances in science and technology, modeling, social science, and information delivery systems, the National Weather Service strengthened its ability to express forecast confidence, probabilities of different scenarios occurring, as well as the ability to distinguish more commonplace weather events from the truly historical.
The National Weather Service may not be the most user-friendly weather website out there, but it's straightforward, highly informative, and without any advertising to ruin the experience. It's also where most other weather websites take their data from, so if you want to get your weather information straight from the source, the National Weather Service should be your go-to weather website.
The National Weather Service also features a fairly detailed weather radar, but it leaves something to be desired in terms of its functionality. For example, Weather Underground has an interactive radar that can display temperature, humidity, precipitation, and visualize weather changes over time. But the best weather radar is the one provided by Intellicast because it's easy to use, easy to read, and has all the features you could possibly want.
Best Weather App: Today Weather (iOS and Android)
Every amateur meteorologist needs a good smartphone with at least one weather app. Of course, all best weather websites can be accessed from a web browser, but they don't match the ease of use and convenience of native mobile weather apps.
Chosen as one of Google Play's Best Apps of 2017, Today Weather (available for iOS and Android) is probably the most beautiful weather app for mobile devices. But we wouldn't call just about any pretty weather app "the best weather app". What makes Today Weather the best weather app for Android and iOS is how elegantly it provides the world's most accurate local weather forecasts and how many features it offers.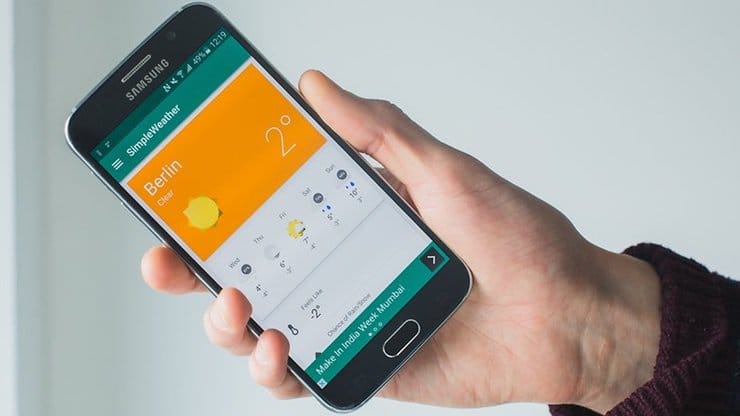 Today Weather displays all weather-related information on a single screen, and it features thousands of beautiful photos for all sorts of weather conditions and times of the day. At a glance, you can see what the current temperature is and what it's likely going to be in the near future. Today Weather also displays humidity, visibility, dew point, air pressure, wind speed, and wind direction.
The app can retrieve weather data from Accuweather.com, Weather.com, Weather Wunderground, and Dark Sky. For people living in the United States, Accuweather.com is the most accurate data source, but the other sources aren't too bad either.
Today Weather is available for free and supported by ads and in-app purchases. Apart from eliminating ads, the in-app purchases can buy you access to an excellent weather map provided by Windy.
Best Weather Widget for Android: Weather Timeline
Android smartphones are particularly great for amateur meteorologists because the Android operating system supports both notification and home screen widgets, making it possible to turn just about any Android smartphone into a portable weather station.
The best weather widget for Android is the one provided by the Weather Timeline app. The widget is extremely well designed, colorful, easy to read, and can be customized in a number of ways to your liking. You can have the widget display weather forecast for the next week or the current day. If you hate being overloaded with information, you can configure the widget to display only the current temperature, but you can also go crazy and configure the Weather Timeline widget to display everything including a clock.
Even if you eventually replace the Weather Timeline widget with a different one, the app itself is well worth its price. As its name suggests, Weather Timeline displays all weather information on a timeline so you can easily glance at your phone and know what the current weather conditions are and what they will likely be in the coming hours and days.
Best Weather Widget for iOS: Dark Sky
Dark Sky started with an idea to use robots to predict the weather with down-to-the-minute precision. That was back in 2011, and Dark Sky has since then won multiple awards for its accuracy and design. Its official iOS app features a notification center widget that tells you at a glance what's going to happen in the next hour and the next week, so you don't even have to unlock your phone to quickly check the weather before heading out.
Dark Sky is known for its smooth radar animation, which lets you see the actual path of the storm, how it moved in the past, and where it's going in the future. You can set up Dark Sky to send you down-to-the-minute alerts via push notifications before it starts raining at your exact location or when the government issues severe weather alerts. Dark Sky also supports the Apple Watch, allowing you to check the weather without even taking your smartphone out from the pocket.
Apart from being one of the best weather apps and widgets for iOS, Dark Sky is also a very popular provider of weather data for many other weather apps. Even if you don't fall in love with the design of the Dark Sky app, you can still use it as the source of your weather data with many other weather apps for iOS.
Conclusion
As you can see, there are many excellent tools for amateur meteorologists with a passion for the weather. Keep in mind that the tools you use to make forecasts and learn more about the weather patterns in your local area are just one step on a long journey involving a lot of learning and meticulous data recording for subsequent analysis. While the tools can help you, they don't replace hard-earned knowledge and experience.