The internet is full of movies that you can watch for free with a click of a button, but you have to know where to look for the best movies online. You also have to know where not to look because the number of the best movies of all time that are legally available online for free is exceeded only by the number of pirated movies. This guide is here to help you learn how to navigate the murky waters of online streaming and sharing services.
Subscribe to Netflix or Amazon Prime
Both Netflix and Amazon Prime give you access to a large library of movies and TV shows, allowing you to watch popular content on demand and without any hassle. Like many good things in life, Netflix and Amazon Prime come with a price tag.
Netflix costs €7.99 for a month of the Basic plan and €9.99 for a month of the Standard plan. There is also the Premium plan, which includes the Ultra HD resolution. A month of Amazon Prime costs $12.99, and it includes a lot more than just video streaming. With Amazon Prime, you also get super-fast free shipping, access to thousand top Kindle books, magazines, short works, books with Audible narration, comics, children's books, and more.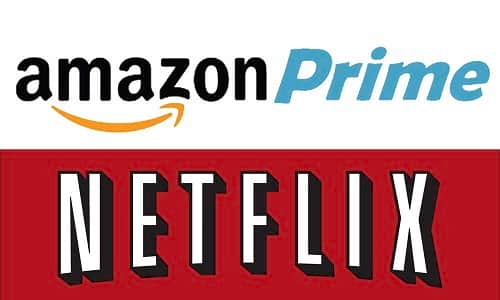 We recommend you also check which movies and TV shows are available on each of the two services. Both Netflix and Amazon Prime produce their own original content. The best Netflix movies include Okja, Beasts of No Nation, Mudbound, 13th, I Don't Feel at Home in This World Anymore, The Meyerowitz Stories, Roxanne, Gerald's Game, or Bright, just to name a few. The best Amazon Prime movies include Love & Friendship, Café Society, The Handmaiden, Manchester by the Sea, I Am Not Your Negro, The Big Sick, The Lost City of Z, The Only Living Boy in New York, Last Flag Flying, or Wonderstruck.
In 2018, Amazon plans to release Gringo, You Were Never Really Here, Don't Worry, He Won't Get Far on Foot, Life Itself, and Beautiful Boy, while Netflix plans to release or has released Altered Carbon, The Cloverfield Paradox, Mute, The Ravenous, Collateral, The Outsider, Game Over, Man!, O Mecanismo, A Series of Unfortunate Events, and Sun Dogs, just to give you a small sample of what best movies on Amazon Prime and Netflix will be available soon.
As you can see, Netflix and Amazon Prime have a sizable selection of the best horror movies, the best comedy movies, the best Christmas movies, the best action movies, the best sci-fi movies, as well as the best thriller movies.
Learn How to Use Torrents
Torrents, computer files that contain metadata about files and folders to be distributed over the internet, are typically associated with criminal activity and sites like Pirate Bay, but the reality is that there is a number of legal websites that rely on torrents to distribute movies.
One such website is Public Domain Torrents. All movies on this site have become part of the public domain, which means they are no longer owned by their creators. This also means that you won't be able to find the best movies of 2017 and 2018 on the site, but you may be able to find some of the best movies of all time. Public Domain Torrents categorizes movies according to genres, and its library includes action movies, animated movies, comedy movies, dramas, exploitation movies, family movies, horror movies, martial arts movies, musicals, mystery movies, sci-fi movies, fantasy movies, war movies, and westerns. If you're into obscure cinema, Public Domain Torrents is a site you should definitely pay a visit.
Another torrent site that's worth visiting is Vuze StudioHD Network. Vuze is a popular torrent client, and Vuze StudioHD Network is its online video platform that hosts movies, TV shows, podcasts, and educational content from the likes of NASA and TED. Everything you find on Vuze StudioHD Network is legal, and the platform is easy to navigate and use, especially with the Vuze torrent client.
Search YouTube
While sites like YouTube are best known for user-created content, they're also home to large distributors and their huge libraries of content. Apart from large distributors, YouTube also attracts independent moviemakers who are trying to make a name for themselves.
Instead of using the search bar on YouTube to find free full-length movies, we recommend you visit the /r/fullmoviesonyoutube subreddit, where people like you share their findings. Everything posted on /r/fullmoviesonyoutube is categorized by decade, resolution, and genre.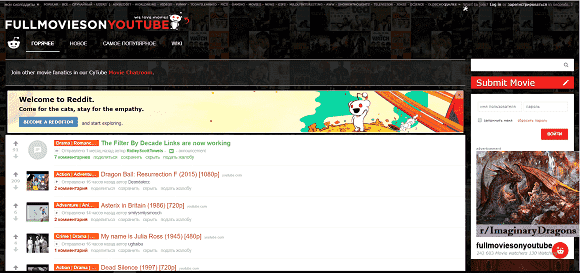 At the moment, the most upvoted movies on /r/fullmoviesonyoutube are: See No Evil, Hear No Evil, Free to Play: The Movie, The Star Wars Holiday Special, They Live, Kung Fury, Nineteen Eighty-Four by George Orwell, Akira, In Bruges, Kids, Perfect Blue, The Life of Brian, A Charlie Brown Thanksgiving, The Brave Little Toaster, Jesus Camp, The Brave Little Toaster, The Evil Dead, They Live, and the fantastic Star Wars parody from 1987, Spaceballs.
Just keep in mind that not all full-length movies on YouTube have been uploaded by their rightful copyright owners. Watching a movie on YouTube that has been uploaded on the site by a random person isn't illegal, but don't expect the movie to stay there too long. YouTube is doing what it can to battle content piracy, and illegally uploaded movies are often deleted before anyone can even finish watching them.
Popcorn Time is a free torrent client with an integrated media player. Popcorn Time makes it possible to watch movies from torrent sites without downloading them, positioning itself as a free alternative to video streaming services such as Netflix.
The development of Popcorn Time was severely disrupted by MPAA in 2014 and 2015 due to still unresolved legal issues. While Popcorn Time itself isn't being developed with piracy in mind, the software makes it virtually effortless to instantly access countless popular movies and TV shows.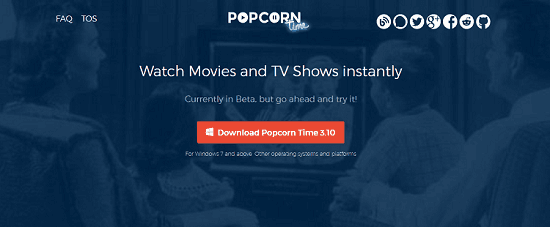 There are currently two active editions of Popcorn Time, both of which have been derived directly from the original Popcorn Time program. They offer roughly the same functionality and are developed by volunteers from around the world.
Before downloading Popcorn Time, we strongly recommend you check your local laws to verify that the software and its use are legal in your country.
Crackle is an ad-supported movie streaming service with its own original content. Crackle is available on a wide variety of devices, including Roku, Android, Xbox, Apple TV, PS3, iPhone, and others. With a single free Crackle account, you can connect all supported devices you have and add movies and TV series to your personal list. When your favorite show or movie is app, Crackle can send you an alert so you don't miss it because Crackle constantly updates its programming. The Crackle movie library features content from Columbia Pictures, TriStar Pictures, Screen Gems, Funimation Films, Aniplex, FOX Digital, Funimation, Miramax, Red Bull, 20th Century Fox, and Paramount Pictures, just to name a few of the largest content providers.
Crackle is officially available in 21 countries and three languages. In Latin America, Crackle has switched to an ad-free premium business model, and some industry analytics predict that Crackle could eventually switch to this model in every country it operates as online advertising continues its steady decline.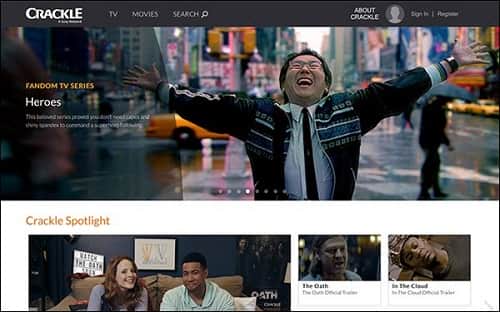 How to Stay Safe When Watching Movies Online
The web is filled with illegal sites that host pirated movies and make profit by distributing malware or stealing computational power from their visitors to mine cryptocurrencies such as Bitcoin. Because many of these sites disguise themselves as legitimate sites with legal content, you should never trust your instinct alone.
Before you click on any link on the web, do your own research and verify the legitimacy of the site you're about to visit. In some countries, it takes just a single streamed movie to get a huge fine, and the last thing you want is to go bankrupt because you couldn't take a few minutes to do basic research.
We also recommend you use the latest version of your favorite web browser as many movie streaming sites are supported by ads, and ads are a common target of hackers, who compromise them and use them as a way how to distribute malware. It's true that even with an up-to-date web browser, you're never completely safe online, but being proactive is much better than doing nothing and waiting for police to come knocking on the door.