How to Buy the Right Headphones
The number of styles headphones come in, as well as the plethora of features advertised by headphone manufacturers, can be confusing. It's no wonder then that so many people end up with headphones that are not right for them, oftentimes without even knowing how significantly they could improve their listening experience simply by buying the right pair of headphones.
After reading this guide, you'll be able to use your own judgment to pick the best headphones for you regardless of whether you listen mostly at home or during your commute, like jazz or rap, want headphones that can fit inside any pocket or headphones that can keep your ears warm during the winter months.
Step 1: Form Factor
Headphones come in three main form factors: in-ear, on-ear, and over-the-ear. Each of these three form factors has its own distinct advantages and disadvantages.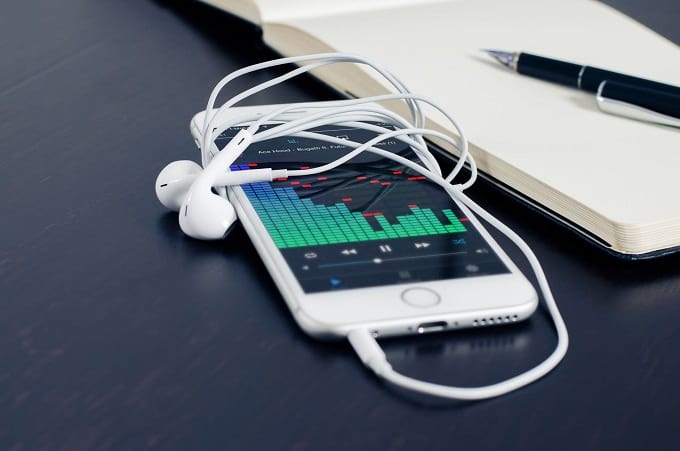 In-ear headphones: Also known as earbuds or earphones, in-ear headphones are inconspicuous and offer the best portability you can get. Technically, there are two types of in-ear headphones: those that insert into the ear canal and those that don't. The latter type is less common these days, with recent popular examples being the Venture Electronics Monk and the Edifier H180.
Just because in-ear headphones are very small doesn't mean they lack in sound quality. In fact, professional musicians use in-ear headphones when performing on stage to better hear their own voice or instrument. Because in-ear headphones are much closer to the eardrums than other types of headphones, they tend to have superior bass reproduction and greater warmth.
What they often don't have is an adequate sense of space. Depending on which in-ear headphones you choose, the audio may seem as if it were coming from the center of your skull, and individual sound sources, such as various musical instruments, may appear to be very close together, almost overlapping. Of course, this downside of in-ear headphones is nearly unperceivable with the best in-ear headphones on the market, like the ones we recommend in the last section of this article.
On-ear headphones: Also known as supra-aural or earpad headphones, on-ear headphones are the middle ground between ultra-portable in-ear headphones and much larger over-the-ear headphones. Like the name of this form factor of headphones suggests, on-ear headphones rest directly on the ears.
Perhaps the biggest advantage of on-ear headphones is their relatively compact size, especially when it comes to foldable on-ear headphones. Because on-ear headphones don't entirely cover the ears, they tend to cause less sweating, making them more suitable for people living in warm parts of the globe.
On the other hand, their smaller size also makes them less effective in terms of noise isolation, bass reproduction, and sound separation compared to over-the-ear headphones. Closed-back on-ear headphones remedy some of these issues, such as noise isolation and bass reproduction, but exacerbate others, such as sweating. The best on-ear headphones offer an excellent balance of comfort, sound quality, and price.
Over-the-ear headphones: Also known as circumaural or earcup headphones, over-the-ear headphones are the only type of headphones you should consider if amazing long-term listening comfort is a top priority for you. While many people consider over-the-ear headphones to be suitable only for home listening, it can't be denied that the selection of foldable and very durable over-the-ear headphones for listening on the go is broad and varied.
Because over-the-ear headphones can house the largest headphone drivers of all types of headphones, they have the most potential for brain-shaking bass and immersive sound separation, making them excellent not only for listening to music, but also for playing games and watching movies.
Needless to say that with the extra size and bulk come certain downsides. Closed-back over-the-ear headphones can make your ears very sweaty if you wear them in hot weather, and they can also mess up your hair and make you look as if you just got out of the bed. Just like on-ear headphones, they also interfere with glasses and earrings, and some over-the-ear headphones are so heavy that their owners have reported problems with neck pain.
Step 2: Wireless Versus Wired
For a very long time, Bluetooth and other wireless technologies have been perceived by audio enthusiasts as unfit for anything apart from Bluetooth headsets for making hands-free phone calls. But the general attitude toward wireless listening has changed dramatically over the years, and modern wireless technologies, such as Bluetooth 4.0 and 5.0, deliver such great sound quality that even some of the most outspoken die-hard audiophiles and critics of wireless listening have been silenced.
As such, the choice between wireless and wired headphones mostly boils down to comfort. Without a wire going from your headphones into your smartphone or portable audio player, your movement becomes much less restricted, and you aren't constantly reminded that you wear headphones by a cable bouncing against your chest. There are now even true wireless headphones, which consist of two independent earbuds that are not tethered together by a cable.
Step 3: Extra Features
Arguably the most sought-after extra feature is active noise cancellation, also known as ANC. Headphones with active noise cancellation use microphones to capture outside noise, which is then processed, analyzed, and emitted with the same amplitude but with an inverted phase. As a result, the original noise is cancelled by the "anti-noise." Noise cancelling headphones are typically significantly more expensive than regular headphones, but they are well worth the money for people who work in loud office environments and have trouble focusing.
Another useful extra feature is the ability to control an intelligent personal assistant like Apple's Siri or the Google Assistant. Headphones with this feature can be paired with a compatible smartphone and often customized using a companion app.
The Best Headphones for Each Popular Form-Factor
Now that you know how to select the best headphones for you, let's take a look at the best headphones for each popular form-factor.
Best In-Ear Headphones: Shure SE215
The Shure SE215 are excellent in-ear headphones for those who are ready to enter the world of high-fidelity listening but are not ready to pay the typical audiophile prices. The headphones offer loud bass, detailed sound reproduction, outstanding passive noise isolation, and excellent fit and comfort. They come with a detachable cable, and both eBay and Amazon are full of aftermarket replacement cables, so there's no reason to throw the SE215 away because the cable starts cutting in and out, as so often happens with wired headphones.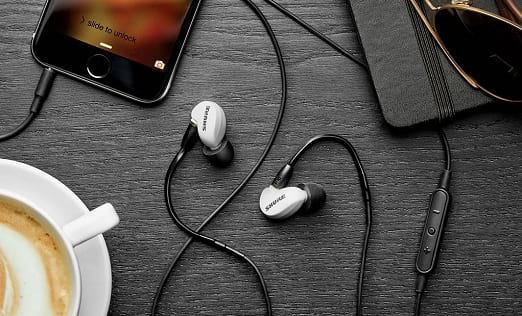 This underappreciated gem from Viso deserves way more recognition than it gets. The NAD HP 50 on-ear headphones have won only a few "Best Headphones 2017" awards last year, but that's because most tech reviewers don't know they exist. If they knew, they would fall in love with their musical, warm sound signature, deep bass, elegant design, and absolutely no distortion even at very high volume levels.
The Momentum 2.0 from Sennheiser have single-handedly redefined portable music listening and inspired countless other manufacturers to bring contemporary aesthetics and natural materials into their product design. Like all headphones from Sennheiser, the Momentum 2.0 are extraordinarily detailed, have wide soundstage, excellent instrument separation, and offer unbelievably good listening comfort. Being over-the-ear headphones, the Momentum 2.0 are great for indoor listening as well, and the included 3.5 mm audio cable with an integrated in-line remote makes it possible to wear the headphones even when making phone calls.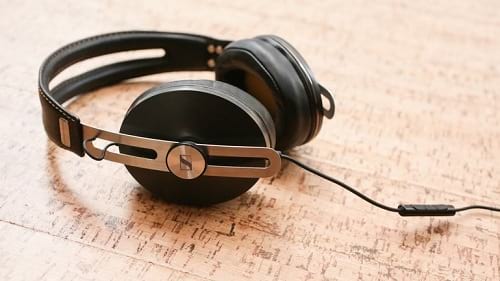 The Sony WH-1000XM2 are the best wireless headphones currently on the market. From their industry-leading active noise cancellation to their clean design to sound quality so good that most other headphones will sound like junk to you. Inside the WH-1000XM2 wireless headphones are two powerful 40mm driver with Liquid Crystal Polymer (LCP) diaphragm, which have been engineered by Sony to reproduce a full range of frequencies up to 40kHz and handle heavy beats with ease. If there's anything you don't like about the sound of the WH-1000XM2 you can simply open the companion app and use the graphic equalizer to fine-tune the sound to your liking.
The Bose QuietComfort 35 II are the best Bluetooth headphones in terms of the ability to cancel outside noise. Bose has been in the noise cancelling game for a very long time, and the company knowns how to use its wealth of experience to design excellent headphones that surprise not only with their sound quality, but also with their features. The second generation of the QuietComfort 35 support the Google Assistant, allowing you to play music, receive texts, and get answers without glancing at your phone.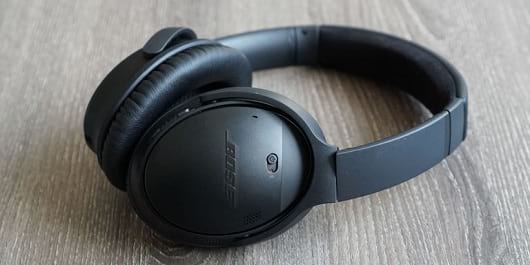 There's a number of reasons why the Razer Kraken Pro V2 has become the gaming headset of choice for professional gamers. When your job is to play for more than 10 hours every day, you want as much comfort as you can get. And when your chance of winning depends on your ability to hear distant footsteps and recognize various skillshots by sound alone, fantastic audio quality is paramount. The Kraken Pro V2 delivers across the board, which is why professional gamers swear by it.
If you're looking for the best headphones under 100 dollars, look no further because the Sennheiser HD 201 are as good as it gets. The durability of these headphones is so great that breaking them requires some serious effort. But durability isn't the only strength of these budget headphones. Their sound quality far exceeds their price, making them great for all sorts of listening uses.
Amazon Deal: Sennheiser HD 201 Lightweight Over Ear Headphones for $36.95