Top 5 Free Duplicate File Finder Apps for Mac Revised
Sometimes it is necessary to free storage space on a computer. One option is to know how to find duplicate files on Mac, and delete unnecessary copies. Fortunately, there are many free applications that can be used for this task. Here below is a brief description of five free duplicate file finders.
1. Disk Drill
Disk Drill is a data recovery app that offers some additional features. One of them is the free Duplicate Finder for Mac. This module allows the user to analyze internal and external drives, and find duplicate files Mac, such as songs, videos, images and documents.
This app is one of the best duplicate file finder Mac available on the market for free. It simply requires 22MB of disk space and a machine supported by Mac OS X 10.8.5 or later. Using it is very intuitive and easy. The user simply needs to download the app from the developer's webpage, double-click on it, and follow the installation steps. Once installed, launch the app and select "Find duplicates".
Locations can be selected either by dragging folders into the Duplicate Finder or by selecting "Add folder" from the app and browsing  through the machine until the folder is found.  Several folders can be added. Once the folders are selected, the user must choose "Scan" and the app will show a list of duplicate files. Selected duplicates can then be removed.
Overall, Disk Drill is a first-rate app that is available for free, easy to use and efficient. In addition, if the user makes a mistake and accidentally deletes the wrong file, Disk Drill has an added advantage over other apps, as it also has great data recovery functions.
You also can download free version in Appstore.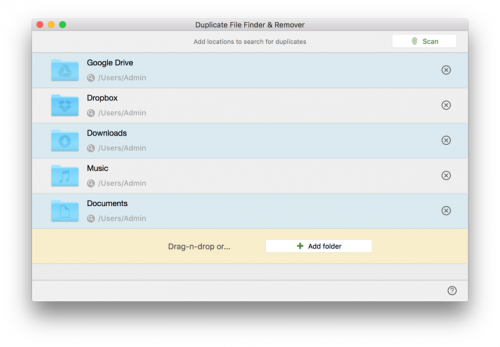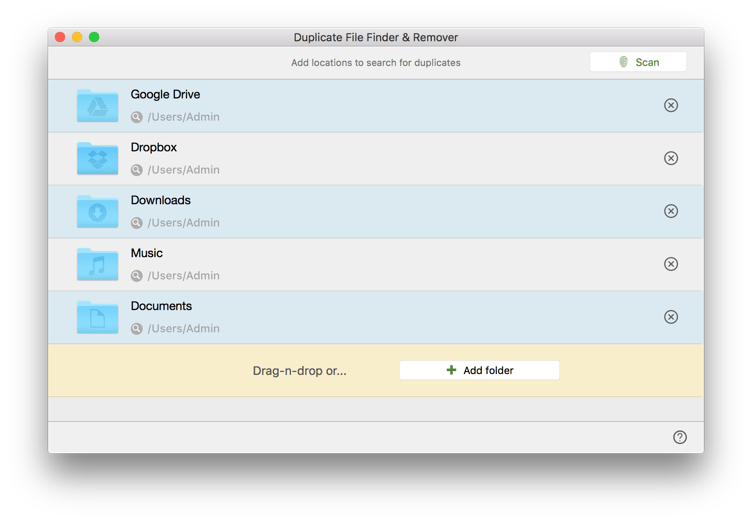 2. MacClean
MacClean is a free tool that helps the user to locate and remove duplicate photos, songs, apps, documents and other files. This duplicate file finder Mac is available in English, Spanish, German, French and Japanese.
The app is easy to use, as the user only needs to drag and drop the folders. Then, MacClean scans for duplicates, which can be later previewed, removed or left unmodified. Search can be narrowed with the aid of filters that group the results according to type, such as songs, pictures, etc.
In brief, MacClean is a good program that helps the user in reducing unnecessary space. It performs well and fast, being a great choice for the casual and frequent user.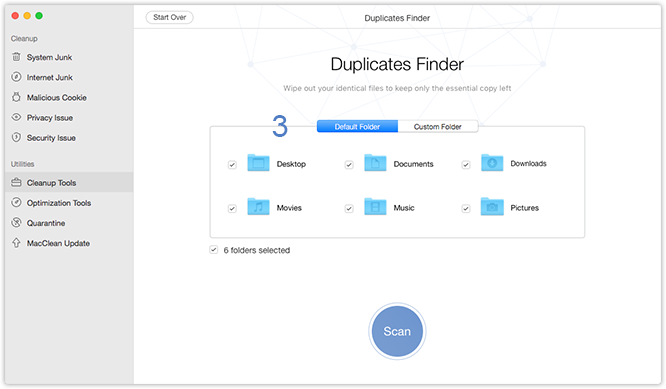 3. dupeGuru
dupeGuru is a duplicate file finder Mac available on the internet for free. This app has a simple design that makes the task very easy. It requires OS X 10.7 or later. It is available in more than ten languages, including French, English, German, and many more.
Scanning can be done according to filenames or contents. As the app uses a fuzzy matching algorithm, file names don't even need to be exactly the same. In addition, its customizable scanning engine helps the user to find almost exact matches.
This app has a music mode that can scan tags and show music-specific information. It also provides a duplicate photo finder Mac with a fuzzy scan algorithm that can select pictures that are similar, but not exactly identical. Search can be done for one or more folders, and the results are presented in a window, with the option of exporting them into a HTML file.
Summarizing, dupeGuru is a good option for the user, who wants to reduce wasted space by using a simple but professional-level tool.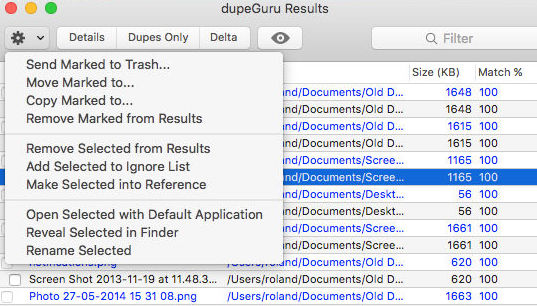 4. Duplicate File Finder
Developed by Ashisoft, Duplicate File Finder is a free app that can find and remove duplicate files Mac on a local computer and on a network.
Its search engine can find files based on different criteria, such as filename or byte-by-byte. As the last criterion operates at binary level, this app can find duplicates regardless of file names. Search can be done on an entire drive or on a selected set of folders. Once started, the search session can be stopped and saved for later use. The obtained results can be sorted by names, sizes, total sizes, types and duplicate counts.
In addition, the list can be exported to HTML and CSV files, pictures can be previewed, and file removals present the options between moving to Trash or permanent delete. Duplicate File Finder also works with removable media devices like USB drives and external hard drives.
The app can be upgraded to a Pro version, which contains added features, such as a search showing hidden files.
In brief, this software application is of great help to reduce unnecessary space in a device, and can be a practical addition to a personal toolset.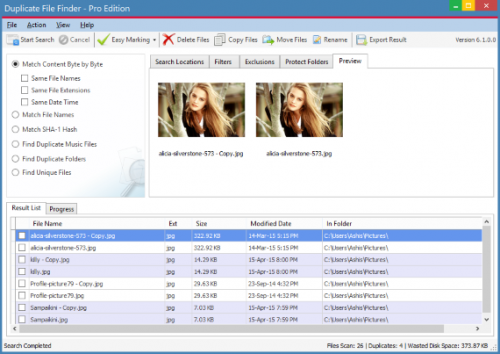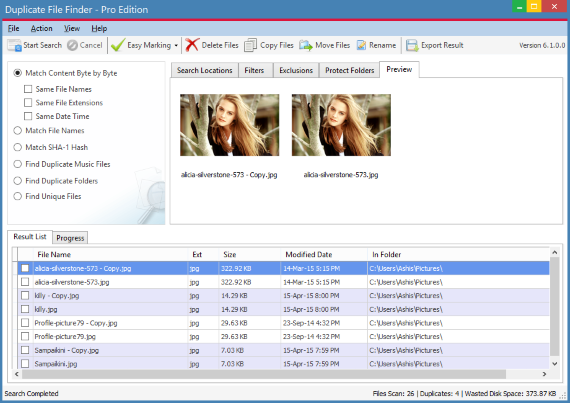 5. iTunes
iTunes is a media player developed by Apple Inc. and used to play, download and organize digital media files. This application has a built-in feature that can find duplicate media files in its library.
In order to use the iTunes duplicate remover Mac, the user must open the app, click on the "View" menu and select "Show Duplicate Items". Moreover, by holding the Option key and clicking the "Show Exact Duplicate Items", the search can be narrowed to exact copies.
The results are presented in an organized list, from where the user can delete any item.
Thus, even though iTunes is not a complete duplicate file finder, as it only searches inside its library, it is a tool to consider by users that have a big collection of media files and are in need of more storage space.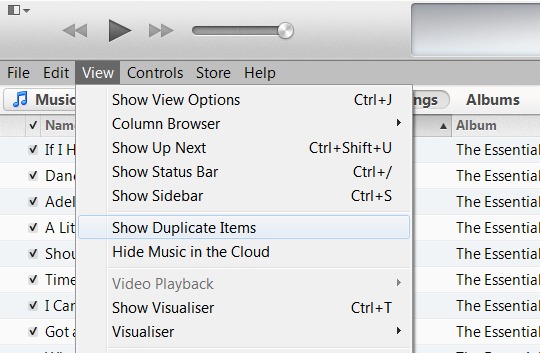 Free programs to help you to find duplicate files on Mac-copy
updated:
February 7, 2018
author: