The era of wires is coming to an end. Once frowned upon by die-hard audiophiles, Bluetooth has improved significantly over the years, and its latest versions are adequate even for high-fidelity music listening. It's no wonder then that the market with Bluetooth speakers has exploded with offerings from established audio companies and newcomers alike.
If you, like so many other people, would like to liberate yourself from the bondage of wires and all the problems and headaches associated with them, this guide to Bluetooth speakers is just for you. In the first part, we explain how to choose the best Bluetooth speaker for your, and in the second part, we recommend our favorite Bluetooth speakers.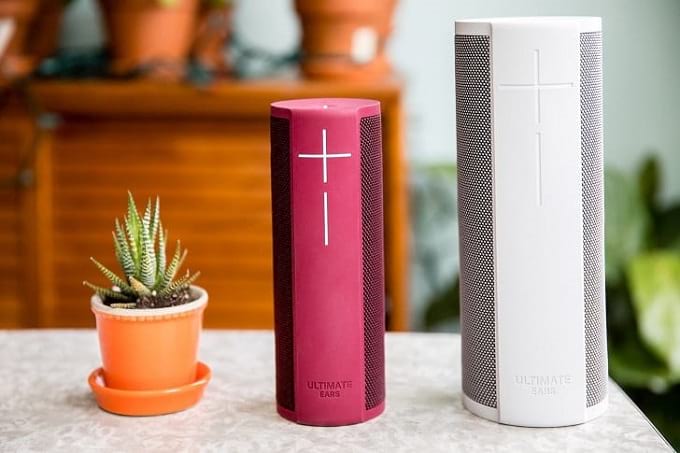 How to Choose a Bluetooth Speaker
The world of Bluetooth speakers may seem confusing at first. Manufacturers and online retailers like to shower consumers with technical terms without pausing to explain them, and various marketing buzzwords thrown into the mix only add to the confusion. But things aren't actually as bleak as they may seem.
We have summarized everything you, as a consumer, should know before you click on the buy button and spend money on a Bluetooth speaker. It's not too much information to swallow, and being familiar with the basic terminology associated with Bluetooth speakers can go a long way in helping you avoid Bluetooth speakers that don't meet your requirements and needs.
Step 1: Set a Budget
Bluetooth speakers, like all other audio equipment, start at relatively affordable prices and continue all the way to the audiophile-grade category, where prices often have more digits than the prices of some cars. But in every price category, there are at least a few exceptional products that stand way above the rest in terms of their value. For this reason, it's best to set a firm budget and stick with it and try to find the best value within the boundaries of the budget.
Step 2: Write Down Which Features You Want
Bluetooth speakers come with many attractive features, but some of them will likely be more essential for you than others. For example, if you want to take your Bluetooth speaker with you to the beach, water protection is a must. And if you like to invite your friends over for a barbeque from time to time, you might appreciate a Bluetooth speaker that allows multiple people to connect to it at the same time, so everyone can take turns and play their favorite music.
Step 3: Ensure Maximum Compatibility
Bluetooth was invented by Ericsson in 1994, and the first widespread version, Bluetooth 2.0, was released in 2004. Since then, Bluetooth has undergone several major upgrades. Bluetooth 3.0 provided theoretical data transfer speeds of up to 24 Mbit/s, Bluetooth 4.0 included Bluetooth low energy, and, finally, Bluetooth 5.0 targeted the emerging IoT market and its requirements for faster data transfer speeds over long range.
As someone who wants to buy the best Bluetooth speaker possible, you should ensure that your Bluetooth speaker supports the same or newer version of Bluetooth as your Bluetooth audio playback device does. There are still surprisingly many Bluetooth speakers that only support Bluetooth 2.1, and you should avoid them at all cost to reap as many benefits of the newer versions of Bluetooth as possible.
Top 6 Best Bluetooth Speakers
We have tested many best portable speakers, so we know which models stand out and which fall short. Below are our recommendations for the best wireless speakers with Bluetooth connectivity.
Best Portable Bluetooth Speaker: JBL Flip 4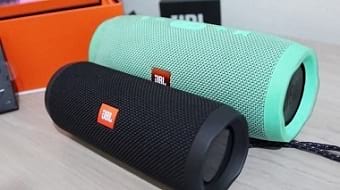 The JBL Flip 4 is our favorite portable Bluetooth speaker because it's available in several different colors, has surprisingly powerful sound, and is fully waterproof. Even though it offers so much, the speaker is relatively affordable, costing just around $100.
The JBL Flip 4 can connect to up to two Bluetooth devices at the same time, allowing two people to take turns playing music. The integrated 3,000 mAh battery lasts up to 12 hours on a charge, and the JBL Flip 4 even has a built-in microphone for phone calls or your favorite intelligent personal assistant.
The support for JBL Connect+ indicates that the JBL Flip 4 likes to party, as it can connect to more than 100 other JBL Connect+ speakers to amplify the listening experience.
In our opinion, the best Bluetooth PC speakers must support both Bluetooth and wired connectivity. As convenient as Bluetooth is for on-the-go listening and for quick pairing with a variety of electronic devices, a wired connection is still the best solution for static setups. The good news is that the Avantree SP750 PC speakers offer both Bluetooth and wired connectivity in a sleek package that is guaranteed to look great on all computer desks.
Inside these 2.0 PC speakers are fine-tuned drivers capable of delivering up to 10 watts of power. The sound of the Avantree SP750 speakers is characterized by powerful bass, excellent mid-range tonal separation, and a very wide soundstage.
Keep in mind that the Avantree SP750 are the best computer speakers and not the best home theatre speakers. In other words, they are on the quieter side. While we think their maximum volume level is perfectly satisfactory for regular computer use, especially considering how void of distortion it is, some people prefer their PC speakers to be very loud, in which case the Avantree SP750 wouldn't be a good choice.
It should come as no surprise that the best waterproof Bluetooth speaker on the market isn't exactly cheap. Yes, the UE Blast costs over $200, but that's the price you must pay for the IP67 waterproof rating, crystal-clear sound, deep bass, excellent build quality, and support for Amazon Alexa.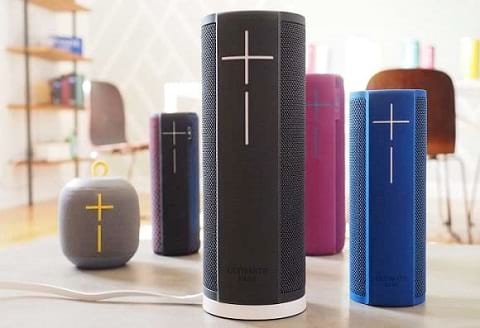 That's right, the UE Blast waterproof Bluetooth speaker comes with Amazon Alexa built-in. The speaker connects directly to the cloud with Wi-Fi and allows you to enjoy voice-controlled music and the full range of Alexa's skills from anywhere with Wi-Fi internet access.
Inside the UE Blast is a large battery capable of up to 12 hours of continuous music playback. Ultimate Ears also sells a useful charging dock, which can transform your UE Blast into a full-fledged Amazon Alexa speaker, ensuring that it will never run out of charge.
Best Bookshelf Speakers with Bluetooth: Edifier R2000DB
Edifier has been making remarkable speakers for a long time, and the R2000DB demonstrate the company's expertise and engineering prowess. Edifier has designed these bookshelf speakers with Bluetooth connectivity to be as versatile as possible. The piano-black housing looks gorgeous from every angle, and the speakers look natural in just about any environment. Remove the front speaker grille, and you uncover newly developed 25mm silk dome tweeters and 5-inch full-range units. Together, they offer a frequency response of 55 Hz to 20 KHz.
The Edifier R2000DB can be connected to audio devices through optical and RCA input, and also via Bluetooth. Included with the speakers is a small remote, which lets you switch between the three available input methods and adjust the volume.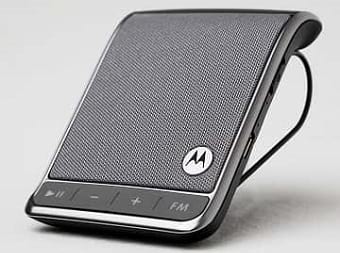 The Roadster 2 from Motorola is a popular speakerphone for cars. It can automatically connect turn on and connect to your smartphone as soon as you enter your car and turn off when you leave it. The speakerphone features a loud and clear 2-watt speaker, but it can also transmit through your car speakers using the built-in FM transmitter.
Integrated into the Roadster 2 are two microphones with noise and echo cancellations. The microphones make your voice come through clearly even when driving at high speeds because Motorola's noise reduction is so effective that it has earned the company multiple awards from prestigious car magazines and websites. The Roadster 2 contains a feature called "Never Forget Where You Parked." To take advantage of this feature, you need the Motorola Car Finder app so that the Roadster 2 can automatically tag your car's location whenever you leave it.
This THX-certified home theater speaker system from Logitech produces up to 1,000 watts of peak power and 500 watts of RMS power for the ultimate home theater experience. The system has been designed to decode Dolby Digital and DTS encoded soundtracks, and it supports multiple simultaneous inputs.
In its base configuration, the Logitech Z906 can connect up to six compatible devices via 3.5mm, RCA, six-channel direct, digital coaxial, and optical inputs. You can also purchase the optional Bluetooth Audio Adapter and effortlessly connect any compatible Bluetooth device, such as your smartphone or tablet. Included in the box with the system is a handy remote controller.